This Berries and Cream Cake with Strawberry Rhubarb Marmalade is a gorgeous tiered cake perfect for making on rainy spring days. It's topped with fresh whipped cream and berries.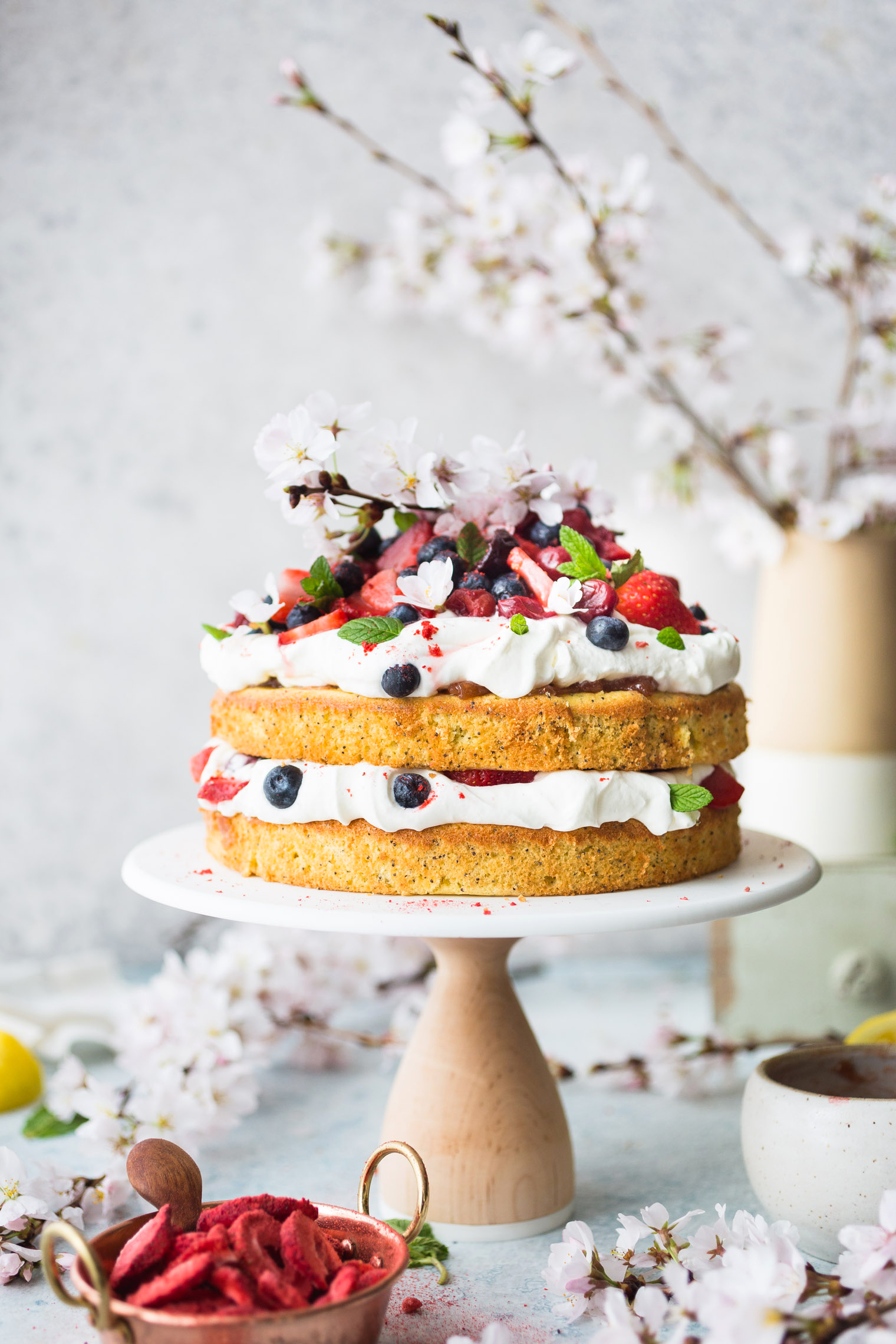 Hey friends! I'm back this week with an extra big grin on my face! I am still on cloud nine over how amazing the response has been for the Vegetarian Heartland pre-order! After you've been working on something for years without sharing it with anyone, you start to second guess yourself – 'what if people won't like it?' 'What if no one cares?' 'What if the only person to buy the book is my mom?'. Despite knowing deep down that I put my whole self into this book and that it really is a unique cookbook that will help people get into their kitchen, I let doubt materialize in my head the closer we got to the pre-order launch. Thankfully, my doubt was shattered when I hit 'publish' on the pre-order post and Vegetarian Heartland quickly was marked with the '#1 New Release' stamp for a Midwest cooking category on Amazon. My shoulder's relaxed. I almost burst into happy tears that had been building up for two years. I danced around the kitchen with the boxer pup. And then finally I baked celebratory cake because every good cocktail should be served with a slice of cake.
And speaking of amazing things like this Berries and Cream Cake with Strawberry Rhubarb Marmalade Cake, the Vegetarian Heartland book trailer is finally ready! If you were on the fence about the book, check out the trailer to see several of the recipes in the making. Or if you already pre-ordered, check out the trailer to get even more excited about it arriving on your doorstep in June!

This Berries and Cream Cake with Strawberry Rhubarb Marmalade takes a bit of time so it's the perfect project for these rainy weekends we are having. I personally have been full of energy with the longer lit days but still feeling a bit cooped up because of all the rain. I also used a mix of fresh, frozen, and freeze dried berries since not all of them are in season yet – if you go this route, just make sure to let the frozen berries thaw out before topping your cake so they don't water down the top.
Happy Spring!
Berries and Cream Cake with Strawberry Rhubarb Marmalade recipe below: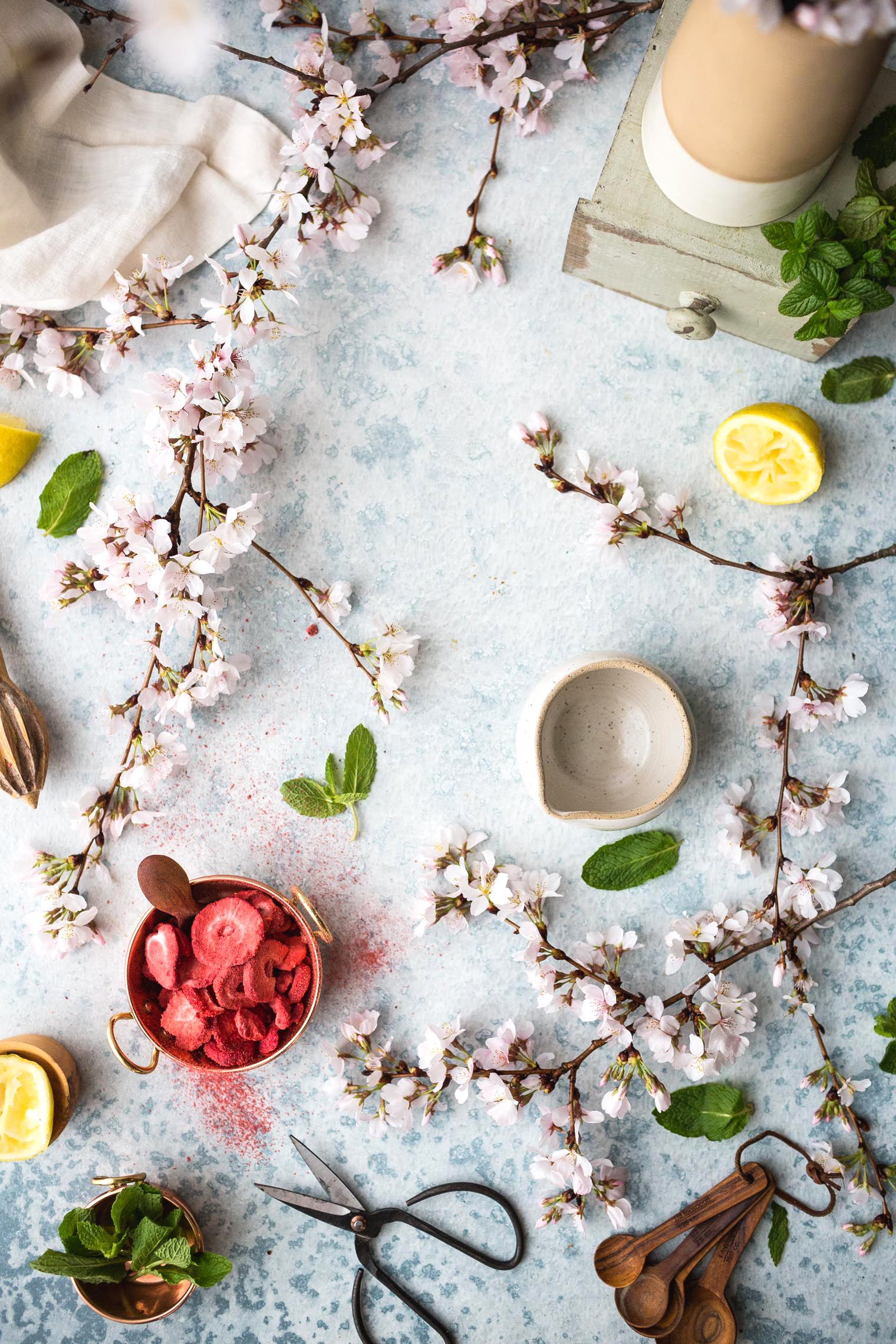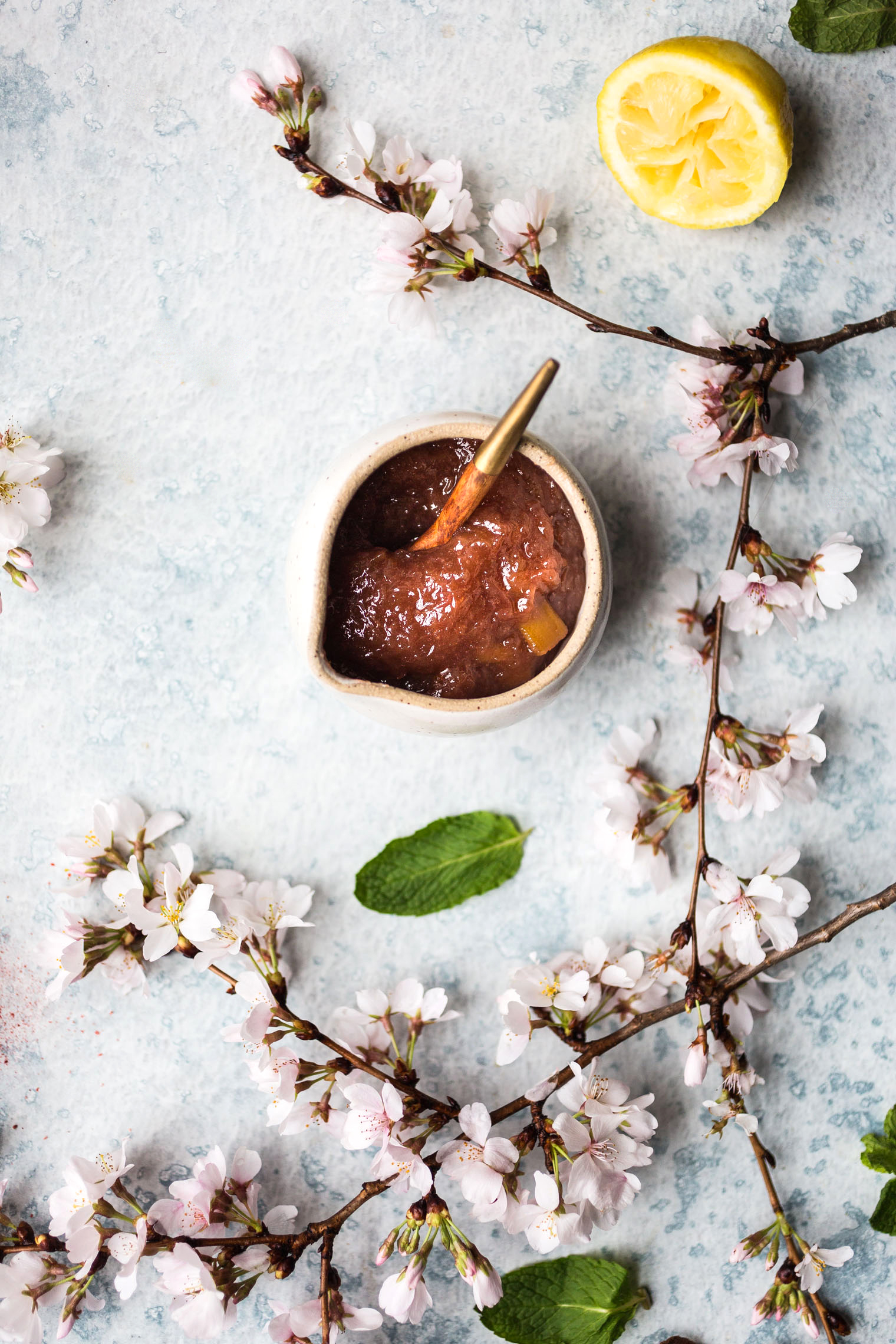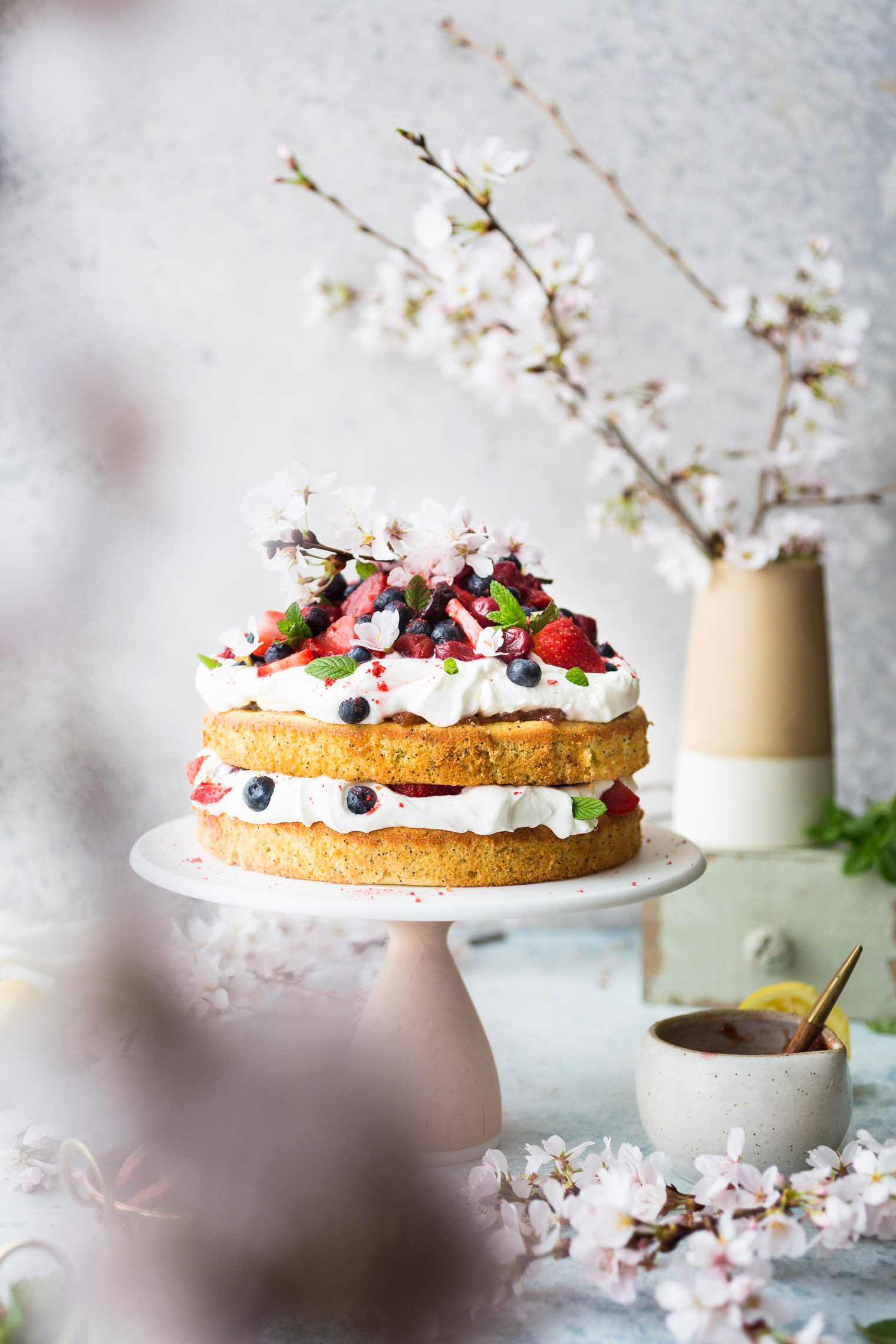 Berries & Cream Cake with Rhubarb Marmalade
This Spring Berries and Cream Cake is a gorgeous tiered cake perfect for making on rainy spring days. It's topped with fresh whipped cream and berries. / Recipe adapted from
Better Baking
Author:
Shelly Westerhausen
Ingredients
Cake:
2 cups almond flour
½ cup all purpose flour
½ tsp baking powder
¼ tsp salt
2 Tbsp poppyseeds
6 cold eggs, separated
¾ cup sugar
1 tsp vanilla extract
1 large lemon

For the rhubarb marmalade:
1 cup chopped rhubarb
1 cup sugar

For the whipped cream:
Toppings:
2 cups berries
Handful of mint leaves
Edible flowers, optional
Instructions
Position oven racks in the center and preheat oven to 350 degrees. Line the bottom of 2 9-inch round cake pans with parchment paper.
Whisk together the almond flour, all-purpose flour, baking powder, and salt in a medium bowl.
Using an electric stand mixer, whisk the egg whites in a large bowl over medium speed until soft peaks form. Slowly beat in ¼ cup of the sugar. Increase speed to medium-high and beat until stiff peaks form. Transfer egg whites into a clean bowl and set aside.
Add egg yolks, vanilla, and remaining ½ cup sugar to the stand mixer bowl. Zest the lemon and ¼ cup lemon juice into it and beat on medium-high until the mixture is pale and doubled in size.
Fold ⅓ of the egg whites into the yolk mixture and then fold in the dry ingredients into almost fully incorporated. Add in remaining egg whites by gently folding into the mixture just until incorporated. Divide evenly between the prepared pans and gently smooth the top.
Bake for 25 to 30 minutes or until the top is browned and the centers spring back slightly. Transfer to a cooling rack and let the cakes cool completly upside down.
Meanwhile, while the cakes are cooling, combine the rhubarb and sugar in a small saucepan over medium heat. Let simmer for 20 to 30 minutes or until thickened. Remove from heat and let cool completely.
In the bowl of a stand mixer fitted with a whisk attachment, add cold heavy cream and beat on high for 7 to 9 minutes or until stiff peaks form.
To assemble: Place the first cake tier on a cake stand and spread half of the marmalade over it. Top with half the whipped cream and half of the berries. Add the other cake tier and top with remaining marmalade, whipped cream, and berries. Garnish with mint and fresh flowers.