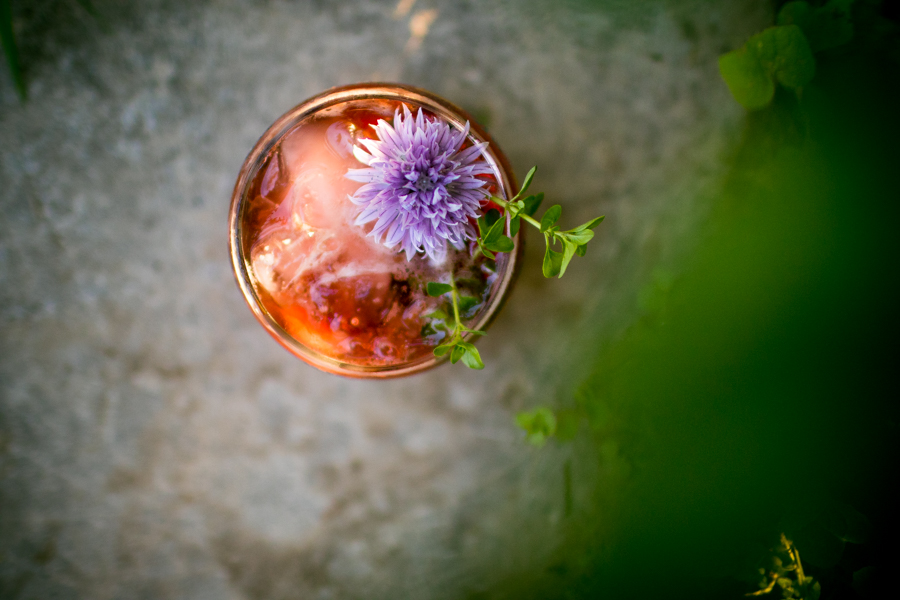 Garden Tonic Cocktail + Cardinal Spirits
For a city of 80,000, it's pretty incredible that we have four local breweries around town that sling their homemade craft beer; so incredible, that I would say it's almost down right unnecessary. Because of that, I was beyond thrilled to hear that we were getting our first distillery in town as it was such a breath of fresh air from another brewery coming in. Luckily for us, there is a lot of new and inventive businesses opening up constantly here in Bloomington, IN since it's a college town and 40,000 kids come through here for their education every year. Some of those kids (meeeee) are bound to stay here and grow into adults that want to do awesome things like make this community even better with their creative and, often times, delicious business plans. And because of that, this city continues to have all the comforts of home (like our favorite Thai place that has been around for 30+ years) while constantly having new places pop up to keep us from ever getting bored in this small oasis in the middle of cornfield country.
Design Sponge did a city guide on Bloomington in 2013 and already so much has changed. Here are a few notable changes that have happened just in the last two years: Rainbow Bakery now serves up irresistibly delicious vegan baked goods, Hopscotch has come in and upped the coffee game (and modern aesthetic of this city!), and now Cardinal Spirits is also making a mark with their sleek vibe and modern twist on classic cocktails. I'm really proud of how this city continues to grow in a positive way while still being a small enough community that you know the people making it happen.
I had the pleasure of getting a tour of the new Cardinal Spirits distillery and managed to snap a few photos to give you all a little peak. They put out their vodka earlier this year and just releases their gin at the end of last month! While snapping these photos on tour, they let me try the gin and took a quick video of me sampling it (warning: I'm super awkward in it). Here are a few snapshots from hanging out in the back where all the magic happens:
After visiting their facility and sipping on their fresh squeezed screwdriver, it felt only appropriate that I come up with my own drink using their spirits. This cocktail is floral (something we are all aching for after this long winter) and light. I made this hibiscus syrup a few weeks back and have been adding it to cocktails since with a splash of St. Germaine and whatever juice or soda water I have on hand. This cocktail is the perfect drink to whip up this weekend while you are enjoying having a few extra days off (if you are in the states) and hanging out around the grill. Enjoy!
Garden Tonic Cocktail
2 ounce vodka
1 ounce St. Germain
2 ounce hibiscus syrup (recipe follows) or more if you like your drink sweeter
Tonic water (how much depends on how fizzy you like your drink)
Ice, crushed
garnish with thyme & fresh flowers (I used chive flowers but organic hibiscus flowers would be gorgeous)
Divide everything between two glasses and garnish with herbs or edible flowers. Serve cold.
Hibiscus Syrup

2 cup water
1/2 cup dried hibiscus flowers
1 inch ginger, grated
1 cup sugar
Combine all ingredients in a small saucepan and bring to a boil over medium heat. Once boiling, reduce to a simmer and let simmer for about 10 minutes. Remove from heat, cover, and let steep for at least 20 minutes.
Strain and store syrup in an airtight container.