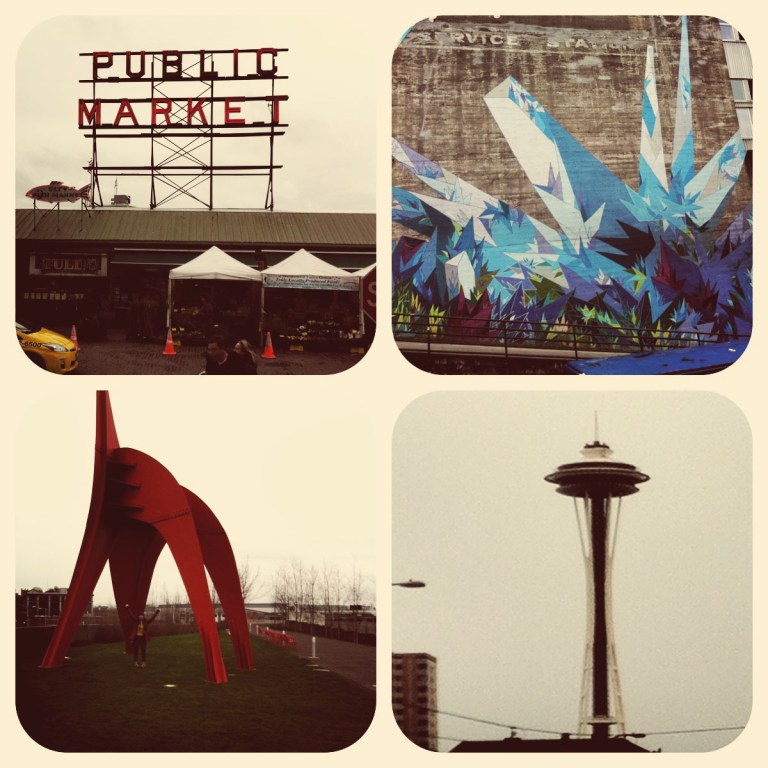 Part 1 of 3: Seattle
On our four day mini-vacation, we managed to tackle Seattle, Portland, and "Twin Peaksville" (as we liked to call it). We thankfully had friends in both locations to point us in the right neighborhoods that fit to our kind of lifestyle (record stores, cheap drinks, artistic spots, etc etc). This is a post about some of the pictures and places we tackled on our first day in Seattle. Enjoy!

Pike's Place, Alley Graffiti, Alexander Calder sculptor, The Needle
We decided to get the 'touristy' things out-of-the-way right off the bat. We woke up early (the four hour time difference made our sleeping schedule so out of whack), grabbed a cup of 'legendary' Seattle coffee, and took a long walk down to the Olympia Sculptor Park. On the way we passed the needle (didn't bother to go up in it…I just felt TOO touristy at the thought of that) and eventually ended up at the museum. The sculptor park is located on a hill behind the art museum and looks out over the water (absolutely beautifullll). We pretty much had the place to ourselves (it being so early on a Saturday morning) minus a few dog walkers (PUPPIES!). The winding walk past dozens of giant figures was a bit chilly (I mean it was February) but dry none-the-less and nothing short of breath-taking.
Me (top) and Wyatt (bottom) in 'The Stinger' by Tony Smith
My favorite part of the sculptor park was a small part of the trail that was secluded from the city by a small patch of trees. Within this "forest" there was some large black rocks and this enclosed structure made out of black metal; once inside, it excluded you from the hustle and bustle of the city. I've always been a fan of zen gardens and this sculptor/room reminded me of the formations of the meditations areas in some zen gardens we've visited before.
Produce, Seafood, Pasta.
Next, we adventured to Pike's Place public market which was a wonder in itself. I really didn't know what to expect…I had been told by dozens of people that we had to go and I had this vision of a large farmer's market but it was so much more. There was dozens and dozens of booths consisting of produce, local art, seafood, homemade pasta, honey, cheeses, etc etc. It was absolutely overwhelming in the most wonderful way. All the produce in the Northwest is so cheap (and vibrant) compared to the Midwest…this alone is reason enough to never want to leave. We sampled some chocolate pasta and ended up buying some homemade garlic and chives pasta (expect a yummy macaroni and cheese recipe soon with it)!
Grims
We then spent the afternoon in the Capitol Hill area where we ate at Grim's for brunch (Pictured above). It was this adorable restaurant/bar filled with brick walls and thrifted chairs. This adorable place makes a mean Bloody Mary and absolutely scrumptious egg dishes.
I got a french omelet with spinach, Gruyere, and caramelized onions. Mmmmmmmm. And Wyatt got eggs benefit with some of the best hollandaise sauce I've ever sampled.
I started out everyday on the trip with a Bloody Mary (hey…I was on vacation, why not?) This one was super spicy with pickled asparagus, onion, tomato, and olive and served in a mason jar (I have such a soft spot for drinks in mason jars…they just create such an elegant vintage feel). This drink had a fruity initial flavor and then a spicy after taste kick that made it practically a meal in itself.
The Value Village
My favorite major shopping spot that blew me away was this Northwest chain 'Value Village'; It is a thrifters heaven. I was worried that a large city like Seattle would be completely picked over but I was wrong. Both Wyatt and I found so many goods finds including an over-sized textured cream sweater, 2 dollar high-waisted black levi shorts, pair of heeled boots, and a floral spring dress. Scooooore.
We also adventured more in the Capitol Hill neighborhood by exploring Everyday Records (overwhelmingly huge record shop), some local book stores, and even a local cupcake bakery.
Bimbo's
We ended our day in the city at Bimbo's; this eclectic Mexican/wrestling bar was my favorite place we went. We got a huge serving of vegan Nachos and margaritas (they had a whole side of the menu dedicated to the different types of margs- I ended up getting an orange juice one and Wyatt got their special). This was a great place to end our journey of Seattle.
It's kind of crazy how we managed to only tackle to small areas of Seattle and already saw so many awesome things. We sadly only had a day here before we moved on to our next journey destination.
Hotel Max
Lastly, we stayed at this modern hotel located downtown called 'Hotel Max'. It was super elegant and had artwork at every corner. I had to include this picture because Wyatt lost those glasses the next day at "Twin Peaksville". RIP.