Print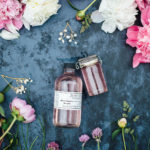 Homemade Chive Blossom Vinegar
This two-ingredient Homemade Chive Blossom Vinegar is so simple that it's hard to even call it a recipe. The end result is a slightly pink vinegar with a subtle spring onion flavor tint to it that is perfect for salad dressings, shrubs, and anywhere else you'd use vinegar.
Fill your resealable jar halfway full with chive blossoms and pour vinegar all the way to the top.

Seal, shake, and transfer to a windowsill or somewhere out of the way to sit.

Let sit for one week, shaking once or twice a day, until the vinegar is a light pink and the blossoms have lost most of their color.

Drain vinegar into a clean jar and discard flowers for another use.