Print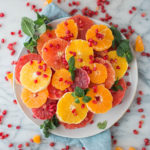 Citrus and Pomegranate Salad
A tart and juice four ingredient fruit salad to cure your winter blues.
Cut the grapefruit and clementines into large slices and arrange on a large serving tray.

Sprinkle pomegranate seeds and fresh mint sprigs over the sliced citrus and serve.
Remove as much pith from the grapefruit as you can to avoid it being bitter. I kept them in slices for presentation but removed the pith before enjoying. I also added a blood orange to my salad because I had it on hand and it added a lovely extra color tone to the dish.