Print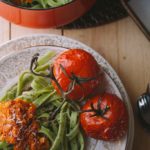 Fresh Spinach Pasta with Roasted Carrot Almond Pesto
This Fresh Spinach Pasta with Roasted Carrot Almond Pesto is bursting with vegetables. It's the perfect weekend cooking recipe or date night menu.
2

medium eggs

1/2

cup

fresh spinach

, washed and dried

1 3/4

cup

all purpose flour

(you can substitue 3/4 of this for semolina flour, if you have it on hand, for a more authentic pasta)

1/2

teaspoons

salt

1 1/2

tablespoons

olive oil

1 - 2

Tablespoons

of water

(if needed)

5

large carrots

, washed and green parts removed (if still attached)

1/4

cup

almonds

2

large

(or 4 small) garlic cloves

~ 1 Tablespoons olive oil

Juice of half a lemon

1/4

cup

shredded parmesan

(+more for serving)

tomatoes

, for serving (optional)
In a food processor, pulse the spinach into a liquid. Add the egg and olive oil and pulse one more time. Set aside.

Whisk together the flour and salt. On a clean surface, make a mound with 1 1/2 cups of the flour mixture. Next, create a well in center of the mixture and pour the egg mixture into it. Use a fork and slowly combine the dry ingredients with wet by whisking the egg mixture and slowly bringing flour into it until the dough is no longer too sticky to touch (if the dough ends up too dry, then add a little water). Make sure the surface is still well floured and knead for eight to ten minutes.

Wrap dough in plastic wrap (or wax paper) and let rest for 20 minutes. Then follow the manufacturer's instructions on your pasta make (or, alternatively, roll the dough out as thin as you can and use a pizza cutter to cut strips. Boil the pasta until al dante).