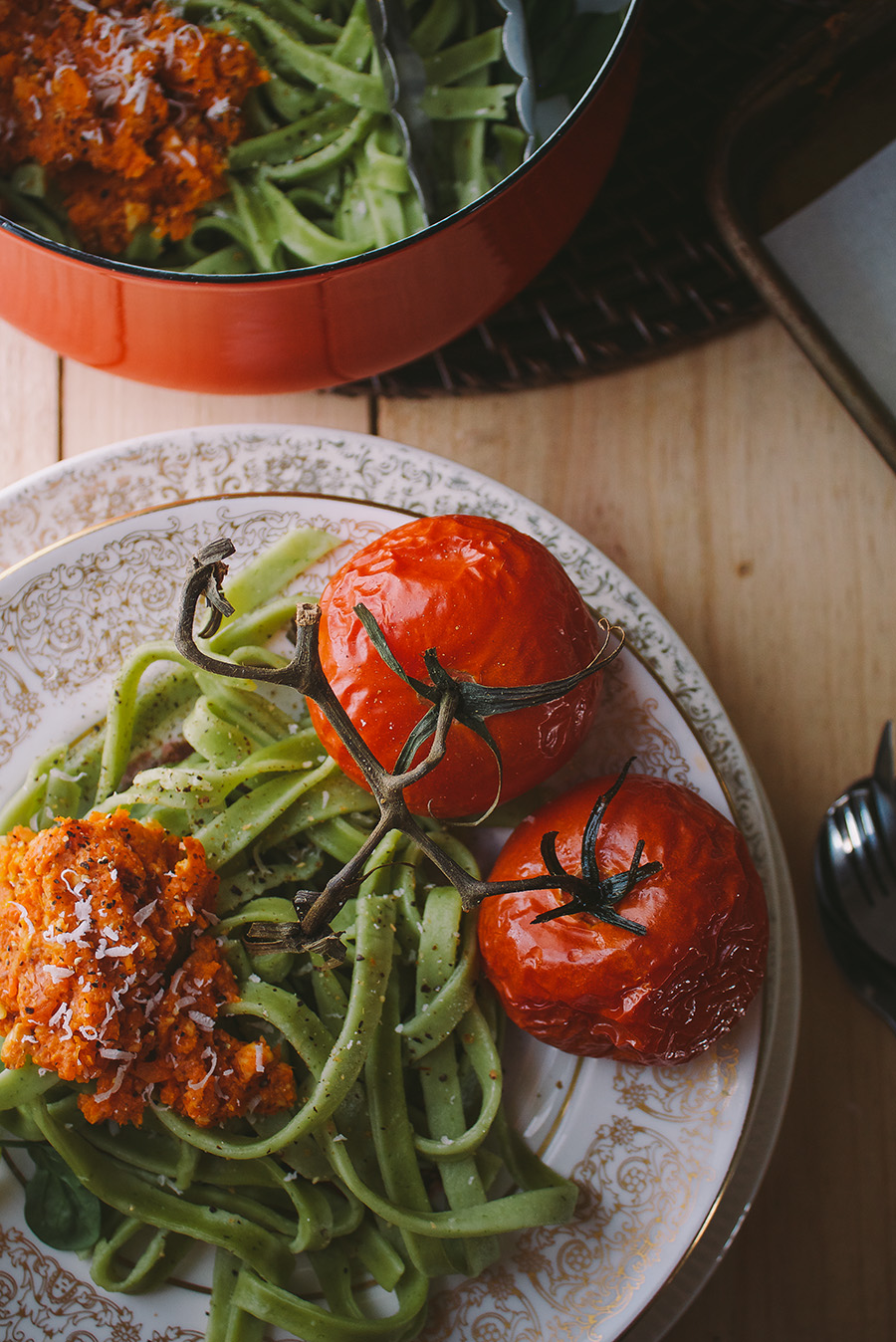 Fresh Spinach Pasta with Roasted Carrot Almond Pesto
In a hurry? Click here to JUMP TO RECIPE!
This Fresh Spinach Pasta with Roasted Carrot Almond Pesto is bursting with vegetables. It's the perfect weekend cooking recipe or date night menu.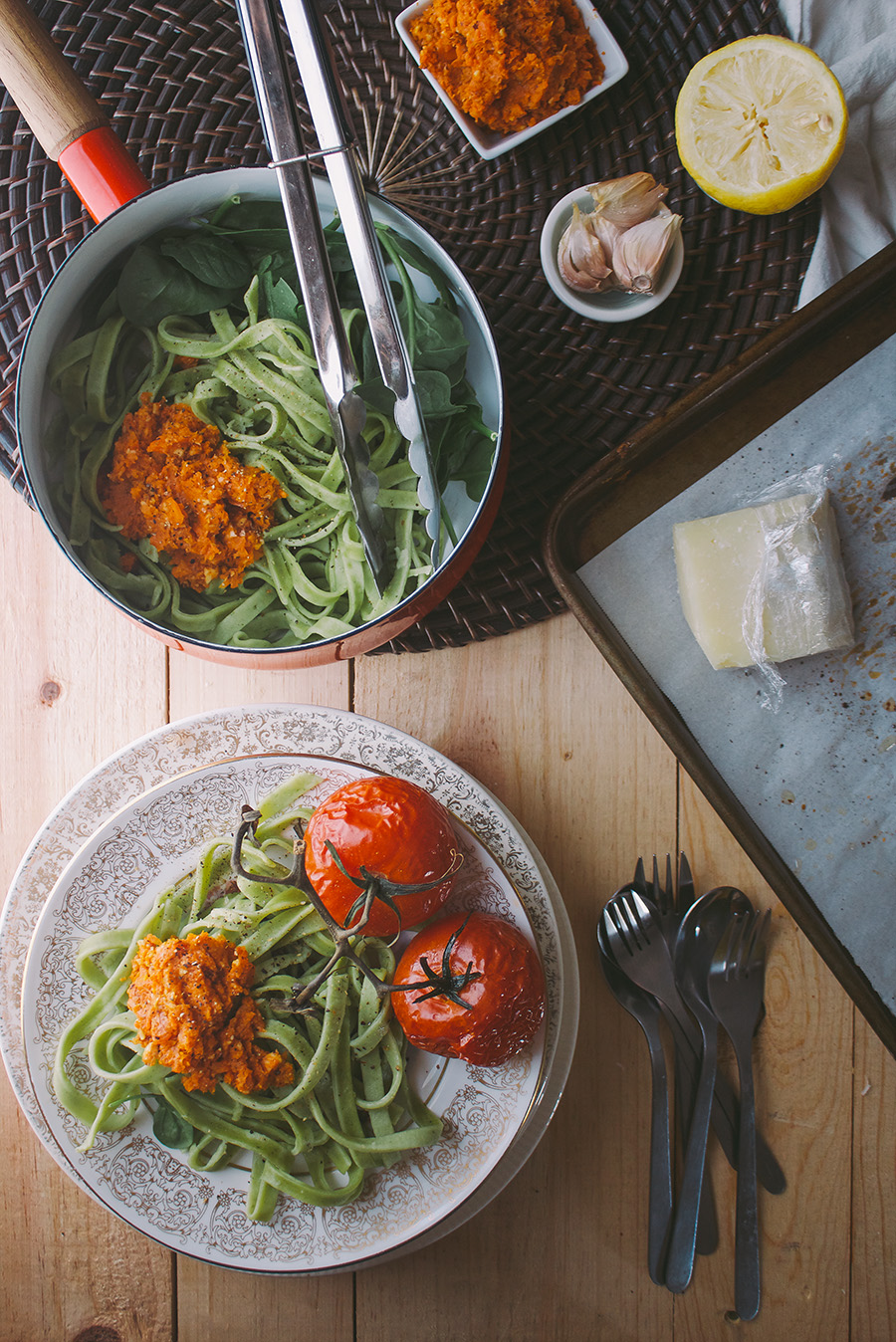 It's 13 days into the new year – are you still kicking strong with your new years resolutions? So far 2014 has not just been about being conscious of what I am eating but why I am eating it. Why is it so important to get that green smoothie in every morning? How is my body benefiting from consuming greens, carrots, greek yogurt, and honey? I recently picked up The Encyclopedia of Healing Foods by Michael Murry and can't seem to put it down. It's a hefty thing ranking in at a whopping 900 pages (Hey… it does warn you with the word 'Encyclopedia' in the title and is often times used as a textbook in holistic nutrition courses) but is brimming with wonderful food insight on every page. The bulk of the book is split up by specific foods and tells you the history, health benefits, research conducted on that food, and potential harmful effects of pretty much any whole food you can think of (spices, fruits, vegetables, grains, meats, etc).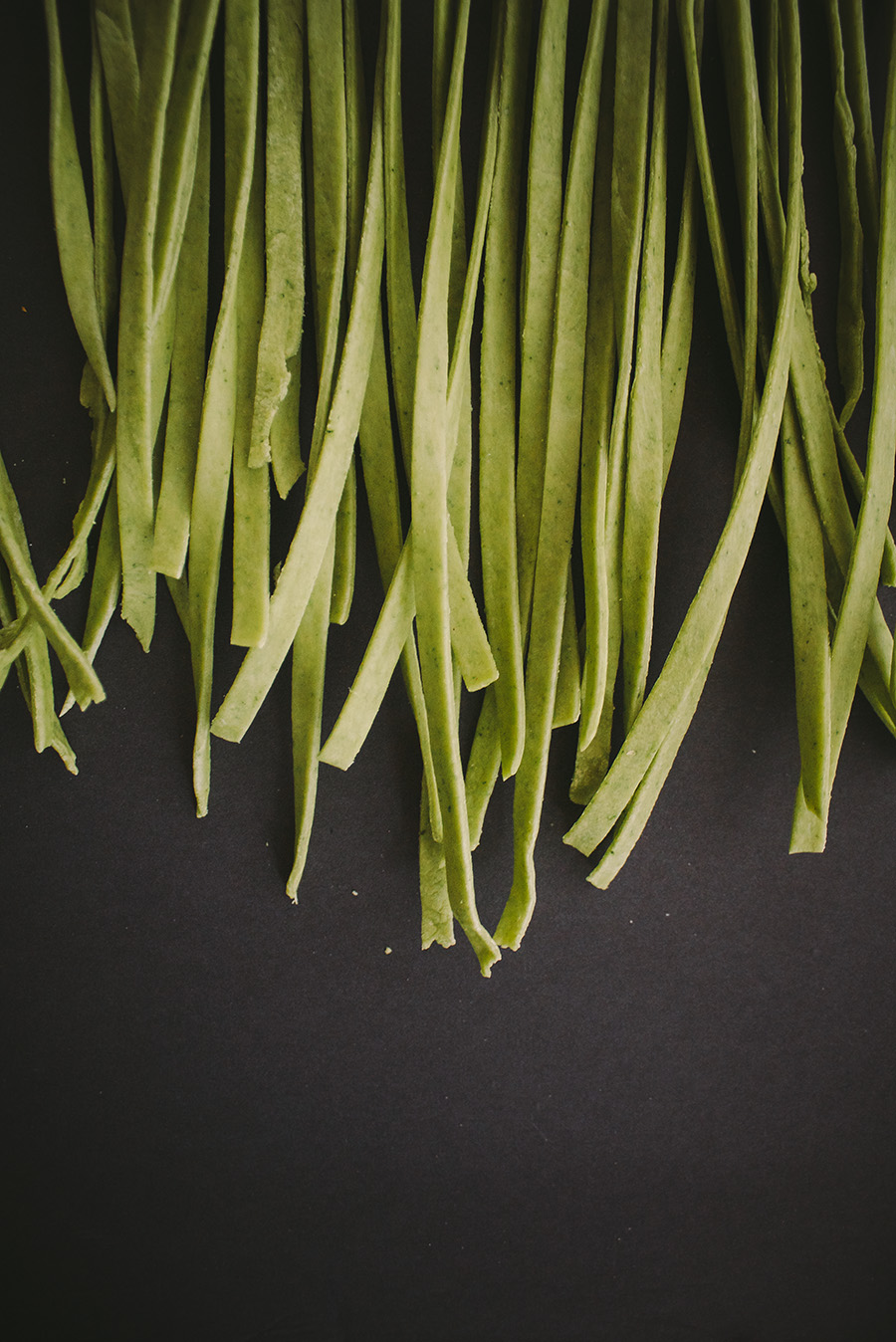 All this new found knowledge has gotten me really excited about eating whole foods. After a breakfast of avocado toast and blueberry oatmeal, I notice myself immediately running to the book to find out the benefits of avocados, oats, blueberries, maple syrup, and almonds (from the homemade almond milk). And then again after lunch. And after my afternoon snack. And so on.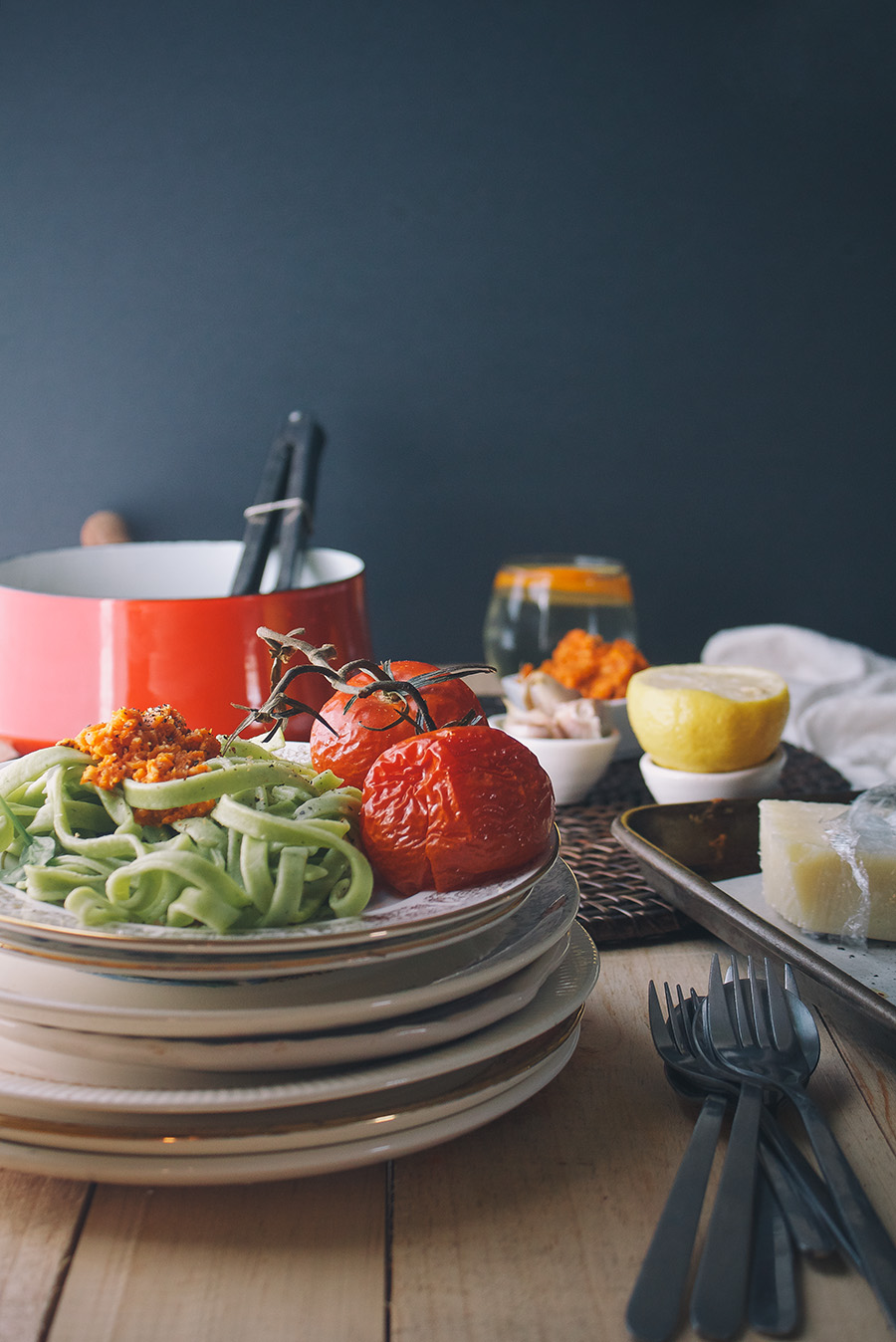 So, as you probably expected, I can't wait to share all the wonderful benefits of this veggie-centric dish with you (but please remember, I am not a certified health expert of any sorts and all insight shared here is to merely share a few of the engaging health benefits outlined in Healing Foods).
Although pasta is not on the top of the list of healthy foods, making it from scratch eliminates any preservatives and additives that you would find in the store bought kind. I also tried to add a slightly healthier twist by throwing in some spinach which is chocked full of  lutein (promotes healthy eye sight), vitamin K, vitamin C, and iron (which is linked to improving the quality of our blood and restoring energy).
And then I topped the pasta with a garlicky carrot pesto and some roasted tomatoes. The benefits of garlic are absolutely obscene – it has far more pages dedicated to it than any other food I've read about so far. Not only is garlic packed with all sorts of vitamins (B6, vitamin C, potassium) but it has been linked to helping our bodies fight off infection (whether that be a cold or stomach virus or perhaps even more serious ailments like cancer). Carrot's benefits are pretty well known with their very high sources of vitamin A and K along with fiber. And lastly, almonds are an excellent source of healthy fats (monounsaturated and polyunsaturated oils), potassium, calcium, iron, and many other important nutrients.
Who knew eating so healthy could taste so delicious?!
Fresh Spinach Pasta with Roasted Carrot Almond Pesto recipe below: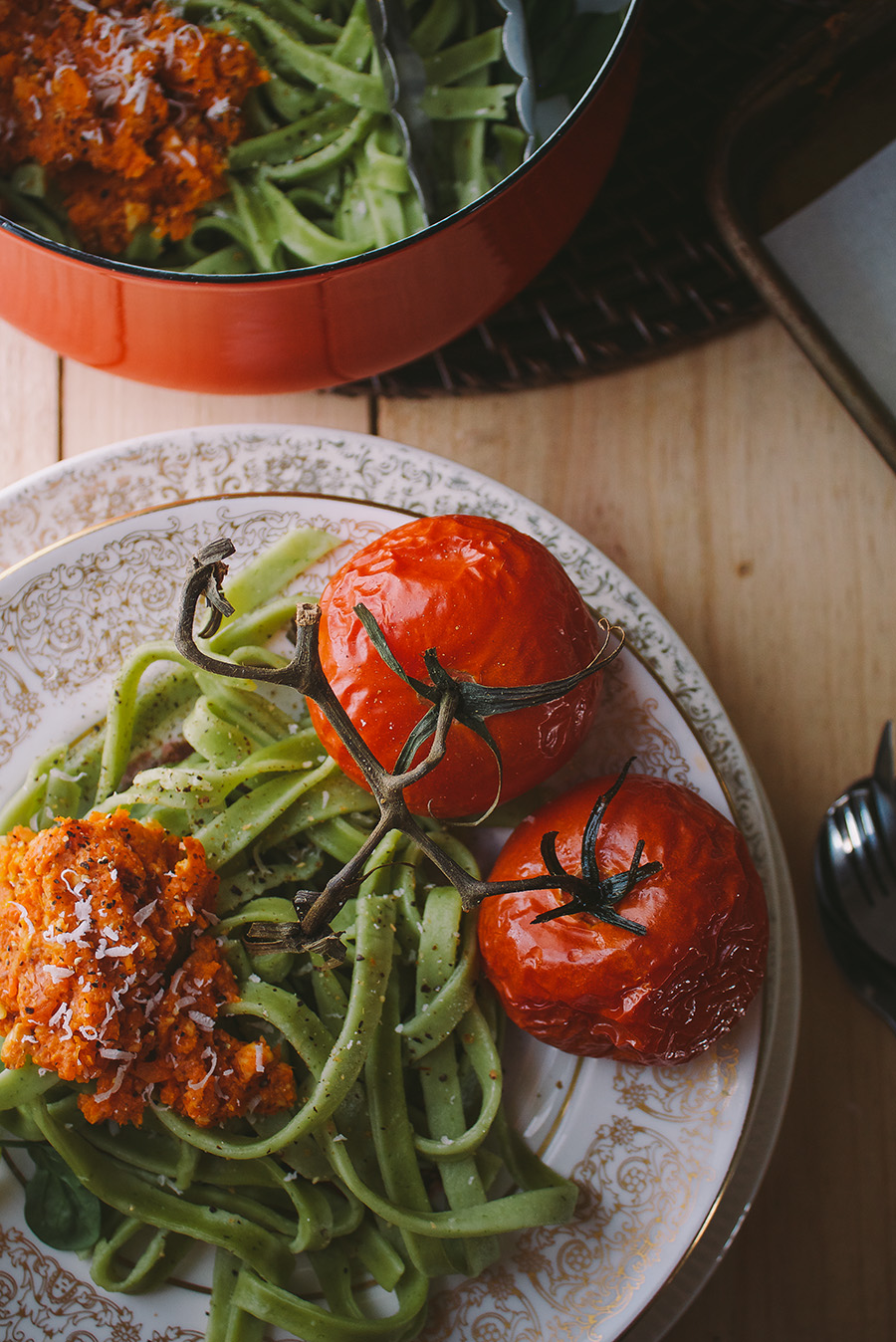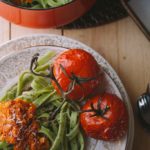 Fresh Spinach Pasta with Roasted Carrot Almond Pesto
This Fresh Spinach Pasta with Roasted Carrot Almond Pesto is bursting with vegetables. It's the perfect weekend cooking recipe or date night menu.
Ingredients
2

medium eggs

1/2

cup

fresh spinach

, washed and dried

1 3/4

cup

all purpose flour

(you can substitue 3/4 of this for semolina flour, if you have it on hand, for a more authentic pasta)

1/2

teaspoons

salt

1 1/2

tablespoons

olive oil

1 - 2

Tablespoons

of water

(if needed)

5

large carrots

, washed and green parts removed (if still attached)

1/4

cup

almonds

2

large

(or 4 small) garlic cloves

~ 1 Tablespoons olive oil

Juice of half a lemon

1/4

cup

shredded parmesan

(+more for serving)

tomatoes

, for serving (optional)
Instructions
In a food processor, pulse the spinach into a liquid. Add the egg and olive oil and pulse one more time. Set aside.

Whisk together the flour and salt. On a clean surface, make a mound with 1 1/2 cups of the flour mixture. Next, create a well in center of the mixture and pour the egg mixture into it. Use a fork and slowly combine the dry ingredients with wet by whisking the egg mixture and slowly bringing flour into it until the dough is no longer too sticky to touch (if the dough ends up too dry, then add a little water). Make sure the surface is still well floured and knead for eight to ten minutes.

Wrap dough in plastic wrap (or wax paper) and let rest for 20 minutes. Then follow the manufacturer's instructions on your pasta make (or, alternatively, roll the dough out as thin as you can and use a pizza cutter to cut strips. Boil the pasta until al dante).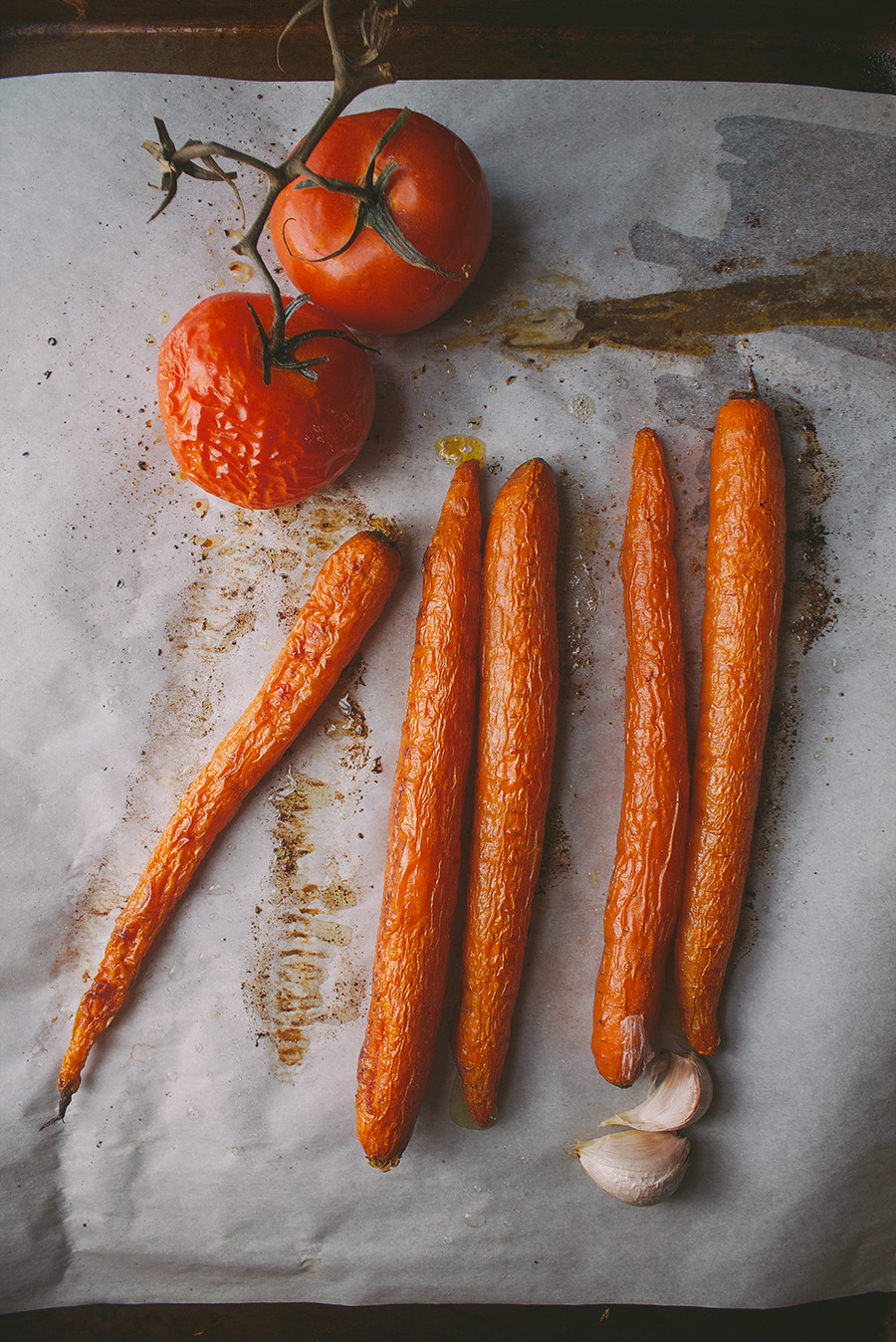 To make the pesto: Preheat oven to 350 degrees and line a baking sheet with parchment paper. Coat the carrots, garlic cloves (still whole), and tomatoes (if using) with 1 tablespoons olive oil and a little salt / pepper. Transfer your veggies to prepared baking sheet and cook for 15 to 25 minutes (depending on how large your veggies are) or until you are able to pierce the carrot easily with a fork. Remove from oven and let cool slightly.
Pulse together the carrots, garlic (peel before throwing in), lemon juice, almonds, parmesan, and a little salt / pepper until a thick pesto has formed. If too dry, add another tablespoon or so of olive oil.
Lather over fresh cooked pasta and serve alongside roasted tomatoes or a spinach salad.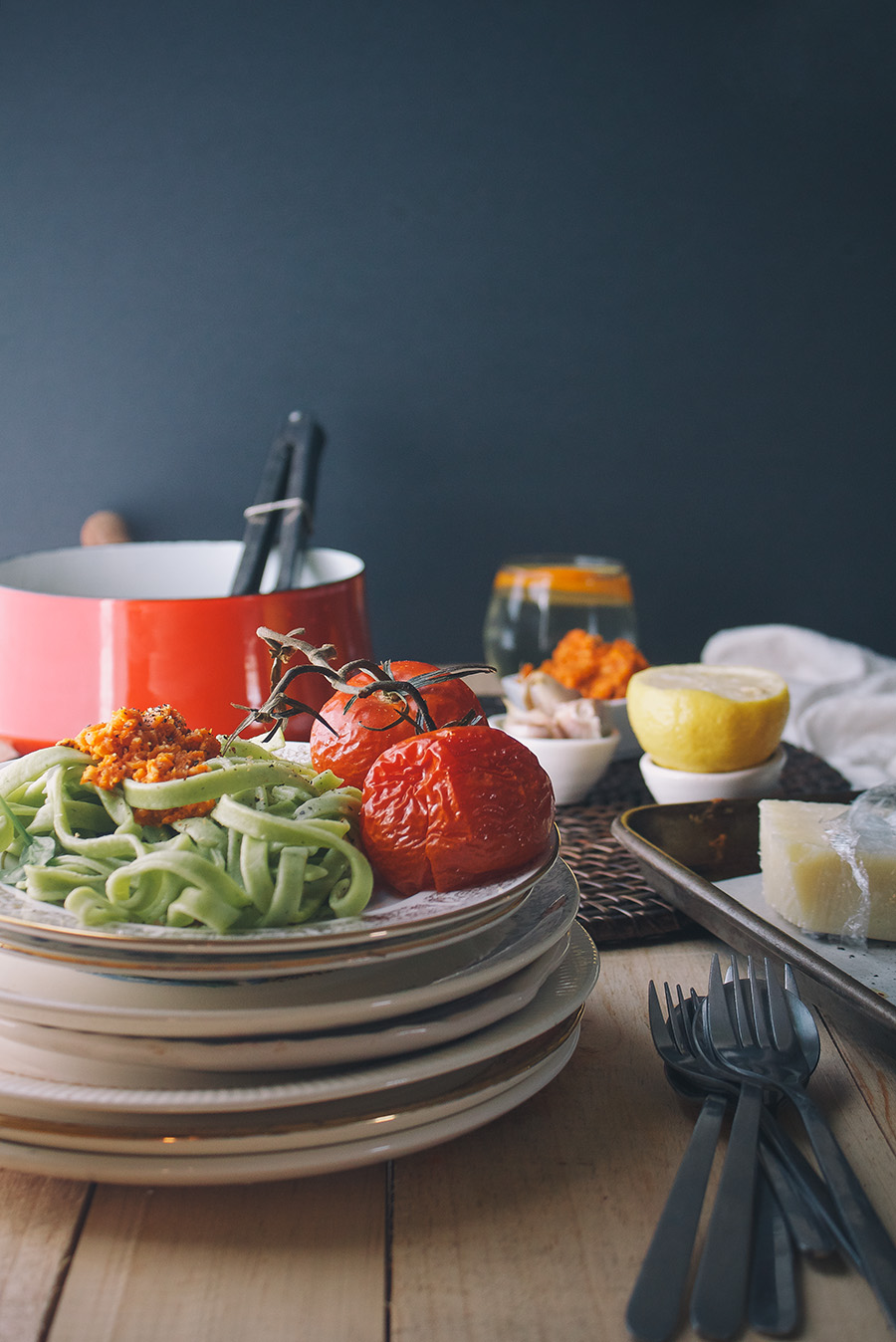 Side note: I usually double my pasta recipe when making it so that I can dry half of it for later (to dry: hang pasta (before you boil it) on a drying rack or over a chair overnight and then transfer to an airtight container. It will keep for up to 1 month). This time around, I dried the extra batch to send through the mail to a friend for her birthday (oh, how I wish I could have mailed her a cake! Ah well, this pasta will have to do for the time being).