Meet VV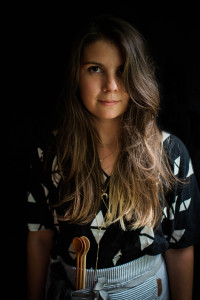 Short Story:
I'm a food photographer based in Bloomington, Indiana.
I'm a vegetarian that uses cooking / baking / eating / photographing / music as creative outlets. In turn, I've created VV as an attempt to inspire all of you to get creative  and dance in the kitchen with me!
Long Story:
Vegetarian Ventures is a vegetarian food blog that shares vegetarian and vegan recipes with a twist of adventure and inspiration. I'm a 20-something year old who lives in the heart of the Midwest. I work with indie-rock music by day and blog here by night. I love to vegan bake, cook with far too many spices, play with my peanut butter lovin' puppy (Tuko // Taco // Tofu), go on picnics, camp, dance in the kitchen and take road trip adventures. I love things like Chai-flavorered anything, dream catchers, cacti, and David Bowie so please don't be alarmed if I throw in a glam rock photo or two. I've been a vegetarian for over 10 years which has forced me to learn to cook for myself; however, I am nothing of an expert and am still learning everyday. This blog is here to motivate and push my cooking abilities while hopefully teaching all of you a few tips along the way. I am constantly seeking a healthier (but delicious!) cooking routine so come along and join in the journey with me!
Talk soon,
Shelly (aka VV)
Fine Print Info & All The Jazz:
If you'd like to get to know me outside of my blog, feel free to shoot me an email at [email protected] or check VV out on Instagram, Facebook and Bloglovin. Please note that all photos, unless specified, on Vegetarian 'Ventures are taken by Shelly Westerhausen or Wyatt Worcel. Please make sure to properly link back to the original photo if you borrow it and properly post photo credit.
VV gets around! Shelly Westerhausen and/or Vegetarian 'Ventures has been in print publications such as Bon Appetit, O The Oprah Magazine, Family Circle, Chickpea Magazine, Vegetarian Living, and many more. VV also has recipes and articles featured on websites such as Food & Wine, Bon Appetit, Refinery29, The Kitchn, Food52, Foodgawker, Sheknows, Saveur Magazine, Kitchen Daily, Daily Candy, Babble, Finding Vegan, Taste Spotting, Tasteologie, Buzzfeed, Huffington Post, and many others. Interested in featuring VV? Contact me at [email protected].
DISCLAIMER: Some links on this site are affiliate links and I do earn a commission from them. Please note that all opinions are my own.
vvvvvvvvvvvvvvvvvvvvvvvvvvvvvvvvvvvvvvvvvvvvvvvvvvvvvvvvvvvvvvvvv