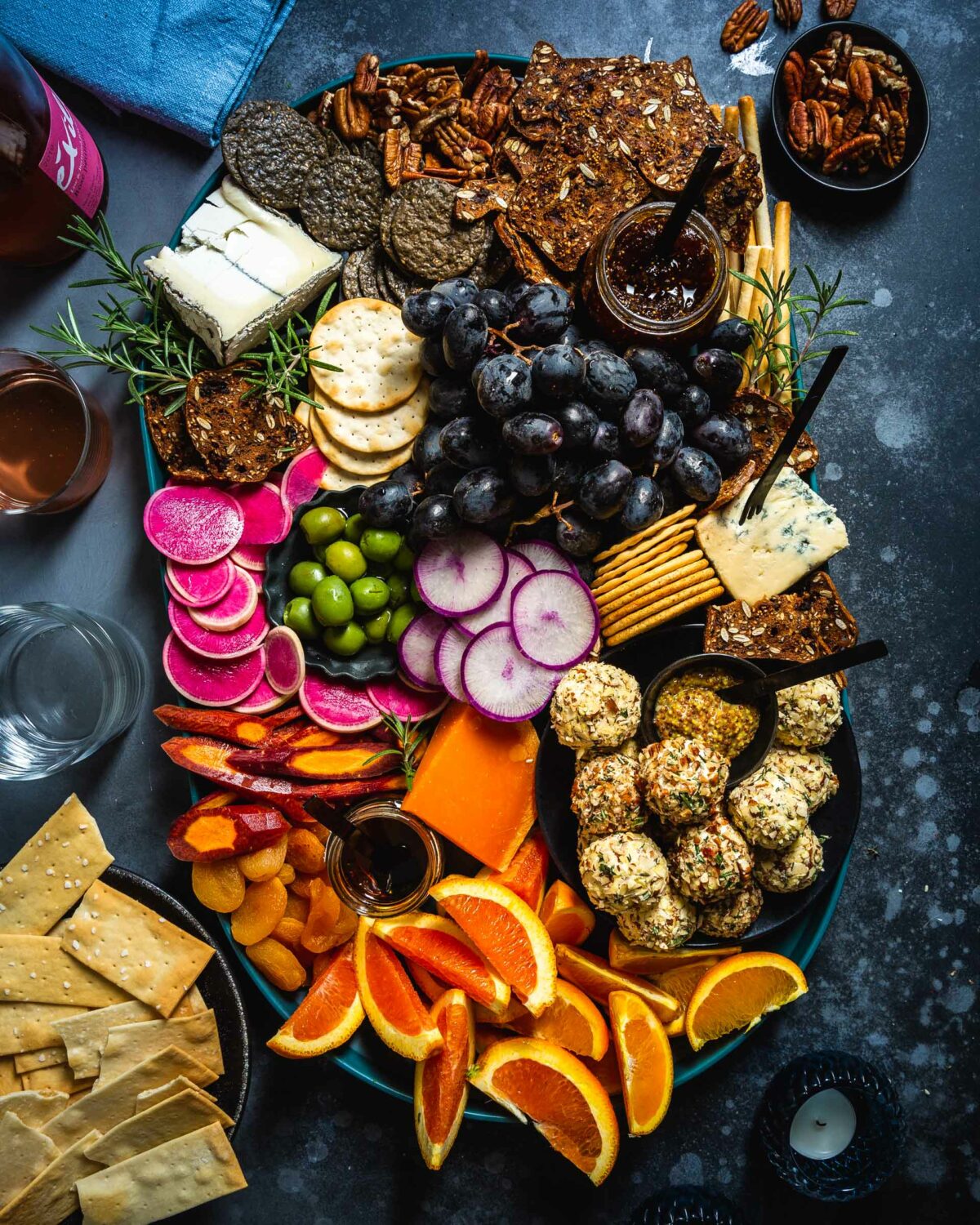 25 Vegetarian Thanksgiving Dishes
Time to talk about my favorite vegetarian Thanksgiving dishes! This list features everything from easy vegetarian appetizers to delicious vegetarian Thanksgiving main dishes!
Before we dig into this round-up of vegetarian Thanksgiving dishes, I also wanted to remind you all that I have these resource pages for Thanksgiving as well:
Quick Starters, Appetizers, & Salads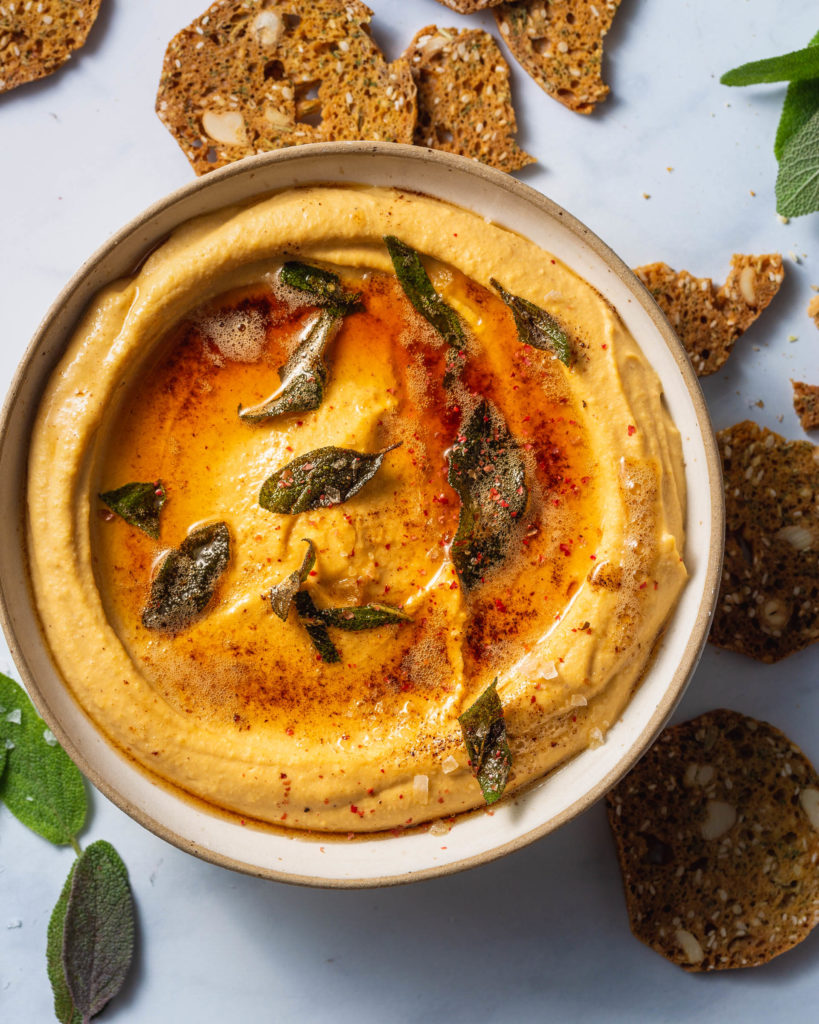 This Butternut Squash Hummus with Brown Butter & Fried Sage is an fall easy appetizer and snack. The nutty brown butter gives an extra flavor punch to the already rich hummus.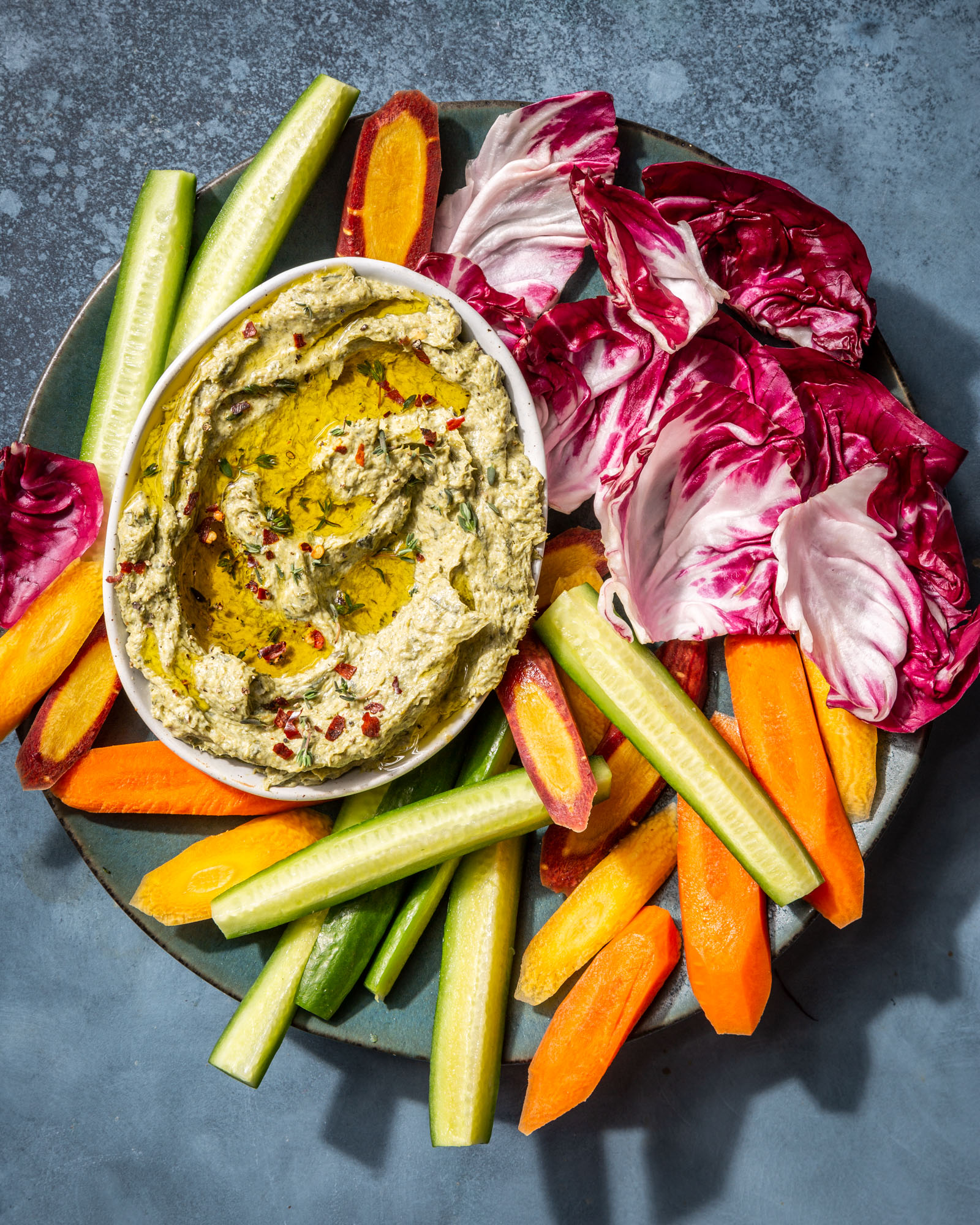 Make this Caramelized Leek Yogurt Veggie Dip on Sunday afternoon to enjoy later in the week with veggies for a satisfying and flavorful starter.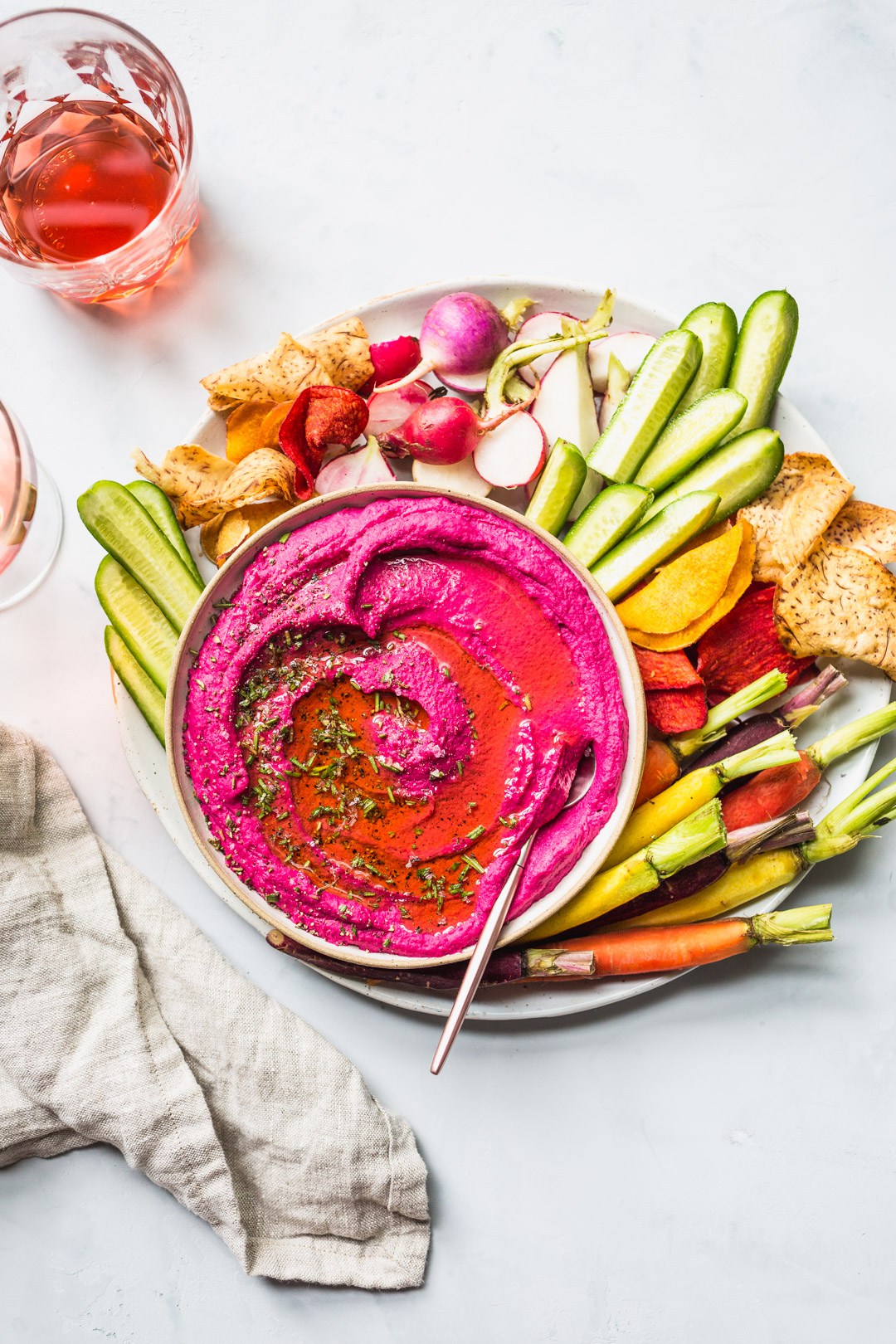 This Roasted Beet Hummus with Hazelnut Oil & Rosemary recipe is a bright and easy snack worthy of serving to any guest.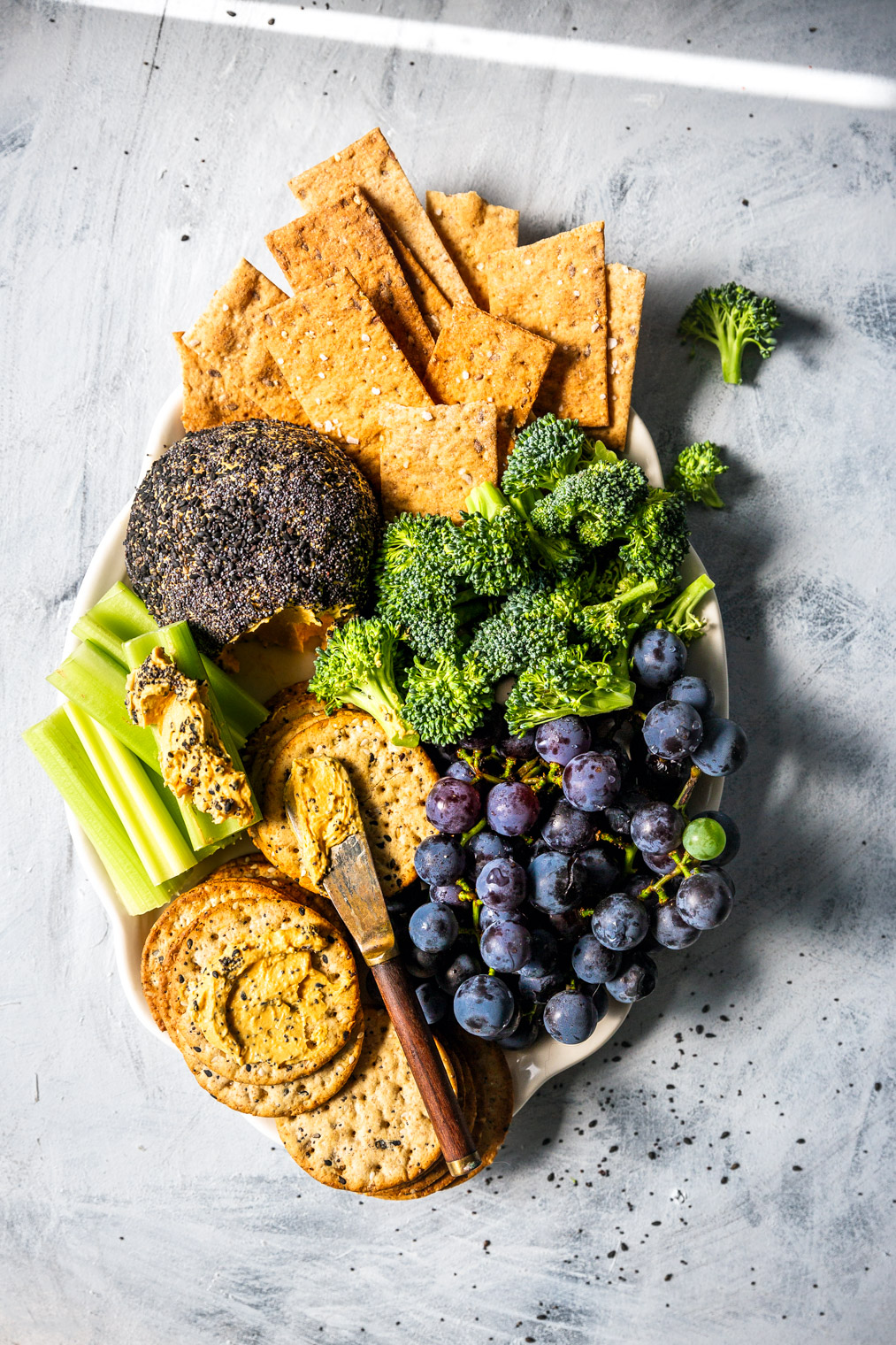 This Pumpkin Cheddar Cheese Ball Appetizer Recipe is perfect for any fall entertaining you are planning to do!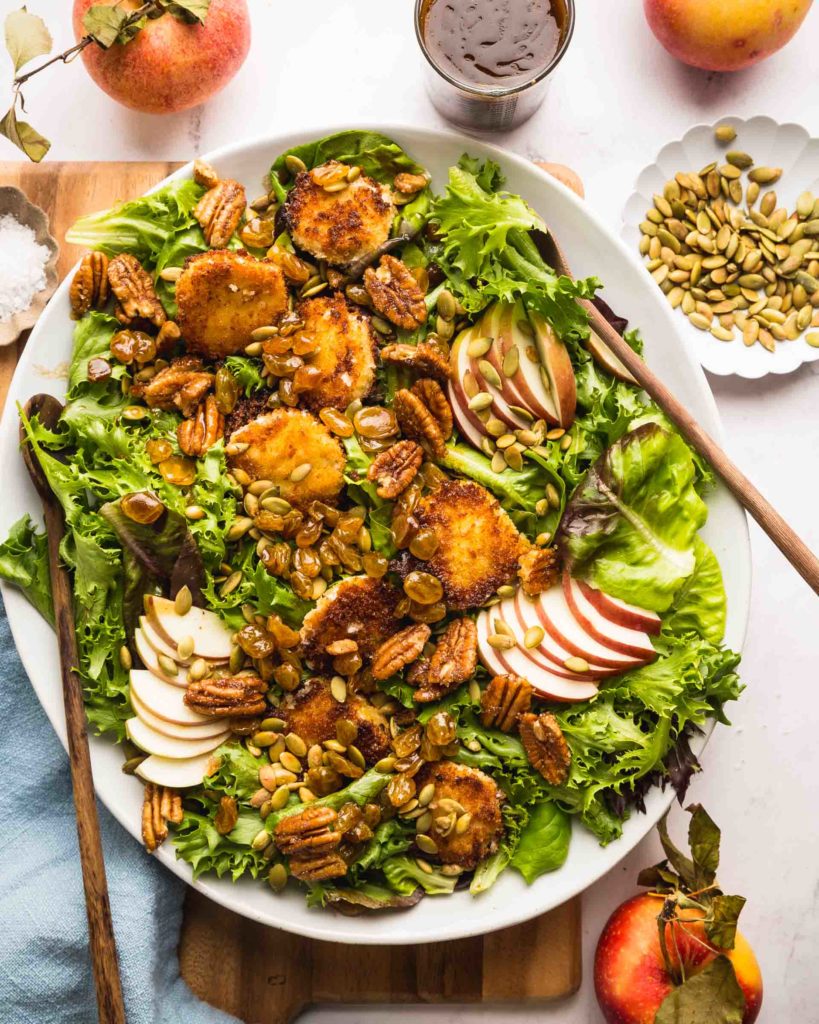 This Goat Cheese Fritter and Apple Salad with Brown Sugar Pecans and Maple Vinaigrette is a hearty meal with enough components to make each bite interesting and filling.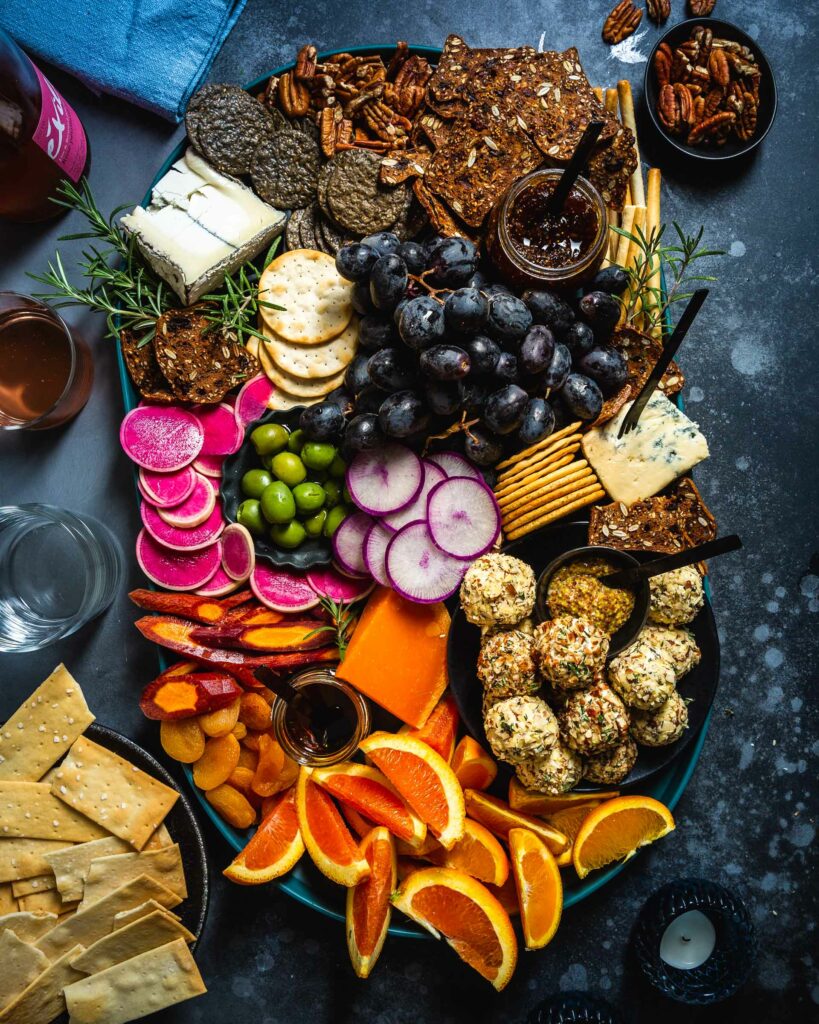 This striking fall cheese platter with mini cheese ball bites is sure to wow your guests and a perfect way to start your holiday with friends and family.
Festive Drinks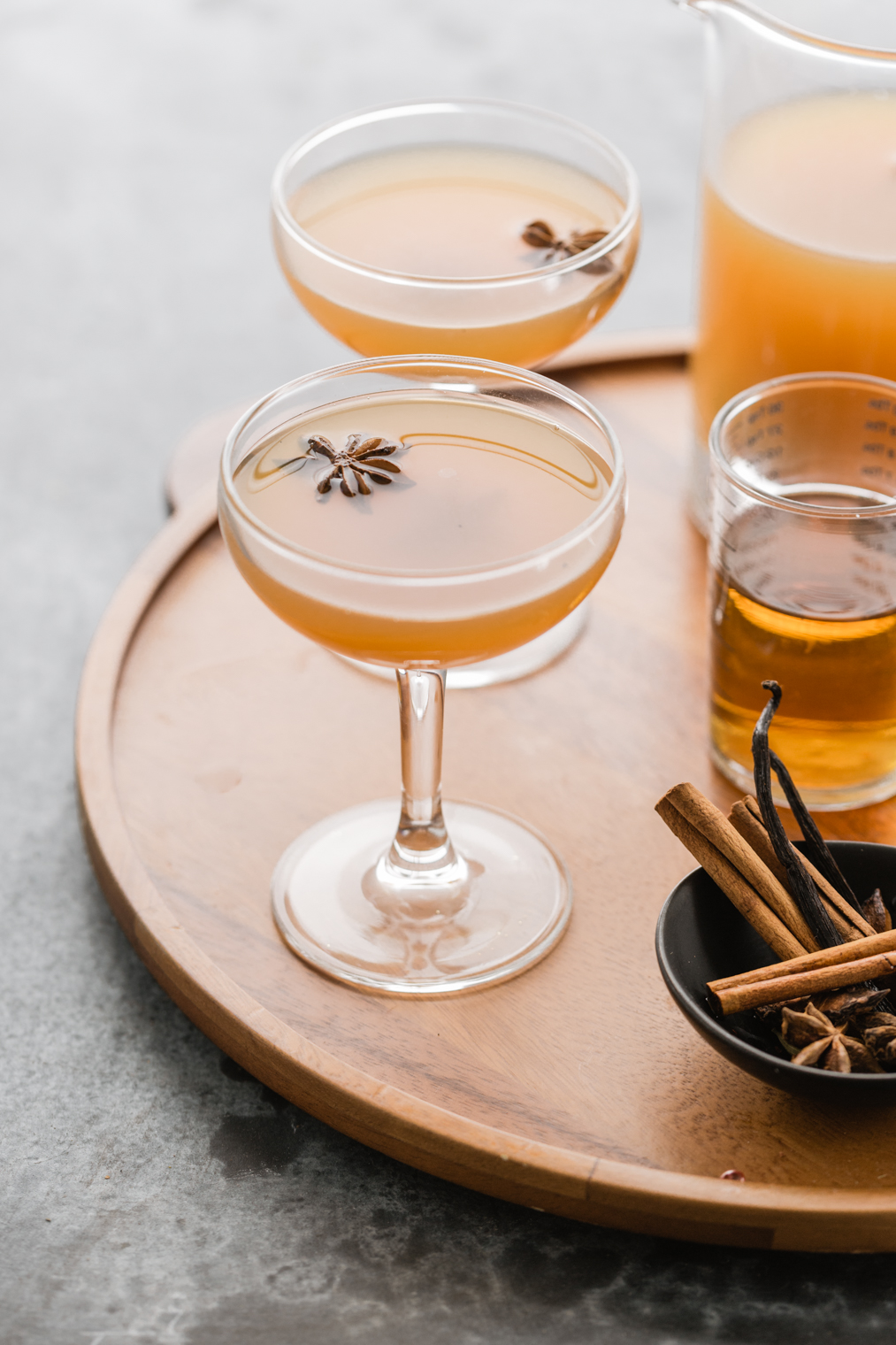 This festive Chai Spiced Apple Cider Cocktail recipe is a delicious fall drink that can be easily made with booze or as a mocktail.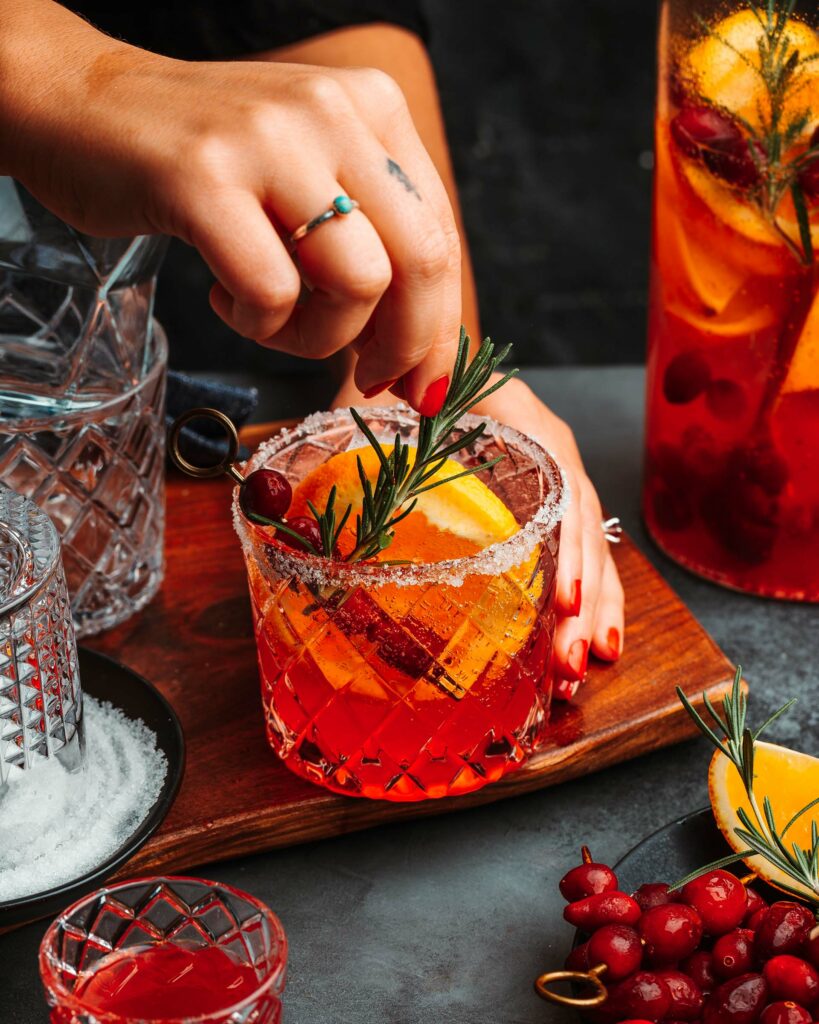 This Sparkling Cranberry Orange Margarita is a festive and easy tequila cocktail that can mostly be prepped ahead of time for a no-fuss assembly.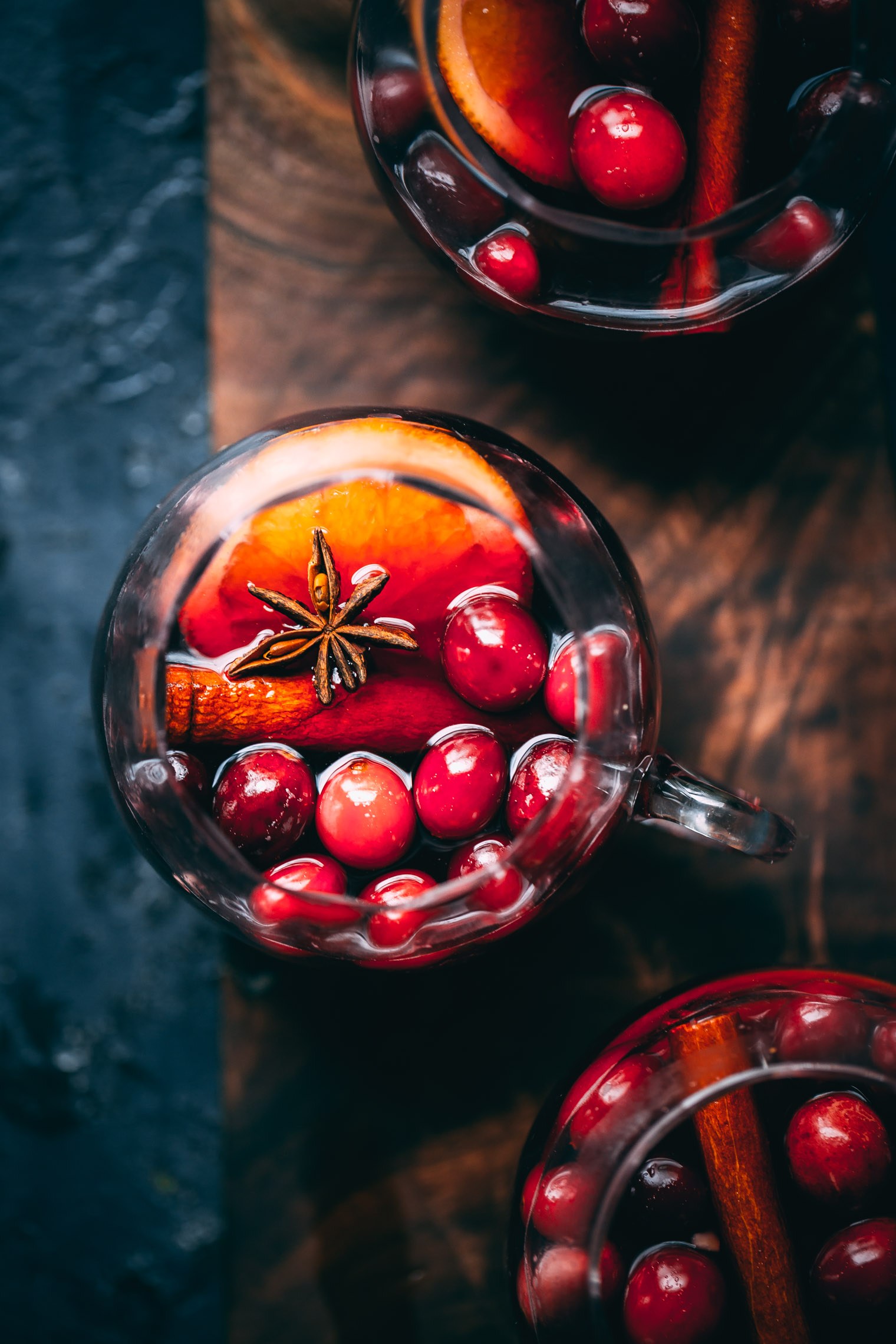 This Cranberry Molasses Mulled Wine recipe is perfect for chilly winter evenings or big holiday events. Serve it with a few orange slices and fresh cranberries for a stunning presentation.
Vegetarian Thanksgiving Mains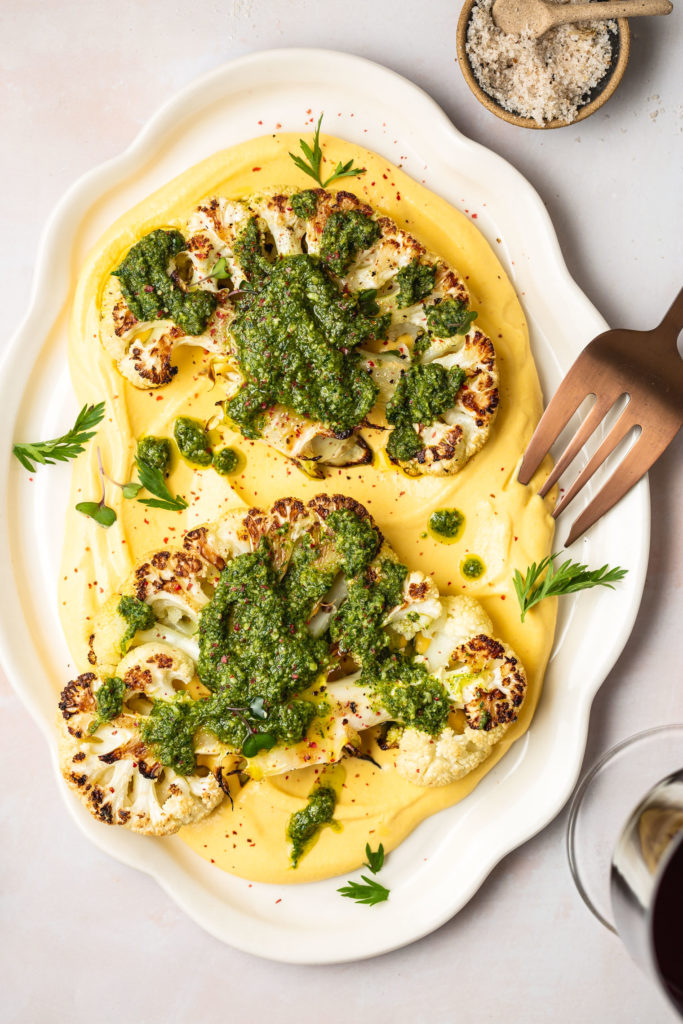 Because a chunk of cauliflower on it's own probably won't fill you up, I added both a filling and flavorful dressing as the base and also a bright and punchy pesto to round it all out. The end result is savory, bright, and totally addicting. Get the recipe for this Cauliflower Steak with Carrot Miso Puree & Carrot-Top Pesto HERE.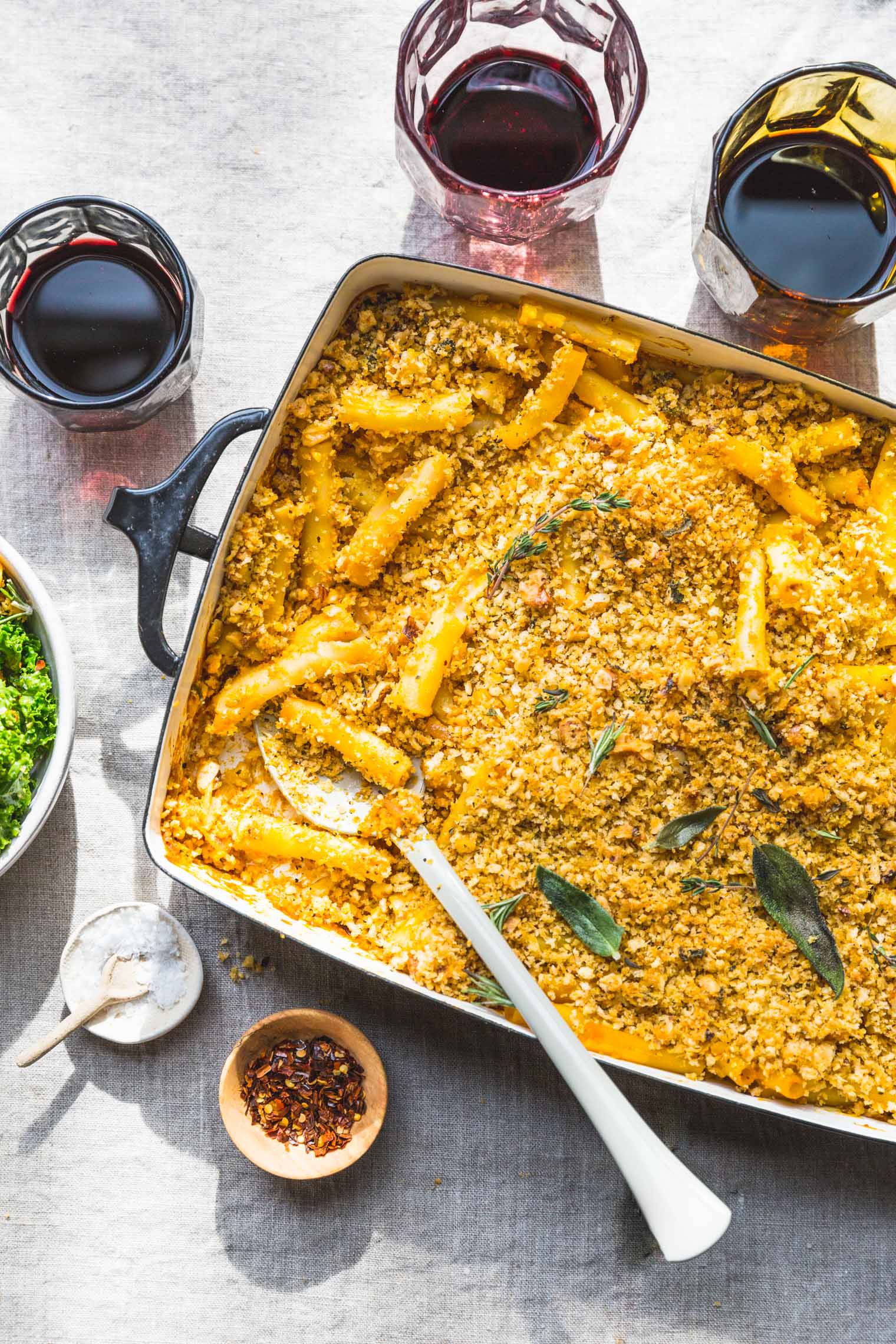 This Vegan Pumpkin Baked Ziti recipe (from the Veganomicon cookbook) is a perfect and easy Thanksgiving Vegetarian main dish. It can even be made ahead of time and baked just before serving!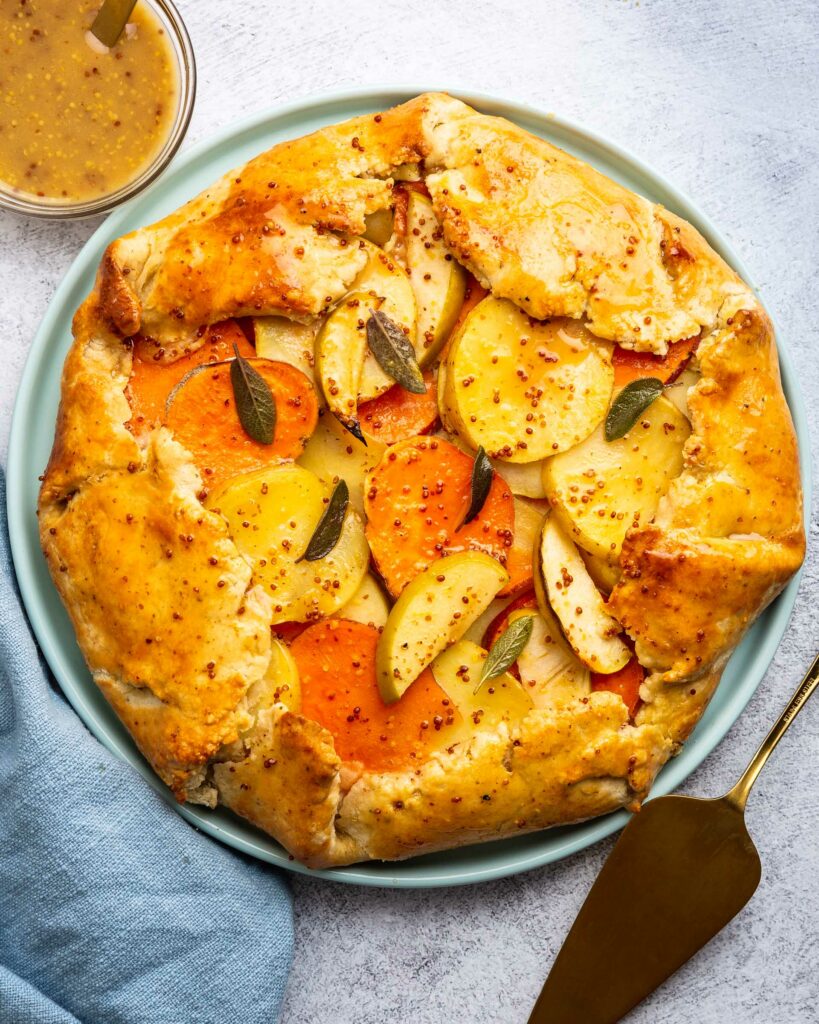 This Savory Potato and Apple Galette with Cider Dijon Glaze is layered with flavor and just enough sweet to create an irresistible sweet and savory meal.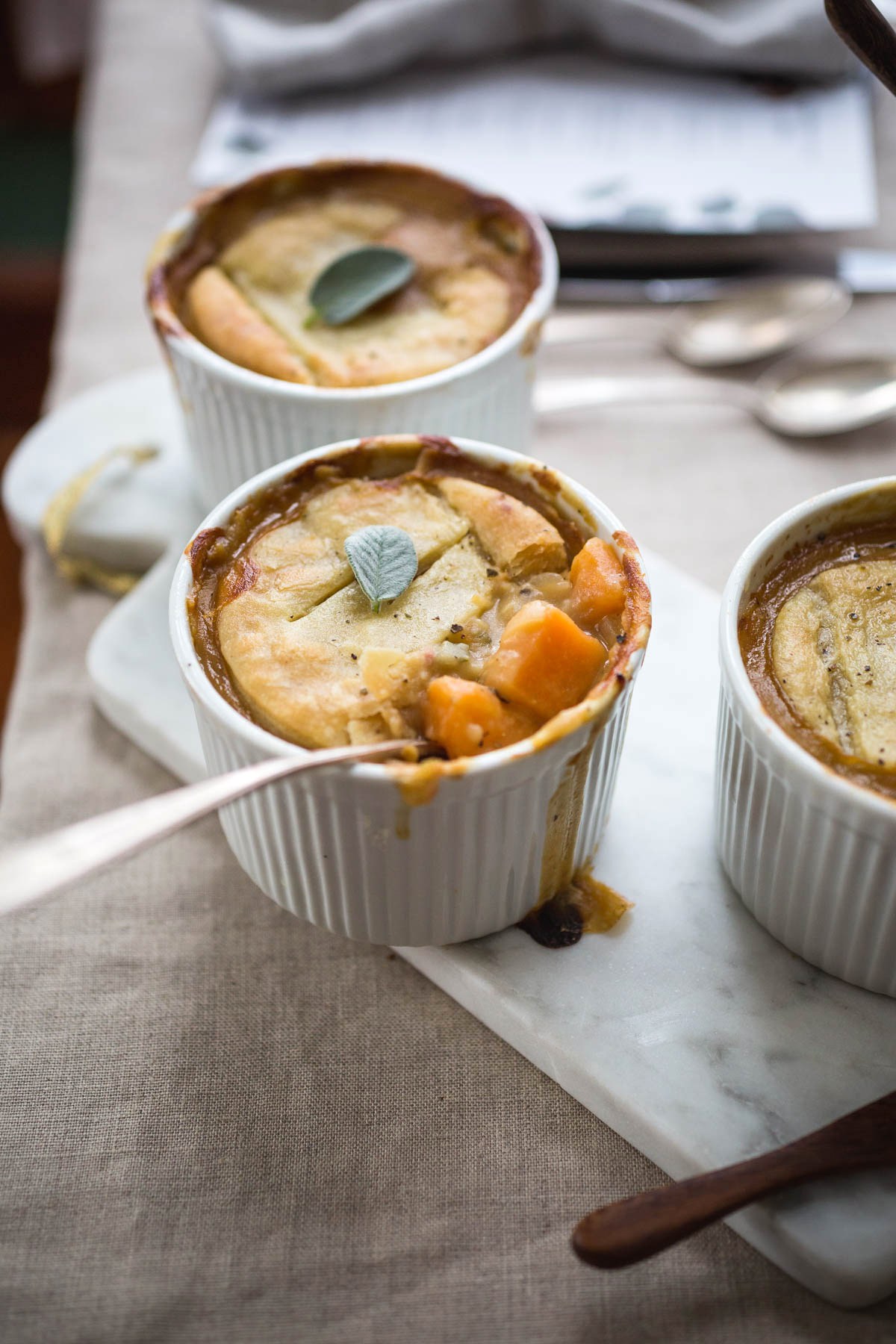 These Mini Pumpkin Pot Pie are the perfect vegetarian Thanksgiving main dish. They also make great weeknight meals as they can be mostly prepped ahead of time.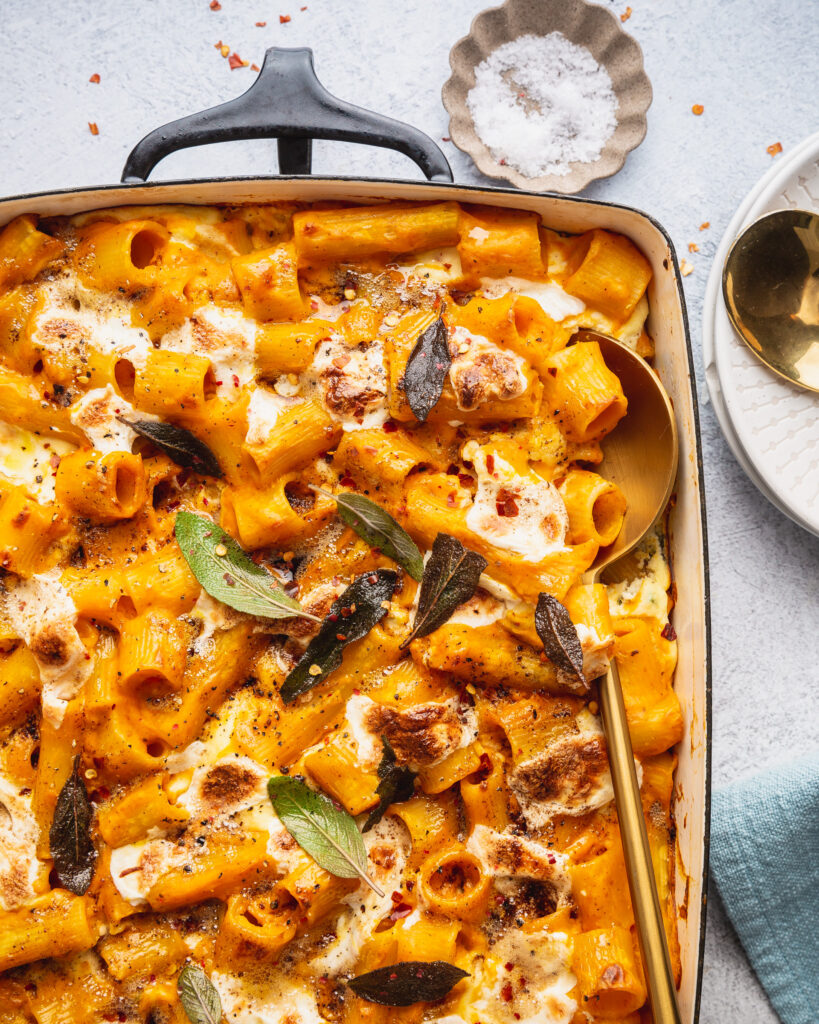 This Vegetarian Baked Pumpkin Pasta with Crispy Sage & Ricotta is the ultimate comfort fall food when you are craving something cheesy and carb-y.
Easy VEGETARIAN THANKSGIVING Sides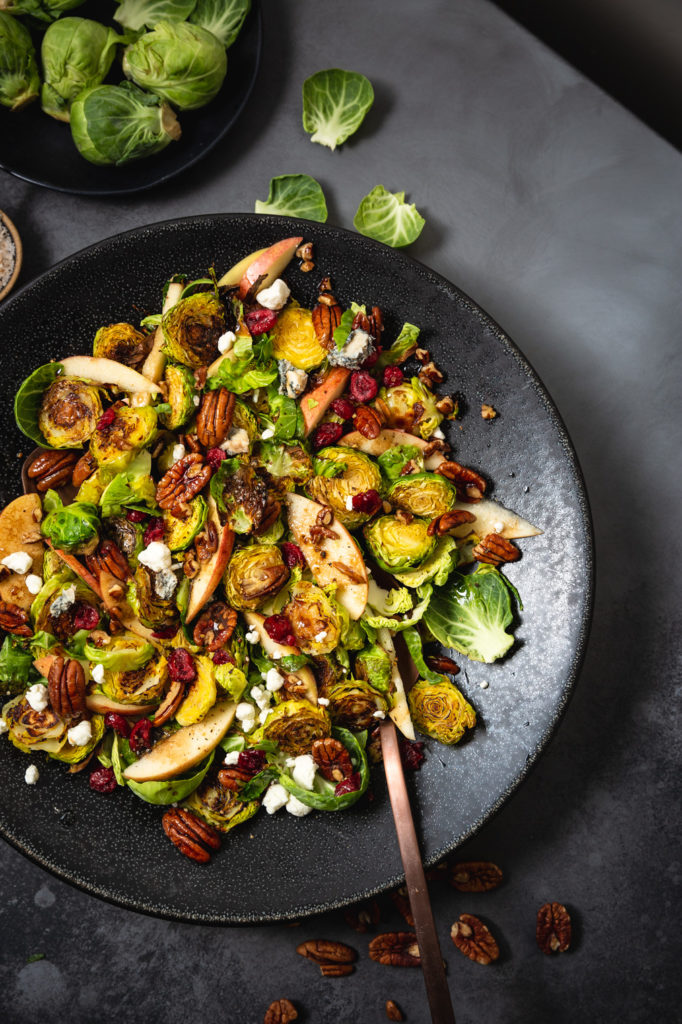 This Roasted Brussels Sprouts Salad With Maple-Balsamic Vinaigrette is inspired by Martina McBride's cookbook, Martina's Kitchen Mix. It's a hearty savory winter salad with a touch of sweet from the apples and cranberries.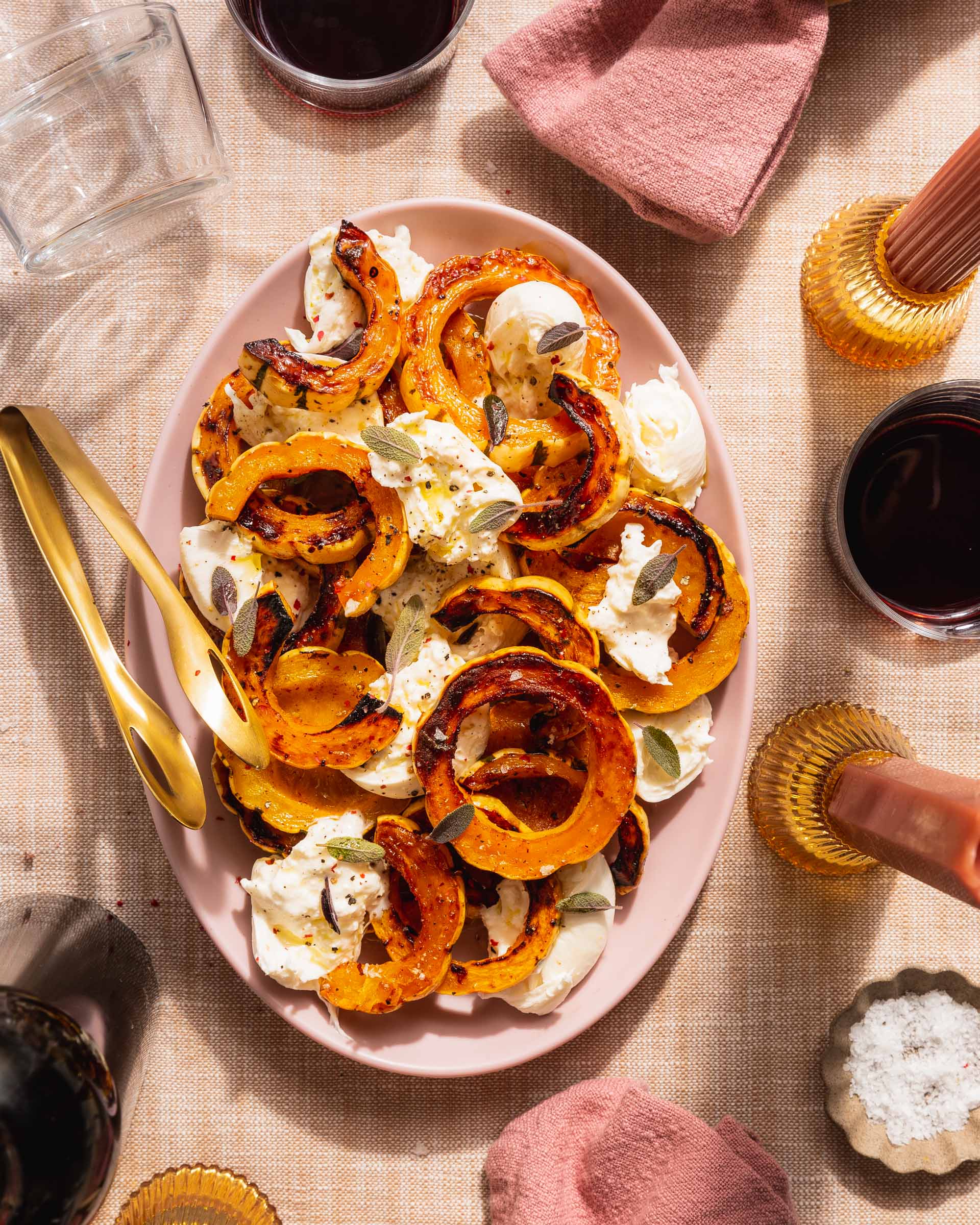 This Roasted Delicata Squash with Burrata and Sage is an easy vegetarian appetizer or side dish for your holiday table. The only part that needs to be cooked is the squash and that can be roasted ahead of time and reheated right before serving.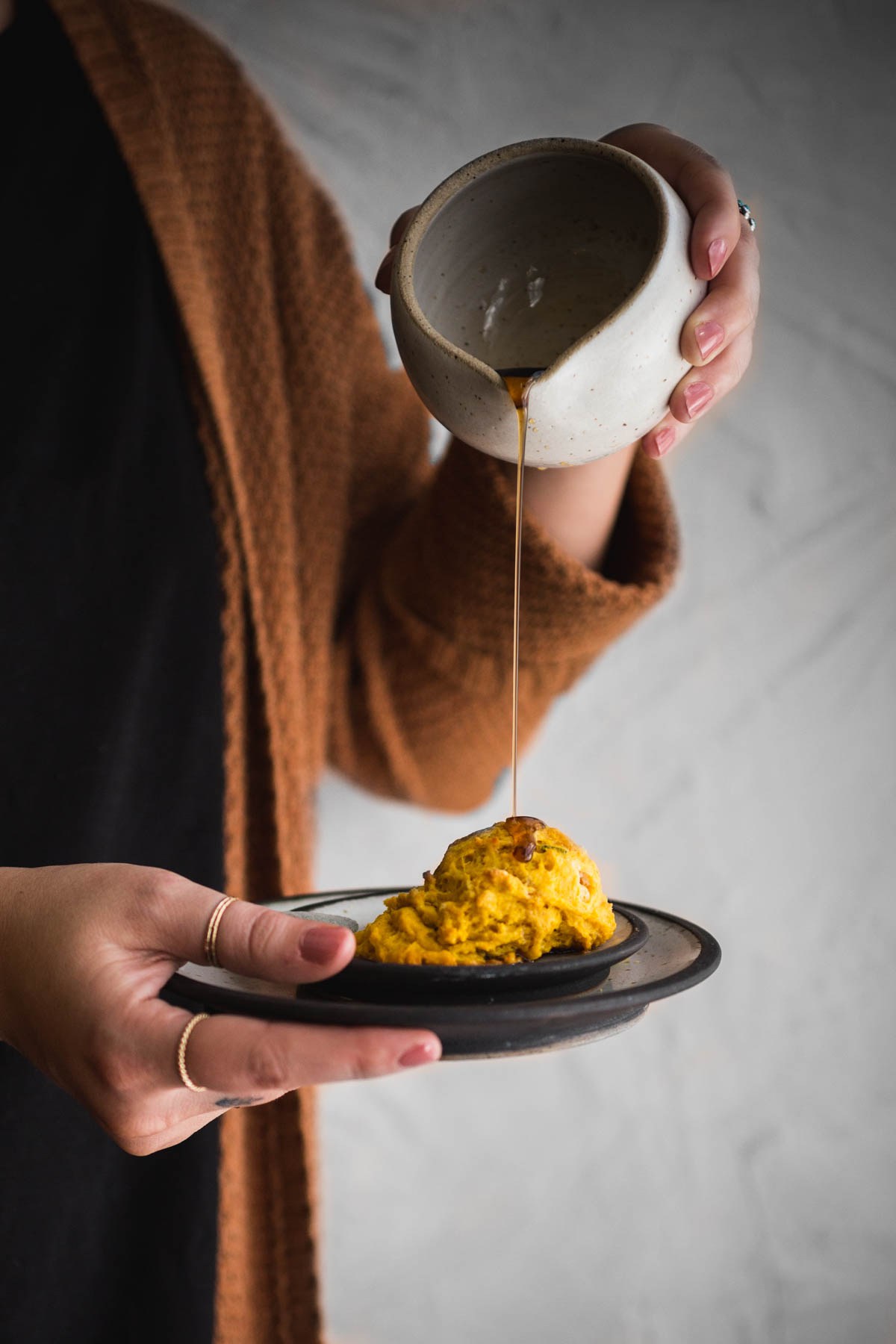 Am I allowed to pick a favorite side from this list of vegetarian Thanksgiving sides? If so, this might be the one. These Pumpkin Sage Drop Biscuits are a quick and easy Thanksgiving dish that can be on the table in less than 25 minutes. They also are perfect to serve with fall soups and stews.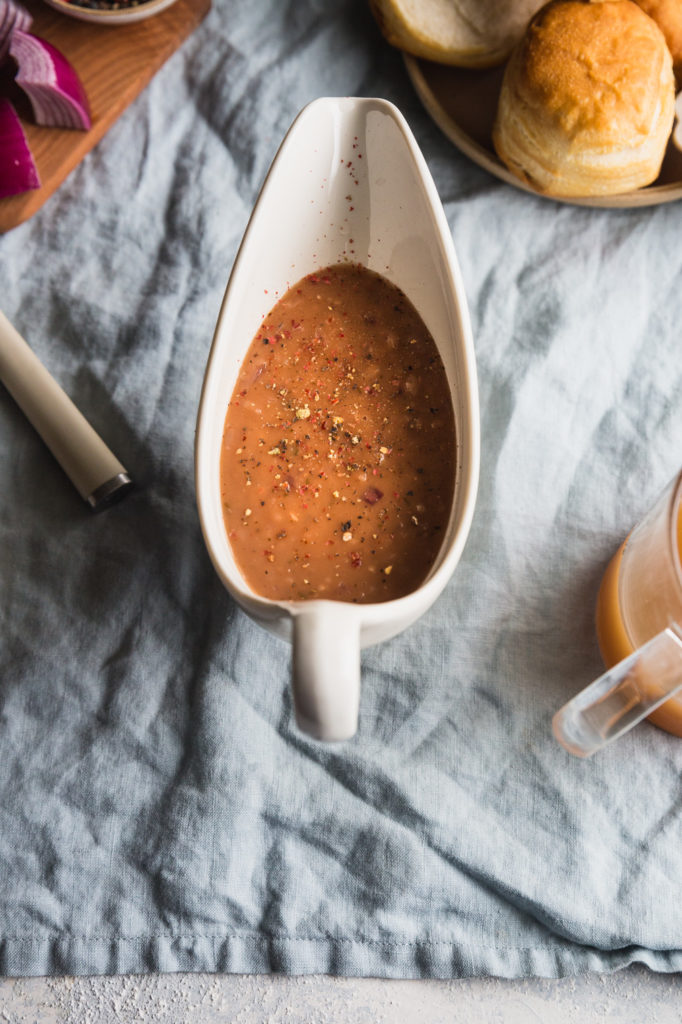 This Apple Cider Gravy recipe from Julie Turshen's Now and Again cookbook is both savory and tangy. It's a perfect gravy for a special occasion like Thanksgiving or a lazy morning with biscuits and eggs.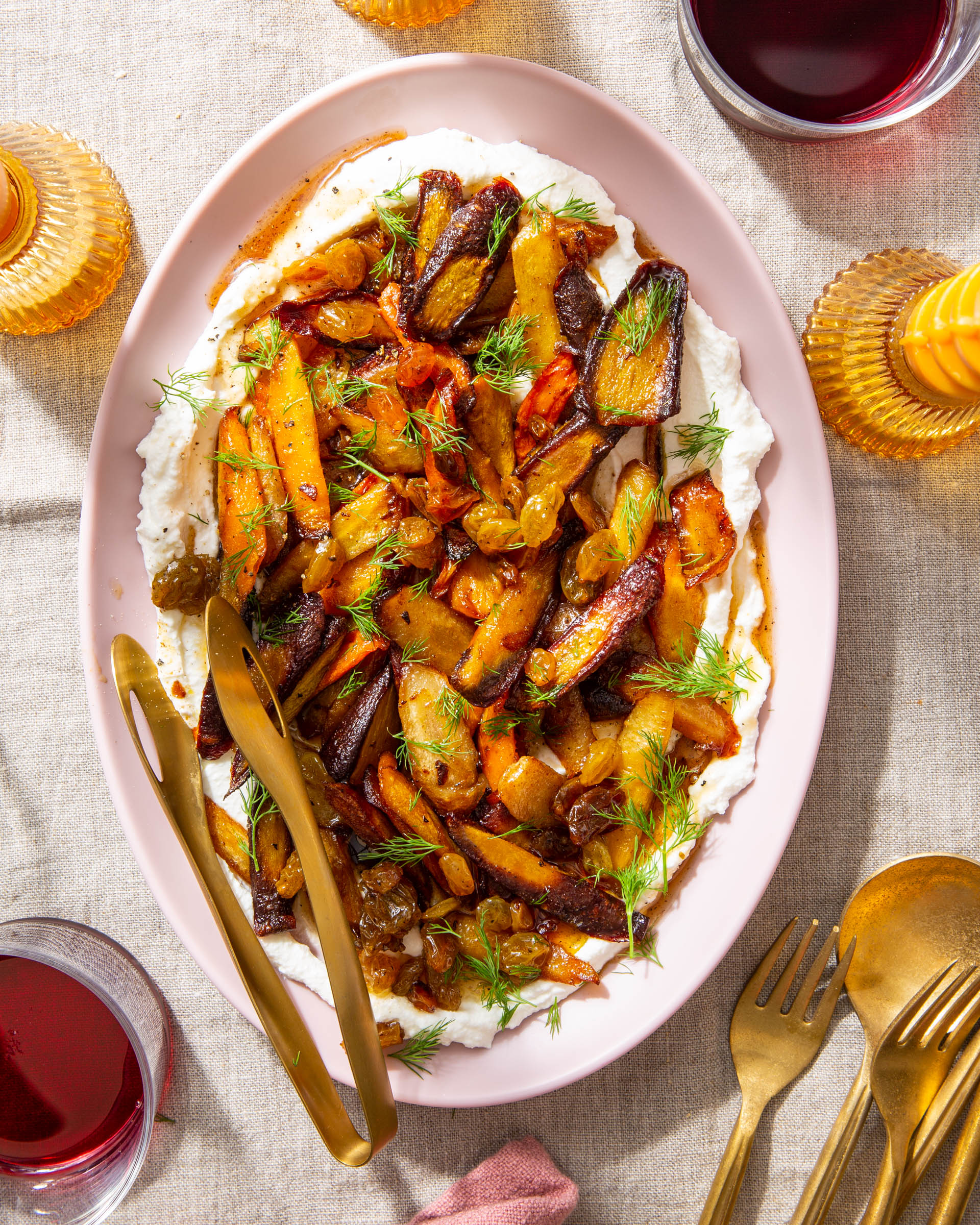 These Caramelized Carrots with Brown Butter & Ricotta are a perfect holiday or dinner party side dish that hits on several of flavors to create an irresistible dish. Deep caramelization of the carrots, a base of creamy lemon ricotta, garnished with bright dill, and an acid punch from the pickled raisins come together to create a seriously crave-able dish worth making for any special occasion.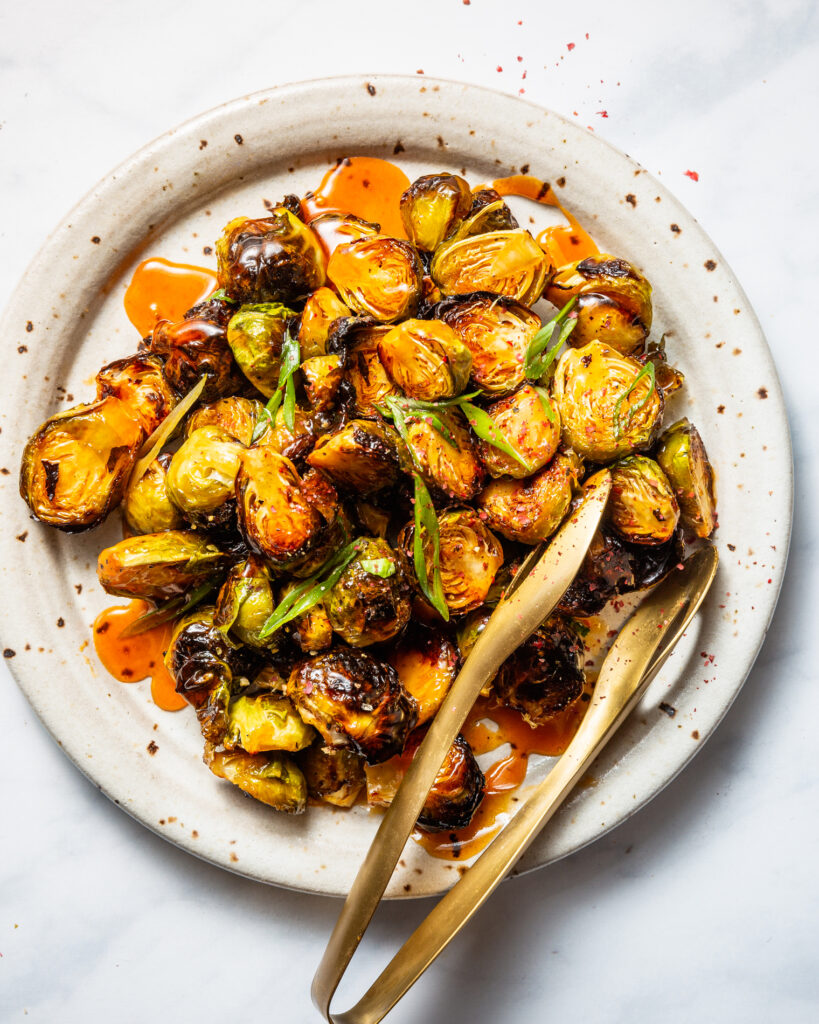 This Roasted Brussels Sprouts with Spicy Sweet Buffalo Glaze is an easy veg-packed Thanksgiving side that is sure to please even the pickiest of eaters!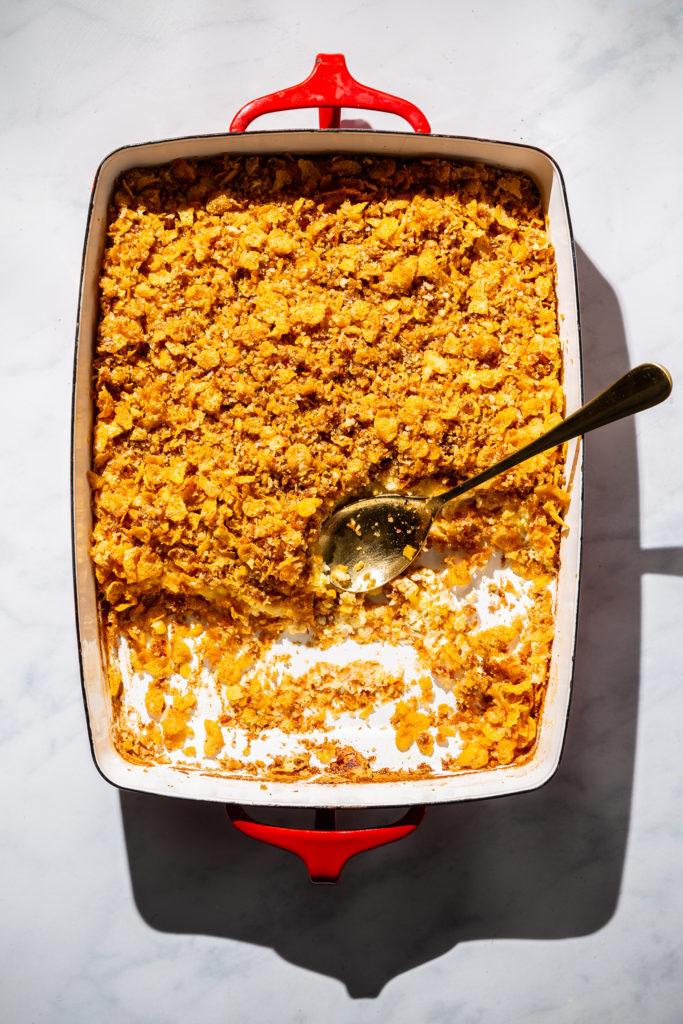 This Cheddar Corn Pudding with Crispy Spicy Sweet Topping is a creative and delicious Thanksgiving side. The inside is similar enough to traditional corn pudding to please the traditionalist while the crunchy topping brings a whole new level to your Thanksgiving table.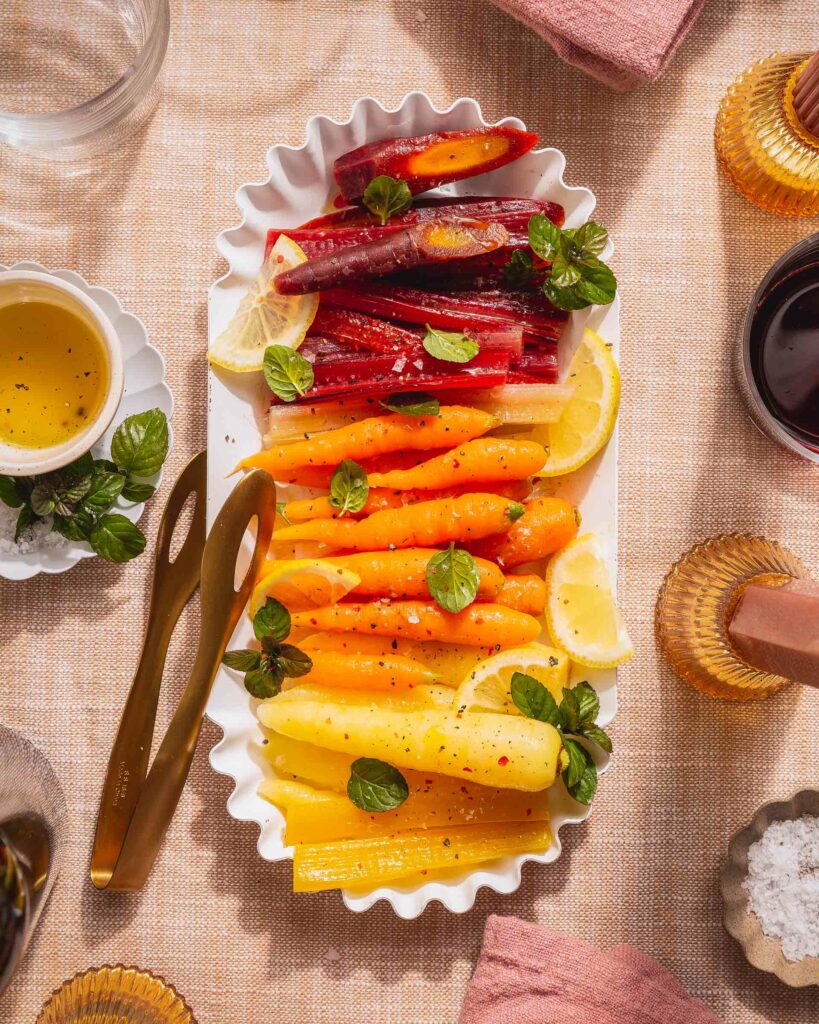 This recipe for Rainbow Carrots and Chard is a stunningly colorful side dish perfect for the holidays or your next gathering. Colorful carrots and chard stems are blanched and then tossed in a light lemon vinaigrette for a healthy and simple recipe.
Thanksgiving Vegetarian Desserts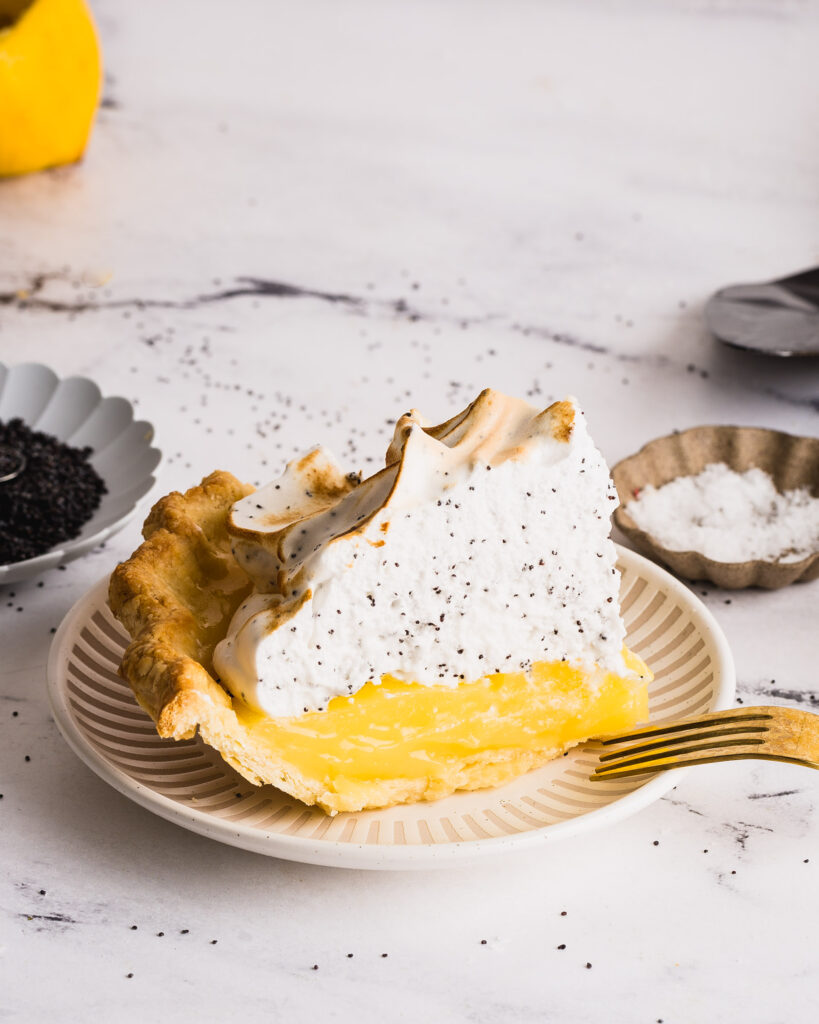 Sharing the recipe for this Lemon Poppyseed Meringue Pie from Petra Paredez's cookbook, Pie For Everyone. This tangy pie is topped with a showstopper of torched meringue which makes it perfect for special occasions and holidays.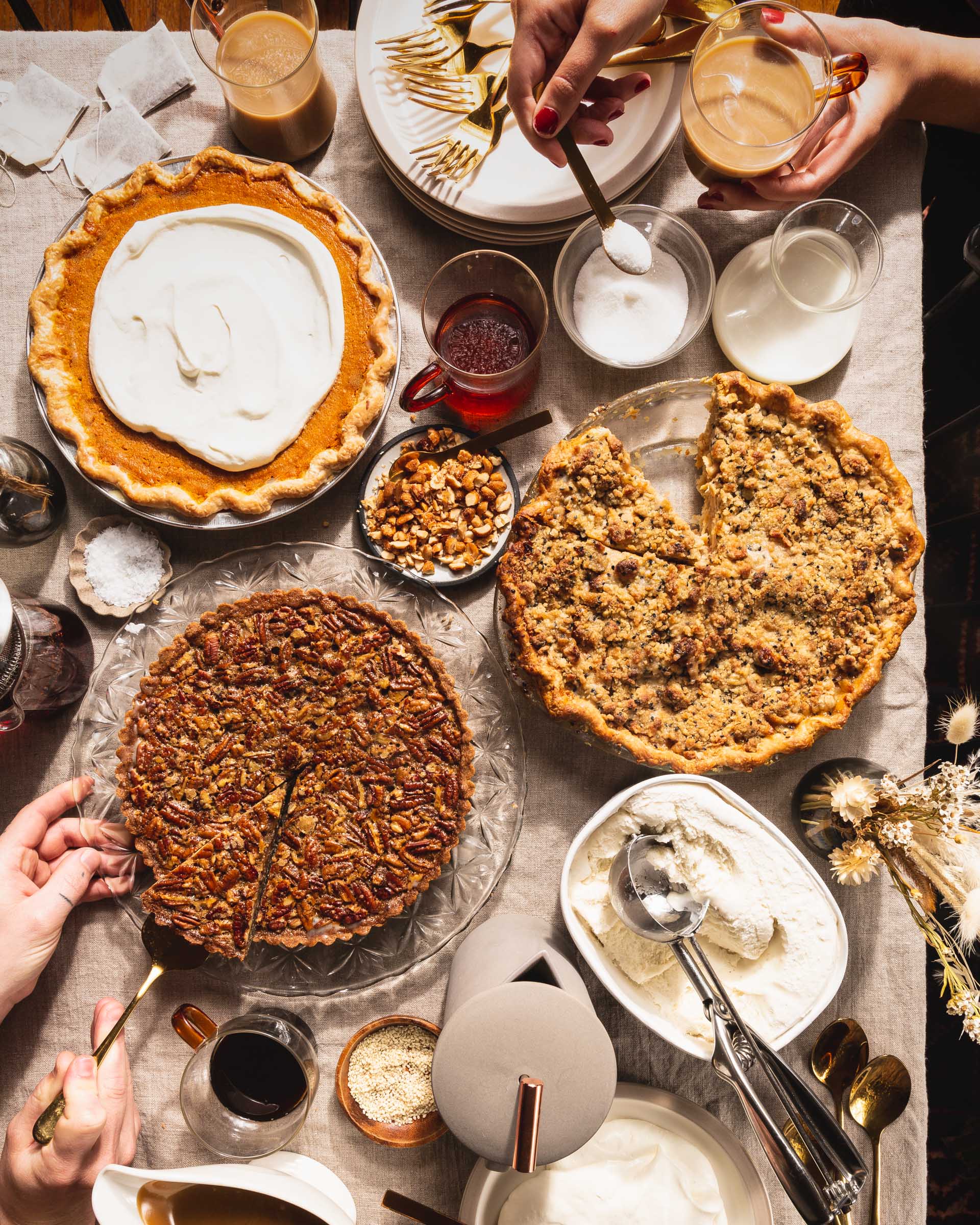 This delicious Apple, Black Sesame, & Cardamom Crumble Pie is from my newest cookbook, Tables & Spreads!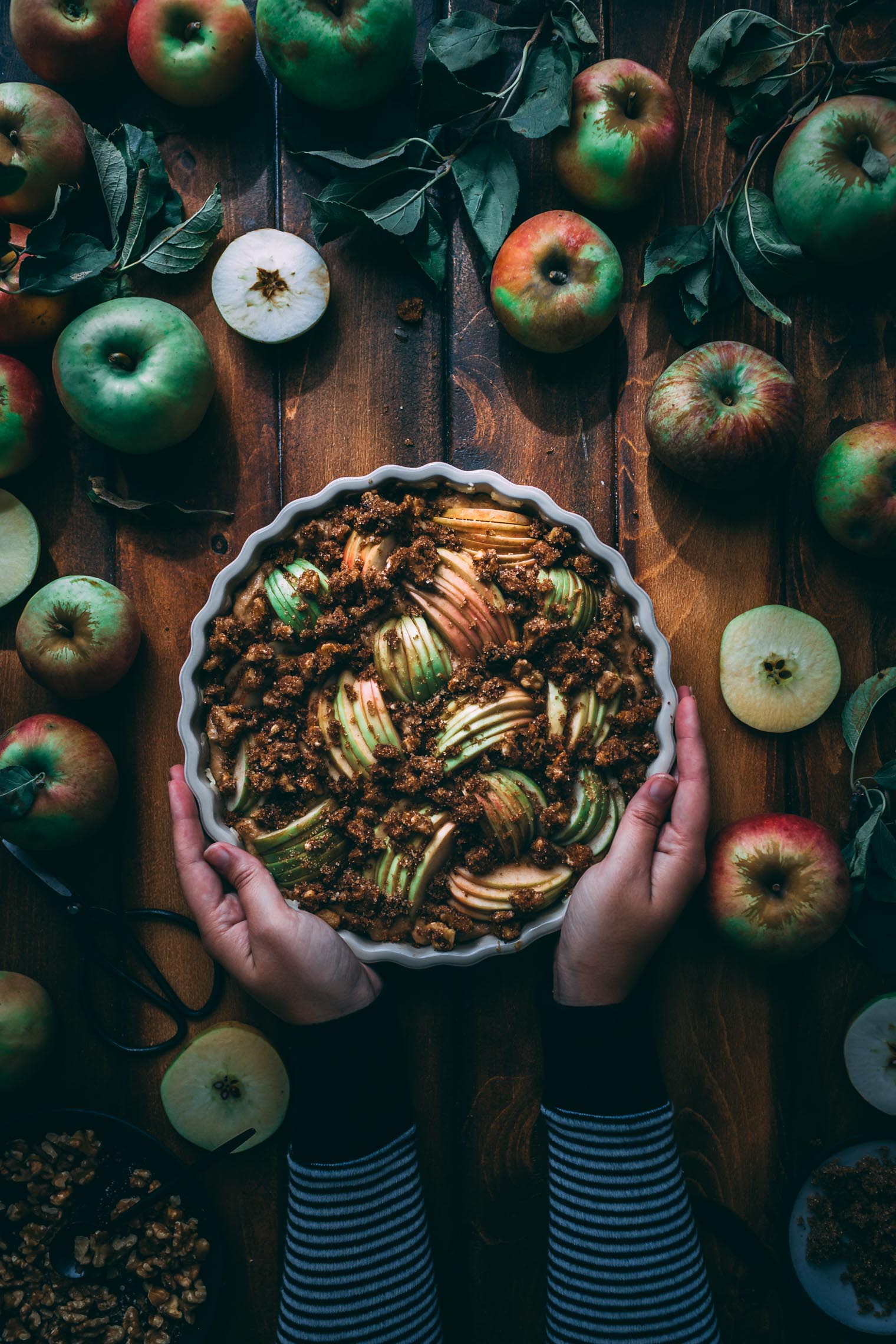 Annnnd a bonus 26 recipe! This Apple Walnut Yogurt Coffee Cake recipe is the perfect fall sweet treat. Serve it with a cup of coffee or peppermint tea.
Make sure to tag Vegetarian 'Ventures on Instagram and use #vegetarianventures when trying this dish out!