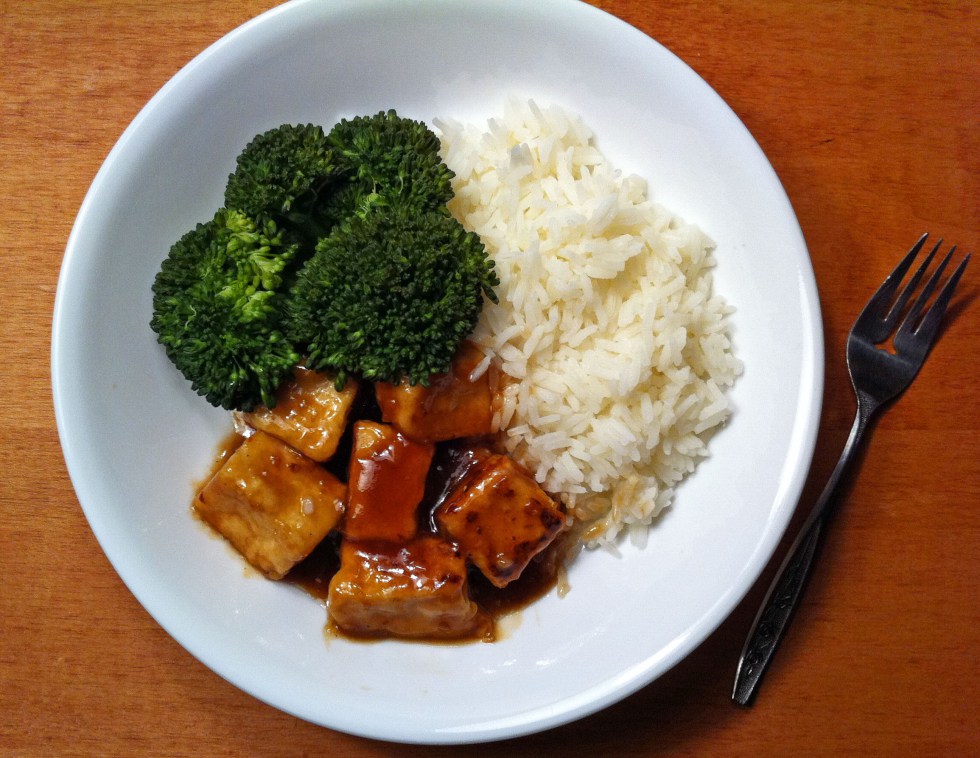 General Tao Tofu
As I keep mentioning, I've got loads of produce I'm still in the process of consuming so here is another dish that I immediately thought of when I saw the mounds of broccoli in my fridge (I've made this recipe half a dozen times before and it always turns out oh so yummy).
Growing up, Chinese food was the what we got as take out and although I wasn't a meat eater for the most of this time span (veggie fried rice and sweet n sour sauce did the job for me), I still always loved the general tao sauce. I've tried to get carry out where they would substitute in tofu but it's not the same; their sauce is built for chicken and somehow the tofu doesn't absorb it so it ends up super sweet all over the rice and bland on the tofu.
Anyways, this recipe is a perfect way to prepare this (and ends up 1000 times better than if you order take out!). The way that the corn starch (you can use potato starch to make it organic!) coats the tofu helps it to absorb the maximum amount of flavor possible and then you also know exactly what is going into your food (for much less than the price of take out!)
Okay, so whip this up for an easy comfort food dinner that you can enjoy while being lazy in front of the TV or as a pregame dinner with sake bombs!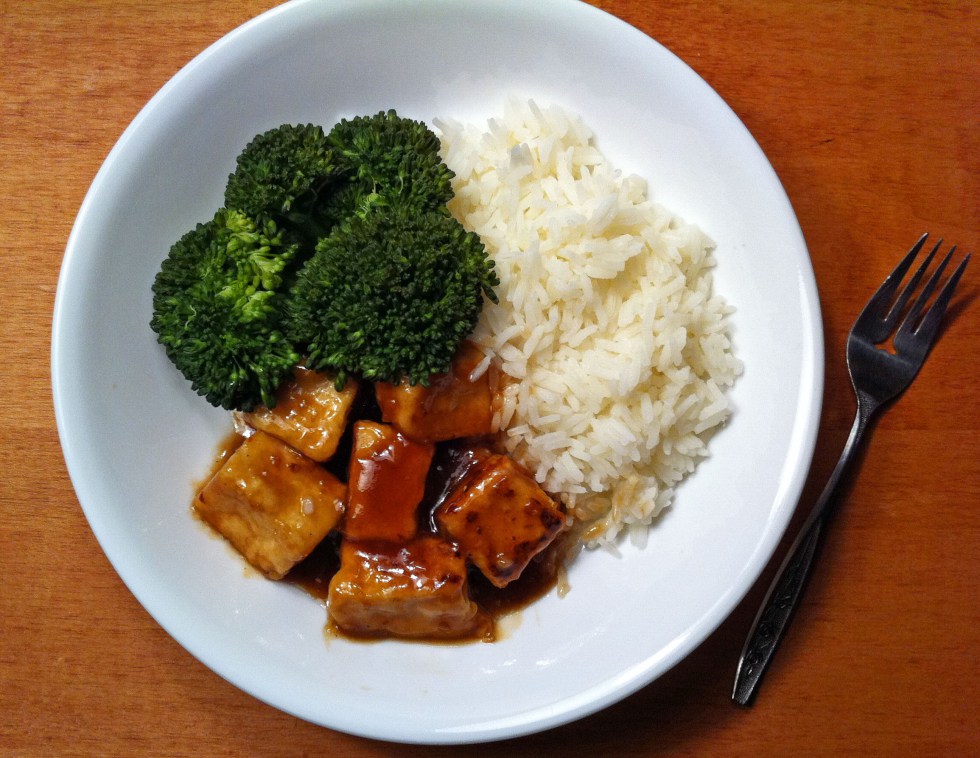 General Tao Tofu
1 1/2 teaspoons Ener-G egg replacer
4 Tablespoons water
1 pound of extra firm tofu (drained and cut into 1-inch cubes)
3/4 cup + 1 tablespoon cornstarch
5 tablespoons vegetable oil
1 Tablespoon fresh ginger, minced
3 garlic cloves, minced
2/3 cup vegetable stock
2 Tablespoons soy sauce
1/4 cup sugar
Dash of crushed red pepper flakes
1 Tablespoon white vinegar
Steamed Broccoli and cooked rice (For serving)
In a small bowl, whisk together the egg replacer with 3 Tablespoons water. Dip tofu in this mixture until completely coated and then sprinkle 3/4 cup of the cornstarch over the tofu until it's completely coated.
Next, In a large pan fry the tofu by added them to a medium heated pan with 2 tablespoons of vegetable oil in it. Flip the tofu after about 2 minutes or until it is browned on all sides. When done, put the tofu on a plate lined with paper towel to drain any excess oil.
Mix remaining water and corn starch in a small bowl and set aside
Next, heat skillet over medium-high heat and add in remaining oil. Add ginger and garlic and cook for about 2 minutes. Then add vegetable stock, soy sauce, sugar, red pepper flakes, and vinegar. Add in the corn starch mixture and stir until well incorporated. Add fried tofu and coat evenly.
Serve warm with rice and steamed broccoli.
Mmmmmmmm.