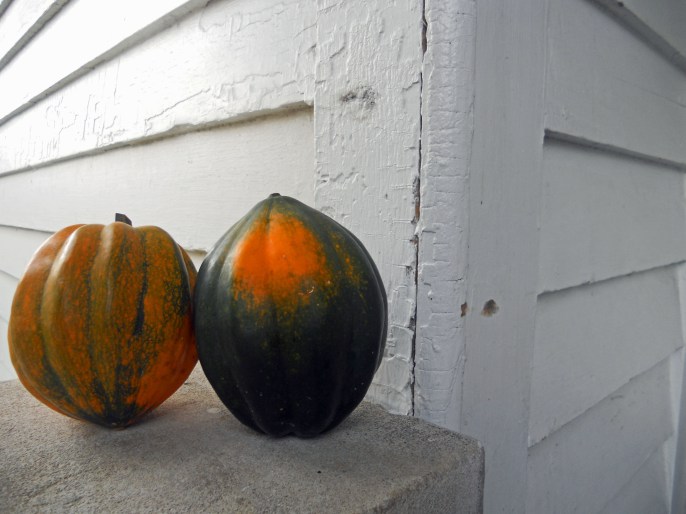 Acorn Squash stuffed with Sun-Dried Tomato Polenta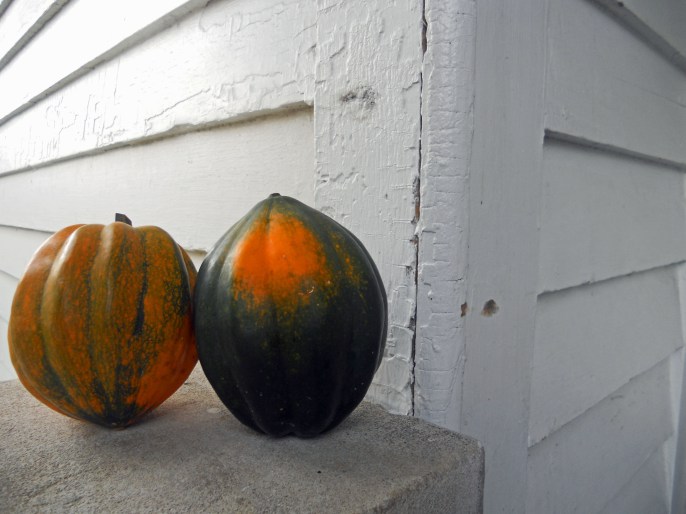 I'm a bit of a pack rat (<—understatement) and although this is highly frowned on, it does have it's advantages sometimes. I had piles upon piles of magazines that date back almost ten years and this summer when I moved I decided that I was finally going to get rid of them (er, well…most of them). This was a great cleanser for my clutter agitation but this also meant that I needed to go through every magazine to make sure there wasn't anything in them I still wanted (I know this is a bit over the top but I was hoping that I hadn't kept these things around for years for nothing!). Anyways, so the end result was a massive pile of ripped out magazine pages in the form of recipes, DIY projects, and collage images.
So, our usual adventure to the Farmer's Market on Saturdays ended up in my usual routine (this is the same way I pick out puppies at the animal shelter- minus the furry part for vegetables) of buying the vegetables that were the cutest and most colorful. We picked up two colorful and spotted acorn squash at the Farmer's Market in hopes of trying out a new recipe and my photographic memory (this is a joke- i have the worst memory ever and it's a miracle I randomly thought of this) reminded me that there was an acorn recipe in that pile. And that is what lead me to trying out this recipe from an issue of Vegetarian Times that was published in 2003. Although a little outdated, this recipe was fantastic and VT was whipping up amazing polenta stuffing before I even knew what fancy corn grits meant.
Acorn Squash Stuffed with Sun-Dried Tomato Polenta
2 Acorn squash
15 sun dried tomatoes (preferably the ones not packed in oil!)
1/4 cup of pine nuts (not happy about this- so expensive!)
4 garlic cloves, minced
1/2 cup parmesan cheese, grated (+more to sprinkle on top)
1/4 cup olive oil
2 1/2 cups vegetable broth
1/2 cup ground polenta
2 Tablespoons fresh parsley
dash of salt
Preheat oven to 350 degrees and line a baking sheet with parchment paper. Slice the squash in half and scoop out seedy center. Spray the acorn squash with cooking spray and put face down on parchment paper. Roast for about 45 minutes.
In the meantime prepare the filling. Soak the sun dried tomatoes in hot water for about 20 minutes to let them soften up. On a baking dish, toast the pine nuts for about 10 minutes in the oven.
When the tomatoes are softened, cut into little pieces and add to a food processor (blender works as well!) along with the garlic, pine nuts, and parmesan. Start the processor and slowly add in the olive oil to well incorporate it. Blend until it's a smooth paste.
In a small pot, bring the vegetable broth (add that dash of salt, too!) to a boil and lower to medium heat. Add polenta and let cook for about 20 minutes. Make sure to whisk it frequently and when it pulls away from the pan and has become a thickened grits texture, it's done! Take it off the heat and add in the pesto that you made in the food processor. Season with salt and pepper.
Finally, fill acorn halves with the mixture and garnish with more parmesan and parsley.
Marvel at how pretty it is. Show your cat. Share with your boyfriend. And be amazed at how yummy fall can taste!