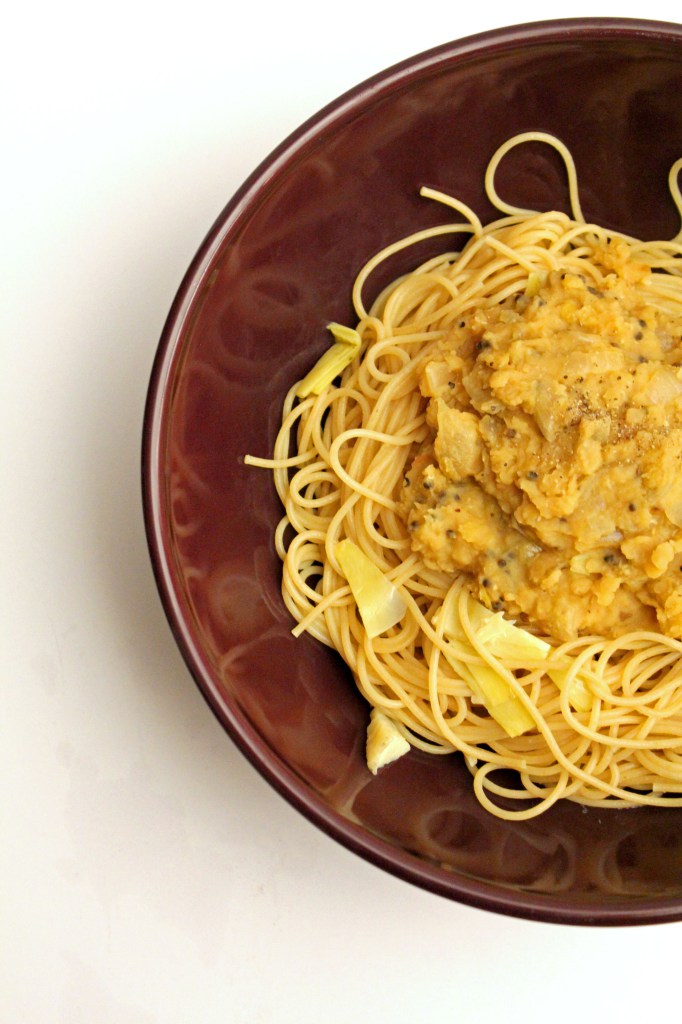 Artichoke and Red Lentil Pasta Sauce
I've had half a bag of red lentils sitting around my kitchen for months now and in an attempt to be resourceful (aka too lazy to go to the store) came across this idea of using them to whip up a quick pasta sauce. I was weary at first because of the texture I thought the sauce might create but it ended up being very creamy and flavorful. The lentils are an excellent source of protein so don't feel bad about skipping meat for this meal (not that I ever feel bad about skipping meat)!
This recipe takes a half an hour (at the most) so don't hesitate to whip it up any night of the week. I served this with bread and a small salad but feel free to make some soup or cutlet or whatever floats your boat. It made lots of pasta though so expect yummy leftovers!
Artichoke and Red Lentil Pasta Sauce
2 teaspoons mustard seeds
1 1/2 cups vegetable broth
3/4 cup dried red lentils
1 small onion, diced
2 large garlic cloves, minced
juice of 1 lemon
1/2 pound of [whole wheat] pasta (I used angel hair but feel free to use whatever you've got on hand)
1 small jar of artichoke hearts, drained and quartered
In a saucepan (with a lid!), add the mustard seeds over medium heat and let them cook until they begin to pop (make sure there is a lid on it so that they don't pop all over your kitchen!). Next, add the vegetable broth, lentils, garlic, and onions. Turn the heat down to medium low and let cook, covered, for 20 minutes. Make sure to check and stir it around every couple minutes.
While that is cooking, prepare the pasta according to it's package directions. Once the pasta has been cooked and drained, mix in the artichoke hearts with it.
Remove the lentil sauce from heat after twenty minutes and use a wooden spool to break the lentils down into a sauce (add more broth if it's too thick).
Top pasta/artichokes with lentil sauce and season with salt and pepper. Munch down.
Oh and listen to this cute song while making it! (Arg, my girl singer weakness is shining through with this recommendation):