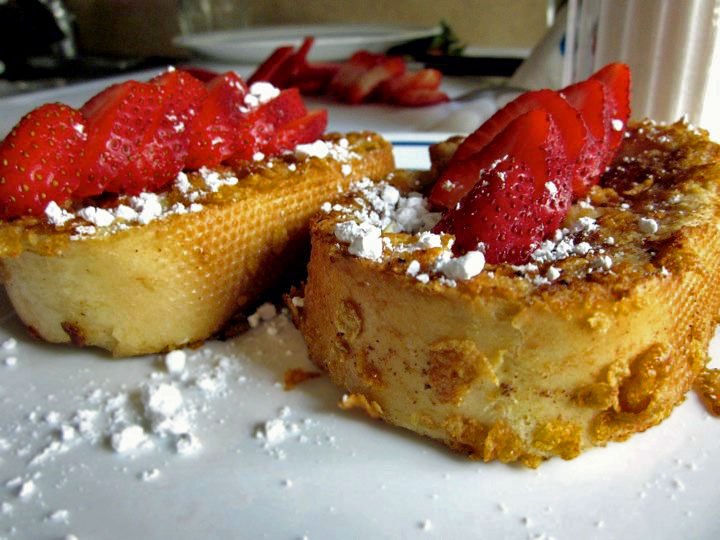 Today we are making Baked French Toast. One of my roommate used to live in a shack. A literal shack. It was behind a full size house and was a cozy one room with a loft for the bedroom. The walls were made of wood panels and you could see the sun shining through the cracks. It was awesome. It was like a peaceful hide out cottage in the middle of a city that no one knew about unless they knew her. She loved that place and I loved that place. I have very fond memories of laying on her couch and lusting about life while she made me food (the living room and kitchen were the same room). Anyways, this recipe was made in this shack and I can't help but reflect on that place every time I make this.
We had "Family dinner" night number 2 last week (Note: Family dinner number 1 was Black Bean and Sweet Potato Enchiladas with Avocado Fries)  and decided to do breakfast for dinner. I live with four girls all with different diets (some of us are vegetarian, some lactose intolerant, and some meat eaters) so it's hard to find something that works for everyone: there is, of course, one thing we can all agree one: alcohol. We needed mimosas…wellllll vamosas. Vamosa is a drink that I created years ago when I was in love with OJ and champagne but needed something more to get the job done. Vamosas are orange juice and champagne with a shot (or two!) of vodka. Bam. done. delicious. I highly encourage you to try one.
Okay, well I've managed to write 200 words that pertain nothing to the Baked French Toast I'm making so time to get serious. Baked french toast is really the only way to eat french toast. The corn flakes give a crispy crunch to the outside while the toast is so thick with eggy batter that it stays soft and fluffy on the inside. And french toast is so versatile that you can serve it with powdered sugar and syrup or go a bit healthier with fresh fruit (My house hold managed to go through an entire bottle of maple syrup when we made these. Just sayin. We're not glutenous….. we just know how to enjoy some quality baked french toast).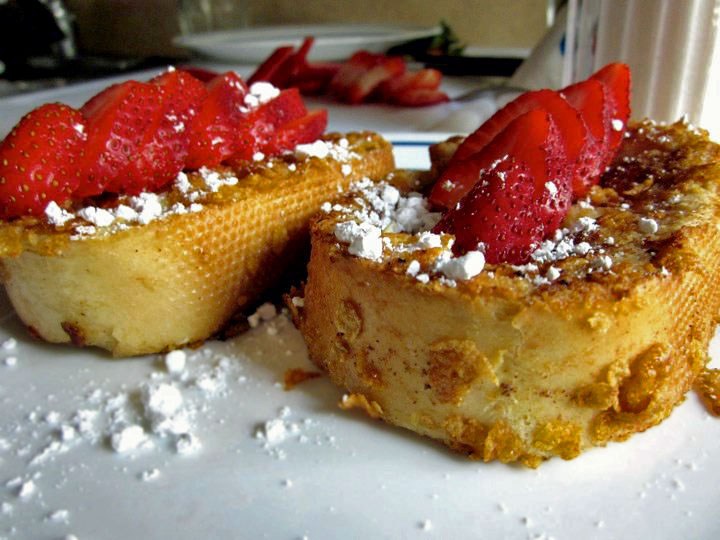 Baked French Toast
4 Eggs
1 1/2 cups Milk
dash of nutmeg
dash of cinnamon
Loaf of stale bread, cut into 1 inch thick slices
1 cup crushed corn flakes
Fresh fruit (optional- for topping)
butter
Preheat oven to 400 degrees. Whisk together the eggs, milk, nutmeg, and cinnamon. Pour crushed corn flakes onto a plate. Heat skillet and butter over medium heat.
Dip bread into the egg mixture (make sure its drenched all the way to the center! You might have to let it sit in the mixture for a few seconds) and then dip onto the corn flakes plate so it coats all of the bread. Cook in the skillet for about 2 minutes on each side.
Once you have done that to all the bread pieces, transfer to a greased baking sheet and cook for about 8 to 10 minutes or until the pieces have noticeably puffed.
Top with yummy fruit and syrup. Mow down.