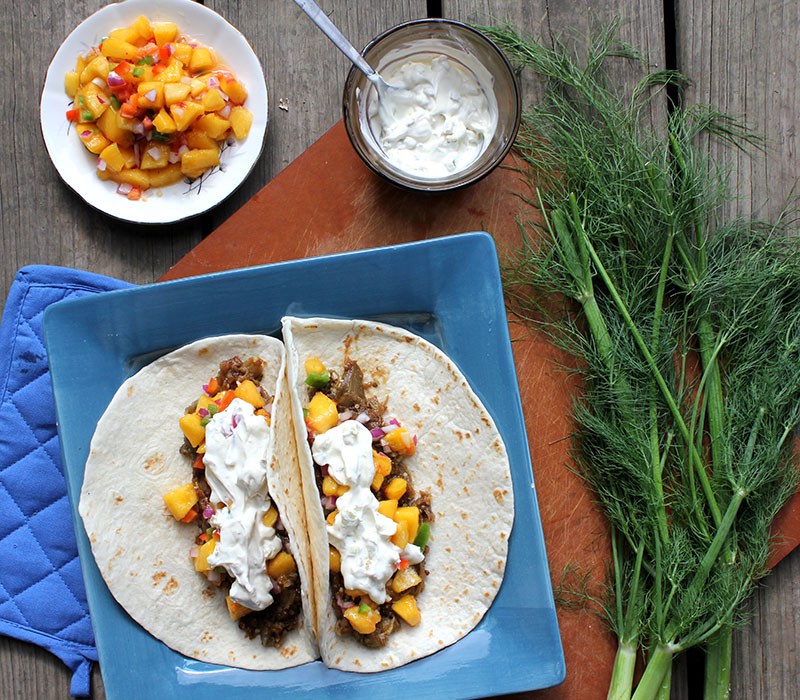 BBQ Eggplant Tacos with Peach Salsa and Fennel Sour Cream
I finally finished reading Plate to Pixel by Helene Dujardin. It was a super fast read with lots of informative tips about how to photography food. I suggest it for any food blogging looking to expand their photography skills. There are loads of great tips that I will be incorporating into my photo taking.
On another note – If your CSA box is anything similar to mine then you are probably overflowing with eggplant right now. I have officially exhausted roasting and sticking them on my lunch sandwich. As in attempt to branch out, I whipped up a big batch of eggplant tacos and they were delicious! I've used tofu to make bbq things before but eggplant was a whole new territory. It worked out great because unlike most vegetables, eggplant has that "meaty" texture to it that almost mimics pulled pork in this recipe.
Also, I ended up cooking the fennel a tiny bit to create a more mild flavor than that sharp licorice flavor raw fennel usually has. Feel free to skip this step if you are in absolute love with the taste of fresh fennel and want to just mix in pieces of it with the sour cream
Hope everyone's week is going well! I am off to an evening of wining and dining with some label reps.
BBQ Eggplant with Peach Salsa and Fennel Sour Cream
For the Eggplant:
3 medium eggplants, sliced
1 Tablespoon olive oil
~1/4 cup barbecue sauce (I used my homemade sauce)
Salt
For the Peach Salsa:
2 peaches, skins removed and diced
1 small jalapeno, diced
1/4 cup red pepper, diced
1/4 cup red onion, diced
Juice from 1 lime
1 garlic clove, minced
1 teaspoon honey
For the Fennel Sour Cream:
1 Fennel bulk, diced
1/2 cup sour cream
drizzle of olive oil
To make the eggplant: Preheat oven to 375 degrees. Slice the eggplants in two and evenly coat with olive oil and salt. Place in a single layer on baking sheet and cook for 40 minutes. Remove from oven and use a spoon to scoop out the insides. Discard the outside and massage (I used one of those little grill brushes) the bbq sauce into the eggplant filling. Place back in the oven for 15 minutes.
To make the salsa: While the eggplant is roasting, dice the peaches, jalapeno, pepper, garlic, and onion. Mix in a bowl and top with lime juice and honey. Stir until combined and stick in the fridge until ready to use.
For the sour cream: Discard the top parts of the fennel. Cut the fennel into small pieces and stick into a small saucepan. Drizzle olive oil over the top and saute over medium for about 4 minutes or until the fennel has softened. Remove from heat and let it come to room temperature. Mix it with the sour cream and stick in the fridge until ready to use.
Finally! Combine all ingredients into softened tortillas and munch down with a side of chips and guacamole (and maybe a beergarita!). Mmmmmm