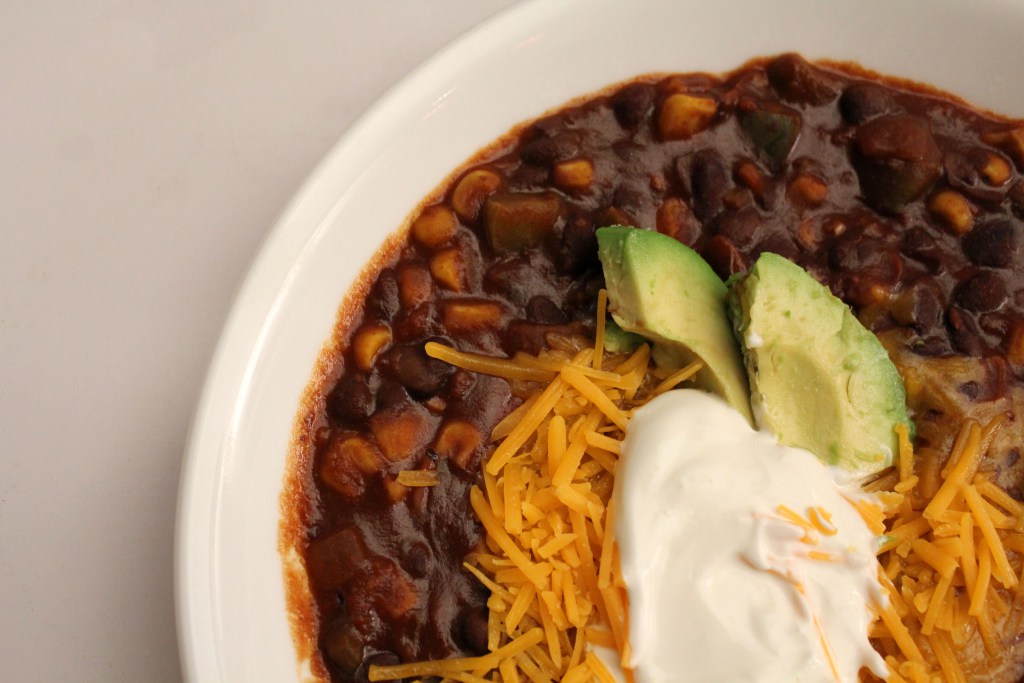 Black Bean Chili
Whoever said that chili without meat isn't chili lied to you. The black beans in this recipe make it so filling and the spices make it so flavorful that you might be able to convert a carnivore with this recipe. Well…maybe. Probably not but it's worth a try, right?
This has been my "go to" chili recipe for years. My former friend (now current roommate) and I originally tackled this guy (guy=recipe) when we were sophomores in college and just getting use to finding our way around the kitchen. This means that it's a recipe for even the newer cooks. We have made this recipe dozens of times and have been tweaking it to our liking since, so for the experienced cookers, feel free to add/remove and tweak whatever you'd like for this recipe!
Black Bean Chili
1/4 cup olive oil
2 cups onions, chopped
2 bell peppers, chopped
3 large garlic cloves, minced
2 Tablespoons chili powder (use red pepper flakes if you like a kick- I'm a wuss)
2 teaspoons dried oregano
1 1/2 teaspoon cumin
1/2 teaspoon cayenne pepper
3- 15 oz. cans black beans, drained (but liquid reserved)
1 14.5 ounce can of diced tomatoes
1/2 cup liquid reserve from black beans
8 oz. jar salsa
1 can corn
Garnish options:
sour cream
cheddar cheese
cilantro
avocado
In a large pot, heat oil over medium heat.
Saute onions, peppers, and garlic for first ten minutes. Next, mix in chili powder, cumin, oregano, cayenne, beans, reserved liquid, tomatoes, salsa, and corn.
Bring to a boil and then simmer for 15 to 20 minutes.
Top with loads of cheese, avocados, cilantro, and anything else scrumptious. Also, serve with cornbread (which I made but we'll have to save that for a future post!) Soooo simple right? Piece. of. cake. Well…chili cake? Yeah, I'm done.