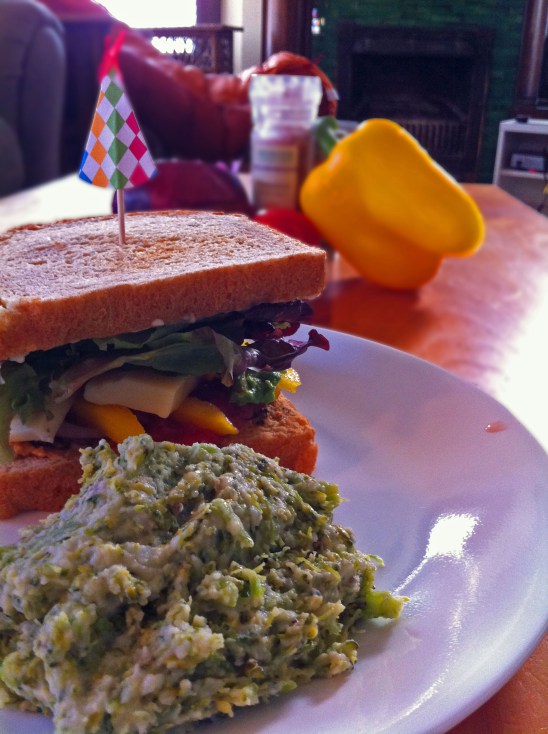 Broccoli Two Ways: Cheddar Broccoli Soup and Mashed Broccoli Potatoes
So the broccoli at the Farmer's Market are currently pieces of art for which I decided I needed to own them in bulk. AKA now I have a buttload of broccoli that I need to use up fast fast fast!
I don't cook with fresh broccoli being the main very often (it always accompanies other veggies in other curries or stews) but this time I wanted to make these green bundles of color the main star.
I decided to see what I could come up with if I featured it as a main dish one night and as a side the other. The products of this endeavor was not only colorful but absolutely scrumptious! I was sooo pleased with how easy both of these recipes were to create and how flavorful they turned out.
First, we will talk about the mashed broccoli potatoes. They were like a slightly healthier version of mashed potatoes (less potato, more broccoli) but also had all the full flavor additives of yummy homemade mashed potatoes (sour cream, butter, and more butter). They turned out creamy and were the most hassle-free potato dish I've ever made. By steaming the potatoes and broccoli, they ended up so soft that using a mixer to combine the ingredients would have just been wasteful.
Mashed Broccoli Potatoes
3 cups finely chopped broccoli
1 pound potatoes, cut into small pieces
1/2 cup sour cream
3 Tablespoons butter
salt and pepper, to season
Steam the broccoli and potatoes until very tender (about 15 minutes). Then combine in a bowl and mash with the sour cream, butter, and salt/pepper.
Marvel at their greenness and then much down with a yummy main dish (like vegetarian chicken nuggets or Vegetarian Cranberry and Goat Cheese Chik'n Cutlets)
And for recipe part number two! This soup was ridiculously easy to make and I whipped it up in about 30 minutes! Probably one of the quickest (and yummiest) soup recipes I've ever made.
Broccoli-Cheddar Soup
I onion, chopped
2 celery stalks, chopped
2 cups vegetable broth
2 cups half and half
1 pound potatoes, chopped (you can peel them but I like the skins and I'm lazy)
1 pound sweet potato, chopped
1 bay leaf
2 cups chopped broccoli
1 1/2 cups shredded cheddar cheese
salt/pepper, for seasoning
olive oil
Heat a tablespoon or two in a large pot over medium-high heat. Add oinions and celery and cook for about five minutes (or until softened. Make sure to stir them around during cooking!). NNext, add the vegetable broth, half and half, potatoes (both kinds), bay leaf, 2 cups of water, and salt and pepper to the pot. Bring it all to a boil! While this is happening, lightly steam the broccoli (keep them a little firm) in a steamer or in the microwave (if doing it in the microwave then cover them with plastic wrap and cook for about 4 minutes)
Once boiling, reduce to a simmer and let cook for about 15 minutes or until the potatoes are soft. Next, remove the bay leaf and transfer the soup to a blender (this is the messiest part of the whole process- promise!). Puree the soup and return it to the pot. Bring the soup back to a simmer and then stir in the broccoli and cheese. Season with salt/pepper and stir until all the cheese is melted.
Serve with croutons (I just stuck some old bread chunks with the olive oil in the oven and broiled them for about 5 minutes) and slurp it all up.