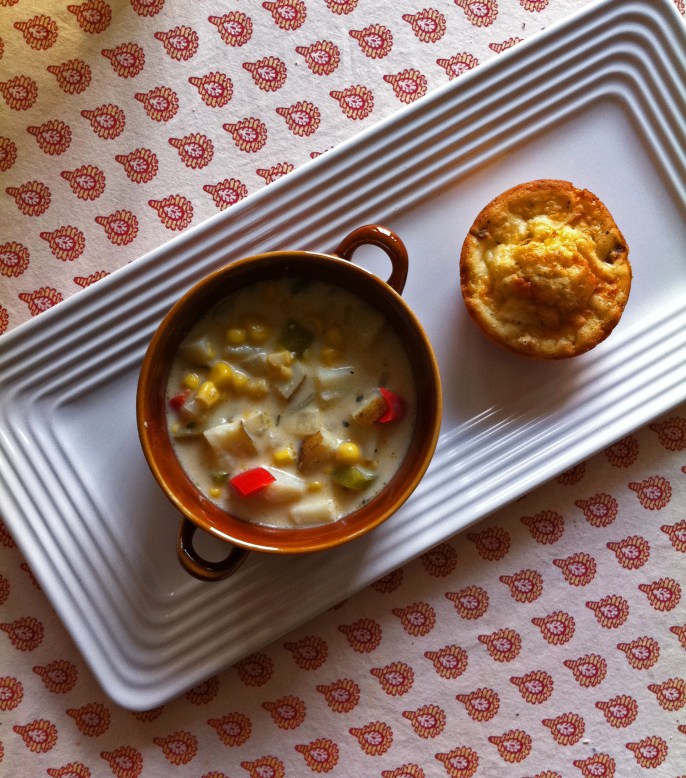 Cheesy Sun-Dried Tomato Puffs [and Corn Chowder]
The other night Kelsey and I decided to make some chowder to try to cure the rainy blues. With the cold weather approaching and my insides getting chilled, all I can seem to think about is hot soup and the way the warm broth tickles and soothes your throat as it goes down. I've got dozens of soup recipes on the back burner that I've had stashed away for cold weather so why not start now?
Okay, so I'm going to be completley honest…the corn chowder didn't turn out has hopeful as planned. Kelsey and I tried to imitate the summer corn chowder from Panera Bread (RIP choooowdaaa) but it just wasn't the same. It ended up bland and runny; nothing like expected. We ended up spicing it at the last minute with dried basil and oregano and salt and pepper but stilll….I'm not going to bother you with this disappointing recipe.
However, we made these goat cheese sun dried tomatoes muffins to go with it that were straight up addictive.  I recommend making these with some sort of scrumptious soup to try to ensure you won't just eat the whole batch of these for dinner!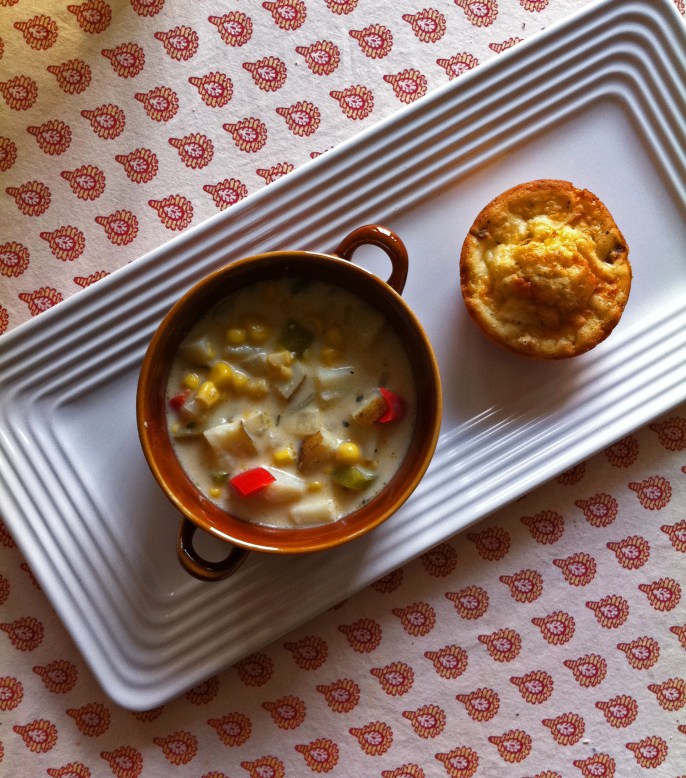 Goat Cheesy Sun-Dried Tomato Puffs
1 cup + 1 tablespoon flour
1 teaspoon baking powder
1 cup milk
2 eggs, beaten
1 8 oz tube goat cheese, crumbled
1/4 cup sun dried tomatoes, drained and chopped
3/4 cup grated parmesan cheese
salt and pepper
Preheat oven to 400 degrees and grease a 12 cup muffin tin.
Whisk together the flour, baking powder, and a dash of salt and pepper in a large bowl. Next, whisk in the eggs and milk. Lastly, stir in goat cheese and tomatoes.
Divide the mixture evenly among the muffin tins and sprinkle evenly with the parmesan.
Bake for 25 minutes or until tops are golden brown.
Share with friends [but not too many or they will eat all of them!]
Also, perfect for a fall picnic to bring along with a thermos of soup! Or a festive potluck if you double the recipe!