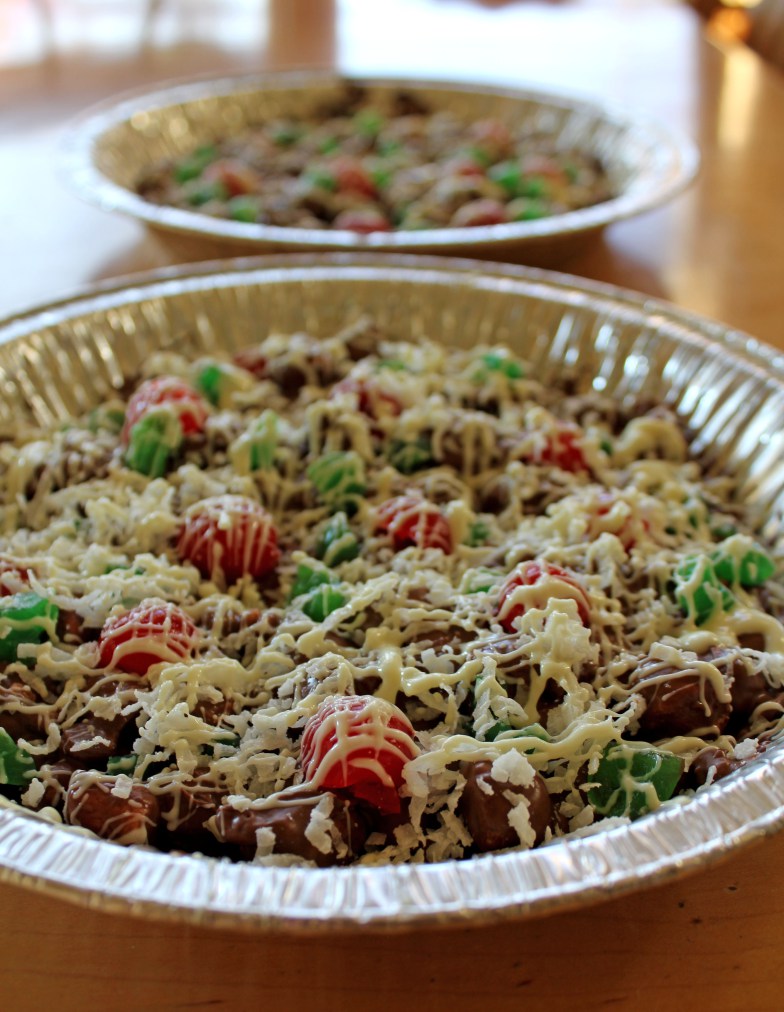 Chocolate Pizzas
These pizzas have it all: gooey marshmallows, salty peanuts, sweet chocolate, and juicy cherries. My mother picked this recipe up early in her adulthood (probably around the age I am at now!) and has been making these every Christmas since…which means I could not resist sharing this recipe since I've been eating these pizzas every Christmas since I could ever remember.  I use to give my teachers them when I was younger and am still to this day impressed with how wonderful of a gift they make! All you have to do is wrap them in some clear cellophane and pop a bow on top!
We traditionally make these at Christmas because of the red and green on them but feel free to make these anytime of the year and subsitute the cherries for other color candies or nuts. Also, this recipe is great for potlucks or as something to bring to a party since they are easy to divide into slices.
So as you get ready for the Christmas chaos tomorrow, spend this low key Christmas eve poppin' that festive Frank Sinatra vinyl in the player, sing to your kitty, and whip these pizzas up while dancing in the kitchen.
Chocolate Pizzas
Serving Size: 3 pizzas
 1 bag (12 oz) semi-sweet chocolate chips
1 pound white almond bark
2 cups miniature marshmallows
1 cup rice crispy treats
1 cup peanuts
dozen red maraschino cherries, halved
6 green maraschino cherries, quartered
1/3 cup shredded coconut
1 teaspoon oil
3 disposable 12 oz pie/pizza tins
Combine the chocolate chips and 14 ounces of the almond bark (save the other 2 ounces to drizzle on top later) in a large bowl and melt by cooking in the microwave for 1 to 2 minutes (stirring it every 30 seconds). Stir the marshmallows, rice crispy treats, and peanuts into the melted chocolate mixture.
Divide mixture evenly between the 3 GREASED pie pans and spread evenly. Top with the "pepperoni" cherries and "green pepper" cherries. Sprinkle the three pizzas with the shredded "mozzarella" coconut.
Melt the other two ounces of almond bark with 1 teaspoon of oil in the microwave for about one minute (checking every 30 seconds). Drizzle on top of the pies and then stick them in the fridge (or outside because it's Christmas and it's cold out there!) for an hour or until the chocolate hardens.
Slice like a pizza and devour all three pizzas. Or give away one for a gift and munch down on the other two.