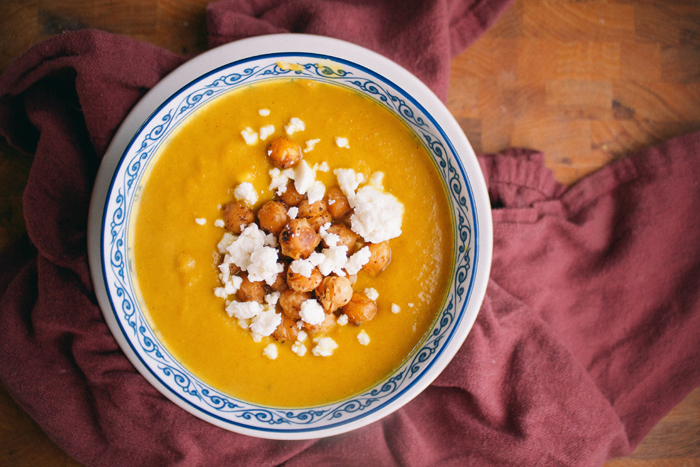 Coconut Curried Carrot Soup with Spiced Chickpeas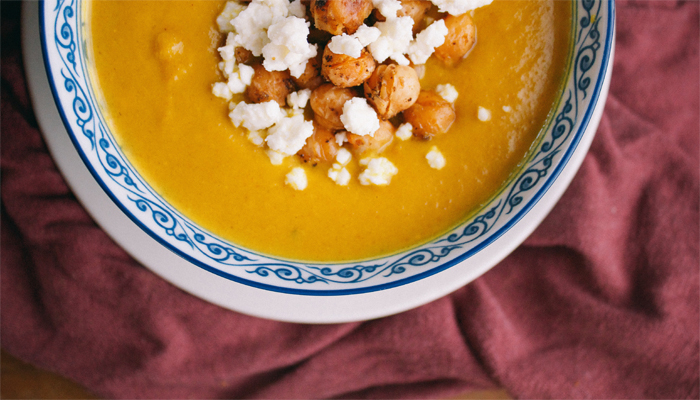 This is usually the part of winter where I get fed up. At this point, I am over root vegetables and kale salads and chili and stews. At this point, I'm usually throwing in the towel and ordering take out, frozen pizzas, or milkshakes for dinner. It's that last leg before spring food hits the produce isle and I can't help but find it hard to stay inspired after four months of the same thing being in season.
Not this year. This year I was determined to not get bored with dinners. This year, I constnaly have been reminding myself how much I long for minestrone or curry when it's 90 degrees out. This year I've added fun new techniques to my winter routine – like my tagine and slow cooker. I've added things into my soups to make them more interesting – like those insanely delicious goat cheese croutons.
And now I'm back with another soup recipes with a fun addition: spiced chickpeas. These chickpeas are…woah. It was hard to save them for dinner because there was so much munching I should have been making the soup. Wash the vegetables, eat a few chickpeas, simmer, eat a few chickpea, season, eat a few chickpeas. You get the idea. So addicting.
I'm pretty excited to start adding these chickpeas to my afternoon snack routine. It will be a nice change from greek yogurt or nuts. I found this great resource of different seasonings for your chickpeas over at MPMKs – cannot wait to try them all!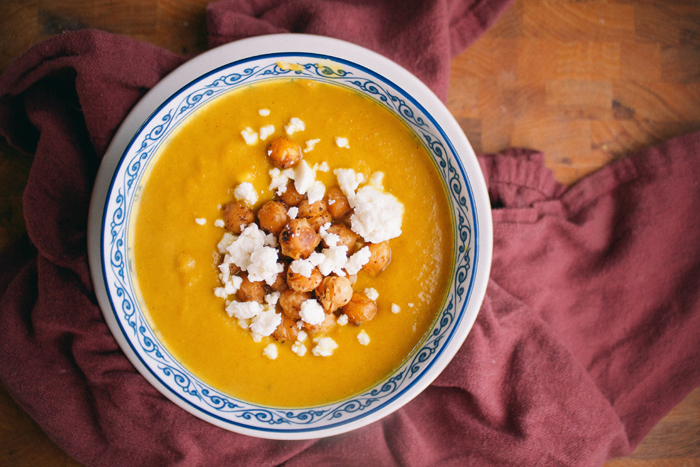 Coconut Curried Carrot Soup with Spiced Chickpeas
2 Tablespoon olive oil
1 onion, diced
8 medium carrots, diced
3 1/2 cups vegetable broth (I used homemade)
1 15 ounce can of coconut milk
1 Tablespoon curry powder
1 teaspoon ginger powder
Salt / Pepper, to taste
2 cups cooked chickpeas
1 Tablespoon olive oil
1 teaspoon cumin
1/2 teaspoon paprika
1/2 teaspoon chili powder
1/2 teaspoon garlic powder
dash of salt
To make the chickpeas: Preheat oven to 400 degrees. Combine all the ingredients together and put in a single layer on a baking sheet. Roast for 20 to 30 minutes or until the chickpeas are crispy. Remove from oven and let cool.
 To make the soup: Heat olive oil over medium in a large saucepan. Add onions and saute until translucent (about ten minutes). Add the carrots and cook for another five minutes. Pour in the stock, coconut milk, ginger, and curry powder. Cover and cook for about ten minutes (or until the carrots are soft).
Once all the vegetables are soft, remove from heat and puree with an immersion blender. Season with salt, pepper, and maybe a little hot sauce (if you like a kick). Top with feta and chickpeas.