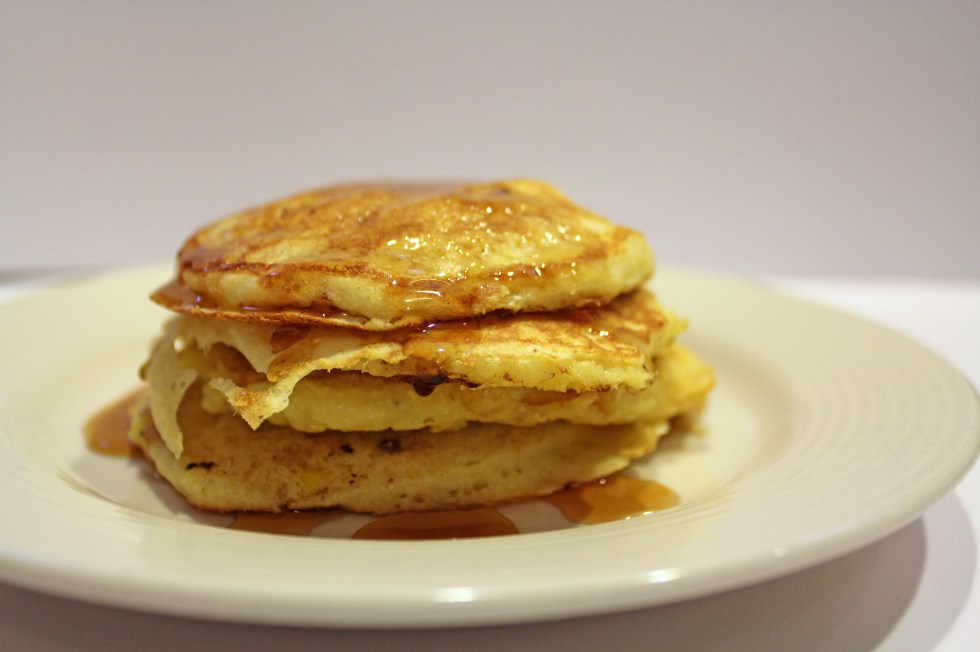 Corn Pancakes
As a stocking stuffer, I received a GIANT tub of Michigan maple syrup which, could not have come at a better time with my two week vacation following the holidays. I love maple syrup because it's used in a lot of vegan cooking but of course, it's also great with breakfast. So this maple syrup has inspired many of my recent breakfasts.
And I came across this idea of corn pancakes because I recently saw some polenta pancakes on the Food Network (I Know, TV is lame but sometime it's a good distraction from homework). Anyways, this led me to search out polenta pancake ideas and I came across lots of corn pancakes (to be specific, this recipe was adapted from Smitten Kitchen). At first, I was weirded out by the idea of making corn patties and then lathering them in maple syrup but damn. I am converted. The salt and sweet combination gets me every time.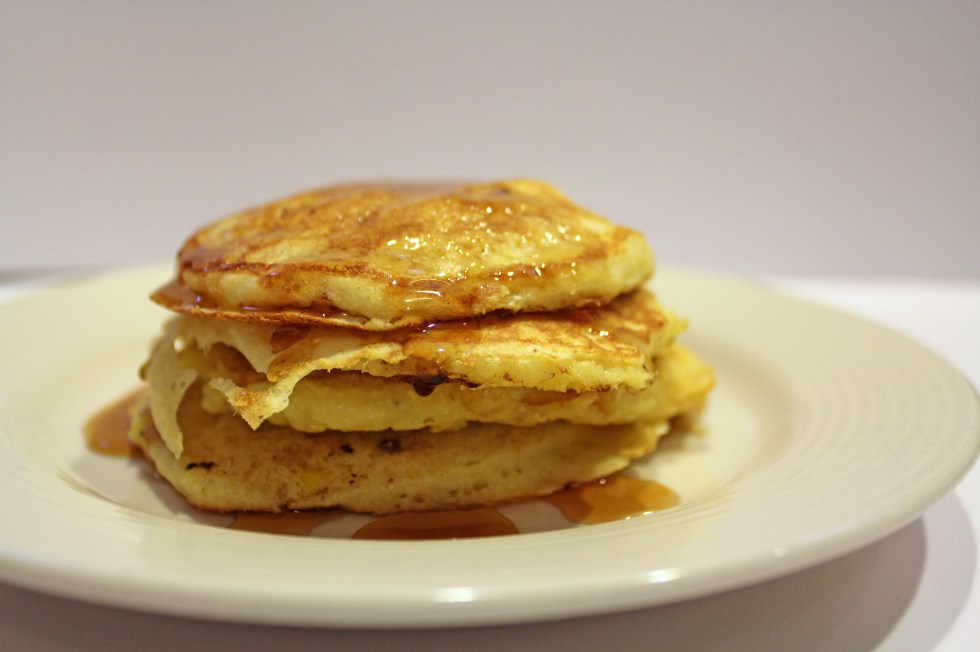 Corn Pancakes
1 cup frozen corn
1/4 teaspoon salt, divided
1 large egg, beaten
1 1/4 cups buttermilk
dash of vanilla extract
1 tablespoon sugar
 1 cup  all-purpose flour
1/4 cup  cornmeal
1 teaspoon baking powder
1/2 teaspoon baking soda
4 Tablespoons butter, divided
First, melt 1 Tablespoon of butter in a skillet over medium heat. Saute the corn for about 5 minutes or until it begins to slightly brown. Set corn aside and season with 1/8 teaspoon salt.  Reuse the skillet in a bit for the pancakes.
Mix the egg, buttermilk, vanilla extract, corn and sugar in bowl. In another large bowl, combine the flour, cornmeal, baking powder, and baking soda. Make a well in the center of the dry ingredients and slowly add the wet ingredients to the batter. Fold the dry ingredients into the wet until everything is well incorporated.
Reheat that skillet over medium heat and grease the pan with butter. Use a 1/4 measuring cup to spoon the batter onto the skillet. Let them cook until bubbles form on top of the batter (about two to three minutes) and then flip on the other side for a minute or two. Repeat with the rest of the batter.
Lather with additional dollops of butter and loads of maple syrup.
Get back into bed and munch down while enjoying a big mug of french press coffee and enjoying rerun episode of 'Unsolved Mysteries'.