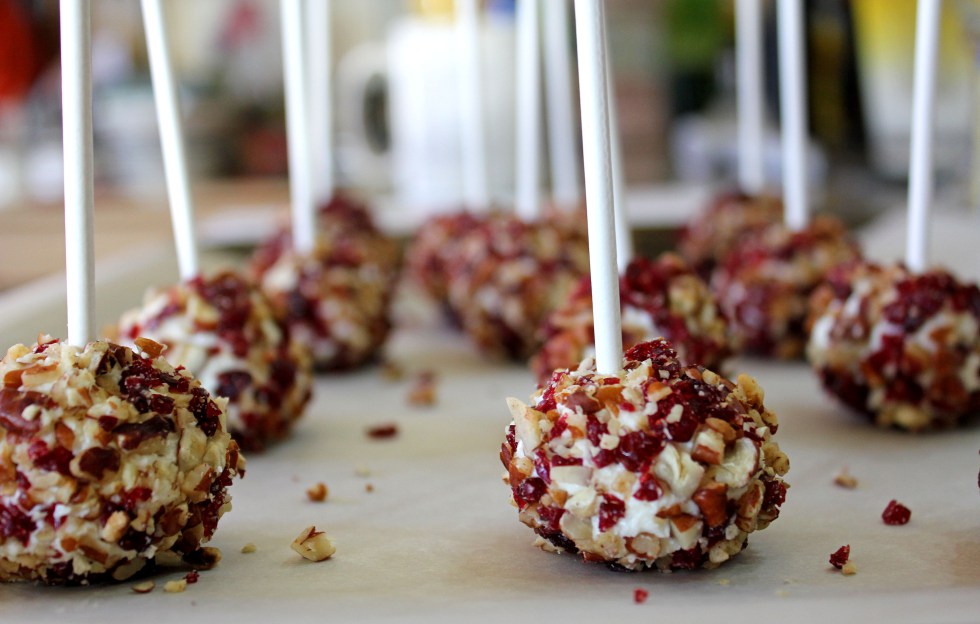 Cranberry and Pecan Cheese ball Pops
So my stepmother has a "Cake Ball" (if you've never heard of cakeballs…oh goodness! You need to get your hands on a few because they are absolutely delicious. Check them out here or here) business where she makes anything from red velvet to key lime pie cake-balls for weddings and other occasions. This has conditioned me to notice every cake-ball shaped baked good that I pass; I feel like I'm constantly sending her new ideas from magazine covers, bakery stop ins, and blog scans. Because of this heightened awareness of "cake-ball" like things, I came across this idea of miniature cheese-balls on a stick from a locally owned grocery store a few weeks back (because, of course, I had assumed they were cakeballs at first). This led to searching out a few recipes on the web and finally settling on creating an adapted version from Cooking On The Side.
I made these for Christmas as part of the appetizer tray and they were a huge hit! The whole concept of being able to have bite size cheese balls that you could carry around the house was fantastic. None of that getting stuck standing around the food table talking to Uncle so-and-so because you're too hungry to wander away. Okay, that was a bit mean.
But on a serious note, I am super excited to make these again for a New Years party this weekend. They are going to be the perfect thing to bring to a cocktail party! Plus, they took about five minutes to make and are just so damn cute! I plan to experiment with the ingredients by mixing up the cheeses and nuts (perhaps swap out the pecans for walnuts and gruyere for swiss or even cheddar).
Anyways, keep these in mind for your next party…whether it's a major bash like New Years or a simple tea party with a few girl friends. They are so easy to whip up and enjoy with drinks that there's no need to restrict this recipe to one occasion.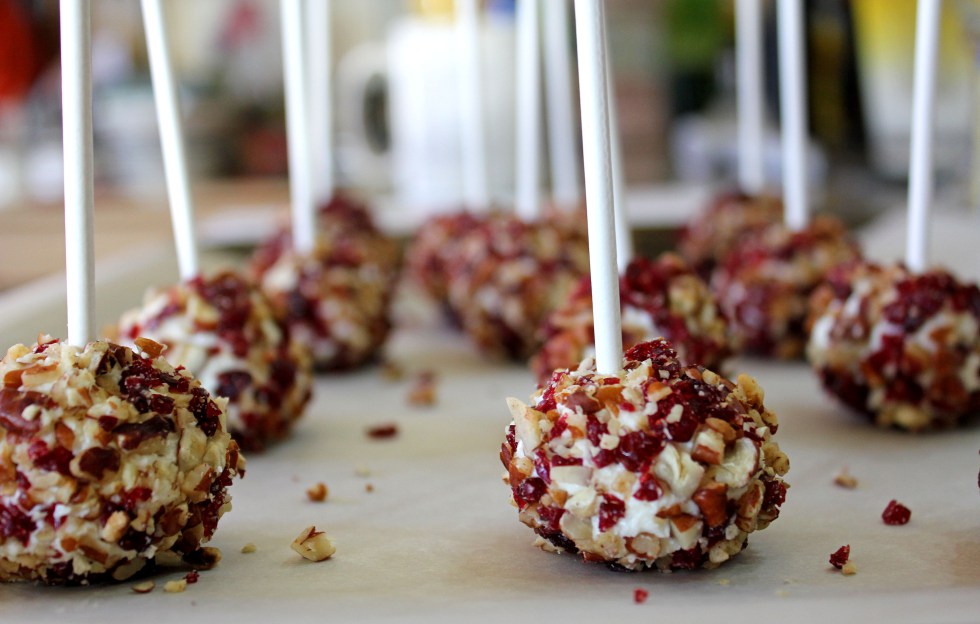 Cranberry and Pecan Cheese ball Pops
1/2 cup finely chopped pecans
1/2 cup finely chopped dried cranberries
4 ounces crumbled feta cheese
4 ounces cream cheese, softened
1 cup Gruyere cheese, shredded
3 teaspoons local honey
20 lollipop sticks
Mix the pecans and cranberries on a shallow dish and set aside.
In a food processor, add the feta, cream cheese, Gruyere, and honey. Pulse until well combined.
Use your hands to form tablespoon size balls and roll in the cranberry/pecan mixture.
Place on wax paper and repeat with the rest of the cheese mixture. Top each ball with a lollipop stick and stick in the fridge for an hour or so to firm up.
Serve the sticks by sticking them into a decorative styrofoam piece or hand them out yourself. Make sure to walk around with some to show off your pride and joy for your new favorite cheese ball.
PS This is my 50th post! Next time I should plan better and make a cake for my 100th!
Oh, and share with your kitty if there is any left. You know how they feel about dairy products.