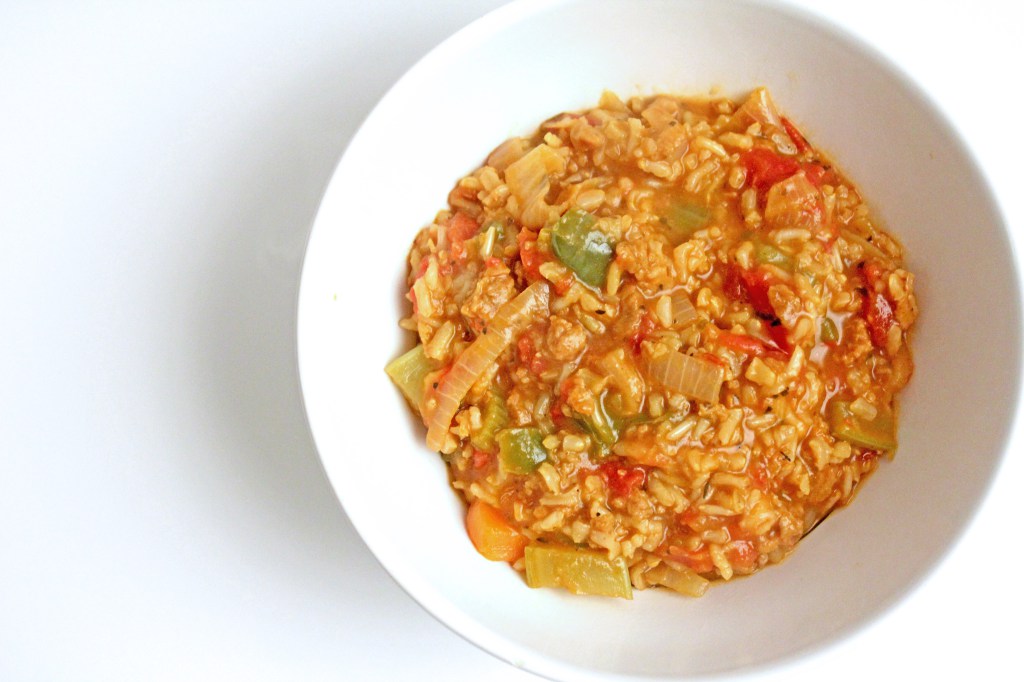 I'm going to be honest with you. I've never had jambalaya before…which basically means two things:
I have no way of telling you whether this is authentic and amazing compared to something you've had at a restaurant and
This is the best jambalaya I've ever had.
I came across the original recipe for this because I've been exploring Seattle/Portland adventures (since my boyfriend and I are going there at the end of the month) and came across this vegan food truck (I. love. food. trucks.- and vegan food!) which lead to me learning about it's owner which lead to me googling her which lead to me finding her book 'Vegan Diner'. Phew. That's the background story.
Okay, so why make this recipe if I don't know what to expect? (I mean- what the heck is creole, anyways??). Well I was immediately drawn to this recipe because of its long list of veggies (yes. I crave veggies. I'm one of THOSE) and combining them with pretty much every amazing spice under the sun. Plus, it's got the rice for the added filling affect and the veggie broth to soak in all the flavors. I knew it had to be good…regardless of my ignorance towards this type of meal.
And needless to say, it was fantastic. It made loads so I've been munching on leftovers since I made it Monday night and they are just as good as when it was fresh! Also, I used the spicy veggie sausage from Field Roast because it's my favorite veggie sausage brand (have you ever taken these guys on a camping trip and cooked them over an open fire? Then you have not lived) but feel free to use whatever you prefer or have handy.
Creole Jambalaya
1 Tablespoon olive oil
1 onion, diced
4 garlic cloves, minced
1 bell pepper, chopped
 5 sticks celery, diced
2 carrots, cut into chunks
2 vegetarian sausages
1 1 /4 cup of rice
1-29 ounce can of diced tomatoes, drained
2 1/2 cups of vegetable broth
To make the creole seasoning (you'll have alittle extra to add to your sandwiches throughout the week):
1 teaspoon onion powder
1 teaspoon garlic powder
1 teaspoon dried oregano
1 teaspoon dried basil
1/2  teaspoon dried thyme
1/2 teaspoon black pepper
1/2 teaspoon white pepper
1/2 teaspoon cayenne pepper
3 teaspoons of paprika
2 teaspoons salt
First, make the seasoning by combining all the ingredients into a small bowl and set aside.
Heat the olive oil in a large pot over medium heat. Add in the onion, garlic, peppers, celery, sausage, and carrots. Saute until lightly brown and the veggies has all softened. Next, add the rice and saute for another minute. Then add the tomatoes, broth, and creole seasoning.
Bring the mixture to a bowl and then reduce down to simmer. Let simmer for 20 minutes or until the rice has softened and absorbed most of the broth. Remove from heat and let sit for about ten minutes. Season with more salt (if necessary).
Serve to all your friends with warm bread. And then let your puppy lip the bowl clean.
PS Oh, and make sure you make sure you dance to this song while preparing this meal:
http://youtu.be/3KOiITxwWIM