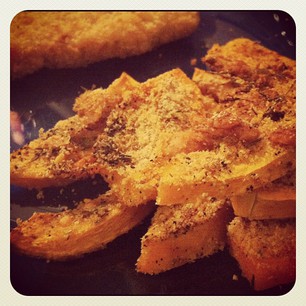 Crispy Butternut Squash
So I don't know how it is where you are at but our Farmer's Market here in the Midwest has been LOADED the past few Saturdays. And by loaded I mean filled with anything from fall squashes to assortments of leaf greens to root vegetables. This obviously means that I've acquired copious amounts of produce out of excitement but then realized that it is now a race to cook them all before they go bad. This goal has lead me to start spinning out side dishes like my job is a DJ (which it's not- also, bad joke but whatever).
This butternut squash recipe was super simple and quick to prepare. In fact, I prepped the butternut squash on my lunch break so that all I had to do was mix all the other ingredients together and throw them on a cooking sheet while the oven was preheating.
I'd recommend that you take my measurements for this recipe lightly because I'm unsure of how much the butternut squash I used was weighed. The one I used was a perfect amount for a side for two people so I'd recommend getting a huge one if you want to serve more. I'd guesstimate that mine was about the size of your fist (this is assuming that my fists are relatively smaller than most) and a little longer than a fork.
Anyhooo, I served this with Quorn's Cranberry & Goat Cheese Chik'n Cutlets  but that's because I don't eat meat and needed a main dish in a hurry so feel free to put any sort of protein main in there!
Crispy Butternut Squash
Adapted from sprouted kitchen
1 butternut squash
dash of ground nutmeg
1/3 cup fresh thyme leaves
2 tablespoons chopped parsley
1/3 cup breadcrumbs
1/2 cup grated parmesan
olive oil
salt/pepper
First prep the butternut squash: peel it and cut in half lengthwise. Scoop out center part that has the seeds and then cut into chunks.
Preheat the oven to 400. Next, line a baking sheet with tin foil and grease it. Toss the butternut squash, a little bit of olive oil, salt, and pepper until well incorporated than spread out in an even layer on the baking sheet.
In another bowl, mix together the thyme, parsley, breadcrumbs, and parmesan. Use your hands to make sure that it's well incorporated into each other and becomes a sort of breading. Next spread the mixture over the butternut squash.
Cook for about 40 minutes.
Pile on your plate and munch on the crunch!