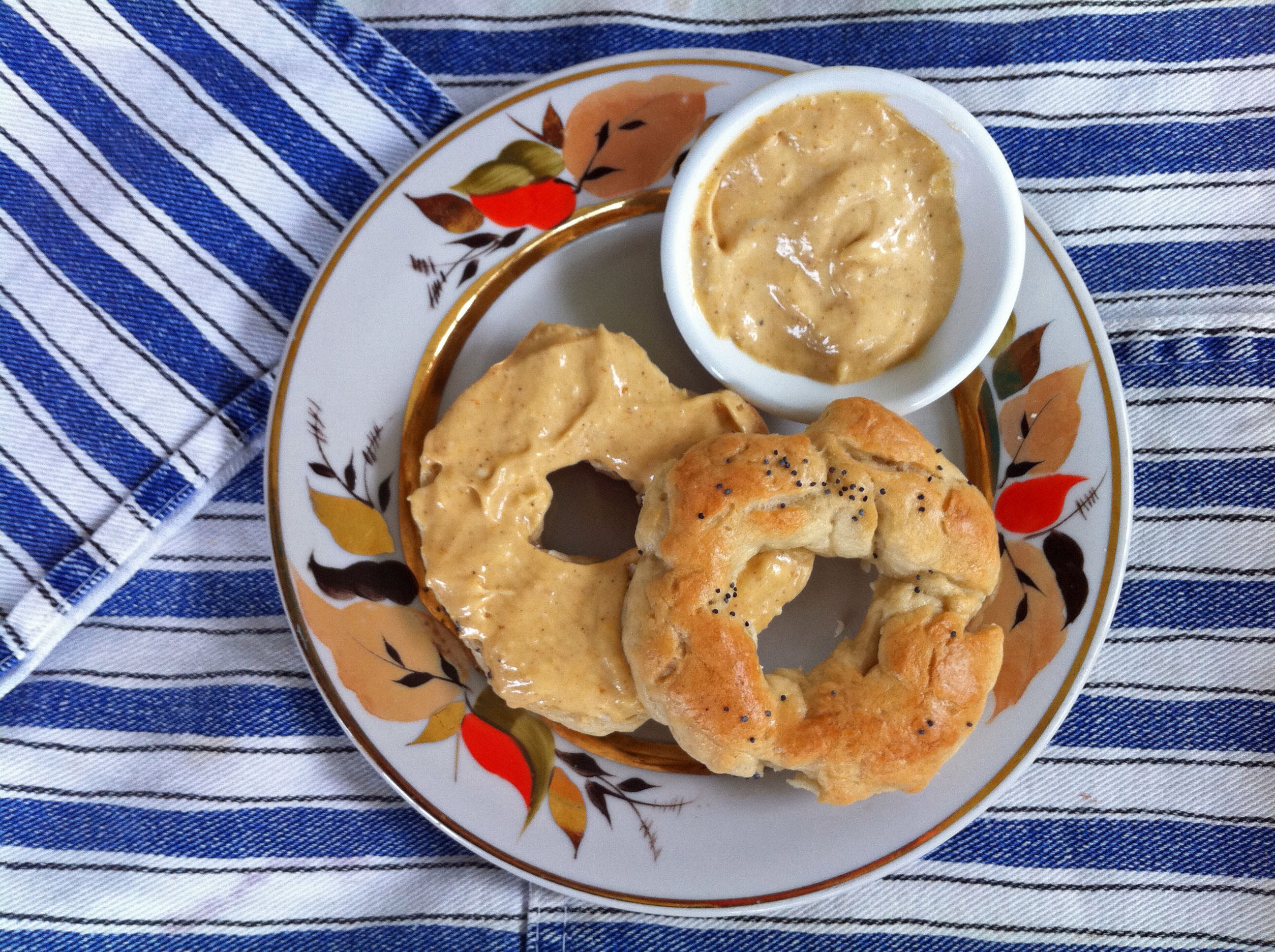 DIY Vegan Bagels with Pumpkin Cream Cheese
Today we are talking about DIY Vegan Bagels with Pumpkin Cream Cheese. There are very very few things I like about the weather getting colder but fall flavors is by far my favorite! All the smells and spice…the pumpkin, cinnamon, apple, cloves, nutmeg. Mmmmmm Sooooo please excuse me if I get carried away with the season baking for the next few months!
I will admit the process of making bagels is a bit tedious and my boyfriend doesn't understand why you would make anything that involved 3 different methods of cooking to get to the final product (boiling, baking, and toasting) but they are a fun weekend project that are well worth the effort if you have the time. They have a crunchy outer layer with a soft, fresh center that you won't even need to toast.
Vegan DIY Bagels
(Adapted from Isa Chandra Moskowitz's Vegan Brunch)
3 tablespoons sugar
1 1/3 cup lukewarm water
1 ounce active dry yeast
4 cups all purpose flour
2 tablespoons xanthan gum
2 teaspoons salt
poppy seeds
oil
Lightly coat a bowl and set aside. Dissolve the sugar and yeast in lukewarm water. Combine the flour, xantham gum, salt, and water mixture until a sticky dough forms. Knead the dough by hand for ten minutes (make sure you have some good music going to make the time go byyyy). Put in the greased bowl and cover with a damp towel. Let rise for one hour.
The dough will not have rose too much but that is okay. Preheat oven to 425 degrees. Bring a large pot of salted water to a boil and adjust to a simmer. Divide the dough into twelve pieces and roll into circles. Use your thumb to puncture a hole in the center then add to simmering pot. Let boil for one minute and then flip. Take turns putting 2-3 bagels in a batch of water.
Line a baking sheet with parchment paper and place boiled bagels on it. Sprinkle with poppy seeds and bake 18 to 20 minutes. Let stand for an additional 20 minutes to cool off and harden.
Top with pumpkin spice cream cheese or nutella or sunflower seed butter or honey and devour.
AND THE MOST IMPORTANT PART…..
Pumpkin Spice Cream Cheese
(Adapted from Pinch My Salt)
8 ounces of cream cheese (use tofutti if you're vegan!), softened
1/2 cup pumpkin puree
5 tablespoons brown sugar
4 tablespoons maple sugar (or agave)
1/4 teaspoon pumpkin pie spice
dash of nutmeg
1 teaspoon cinnamon
1/2 teaspoon vanilla
Combine all ingredients and use a mixer to blend together.
Spread over everything and munch down.