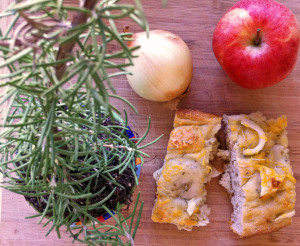 If this hasn't been brought up before, I am a vintage shopping addict. I am a loyal customer of Goodwill's 50 percent off day and could tell you any place to find second hand clothes within a 50 mile radius of Bloomington. This has led me to a large collection of semi-useless collections (like my Polaroid collection where the majority of the cameras don't work or my collection of state plates). Anyways, so I bought this huge bread-maker for 5 dollars over the summer and have only managed to make the same focaccia recipe in it over and over again.
Have you ever had focaccia? If not, I am soooo sorry. Coming from a carb obsesser, this stuff is better than chocolate during your time of the month (sorry guys, that reference obviously wasn't for you). Imagine, a soft hunk of warm bread with fresh roasted veggies, crispy cheese, and overwhelming chunks of herbs all piled on top! Yuuuuuuummmy!
What is great about this recipe (and why I seem to make it over and over and over again) is because you can top it with whatever you are feeling like. This one was obviously inspired by fall but feel free to switch out my toppings with peppers, parmesan, basil, thyme, butternut squash, swiss, or anything else that you can roast/bake!
Fall Focaccia
For the Dough: (Adapted from Bread Machine Dough)
1 packet bread yeast
3 cups bread flour
1 teaspoon salt
1 tablespoon sugar
2 teaspoon oregano (dried)
1 tablespoon oil
1 1/2 cups water
Toppings:
1 small onion, cut into chunks
1 medium apple, cut into chunks
1/8 cup rosemary leaves (fresh or dried)
1/4 cup cheddar cheese, shredded
olive oil
First (do this step a little ahead of time since your bread-maker will take awhile) put all of the dough ingredients in the bread maker in the order listed. Press the dough setting and start that thing up!
Once the bread-maker is done doing it's thing, Preheat oven to 400 and grease a 9 by 13 inch pan with olive oil and flatten the dough out across the pan. Rub oil on the top of the dough and poke indents with your fingers all across the dough. Top with rosemary, onions, cheddar and apples.
Cook for 20 to 25 minutes.
And then munch down! Serve with some butternut squash soup or by itself. I'll warn you though…you might want to try it before giving some to your friends since you might want to eat it all!