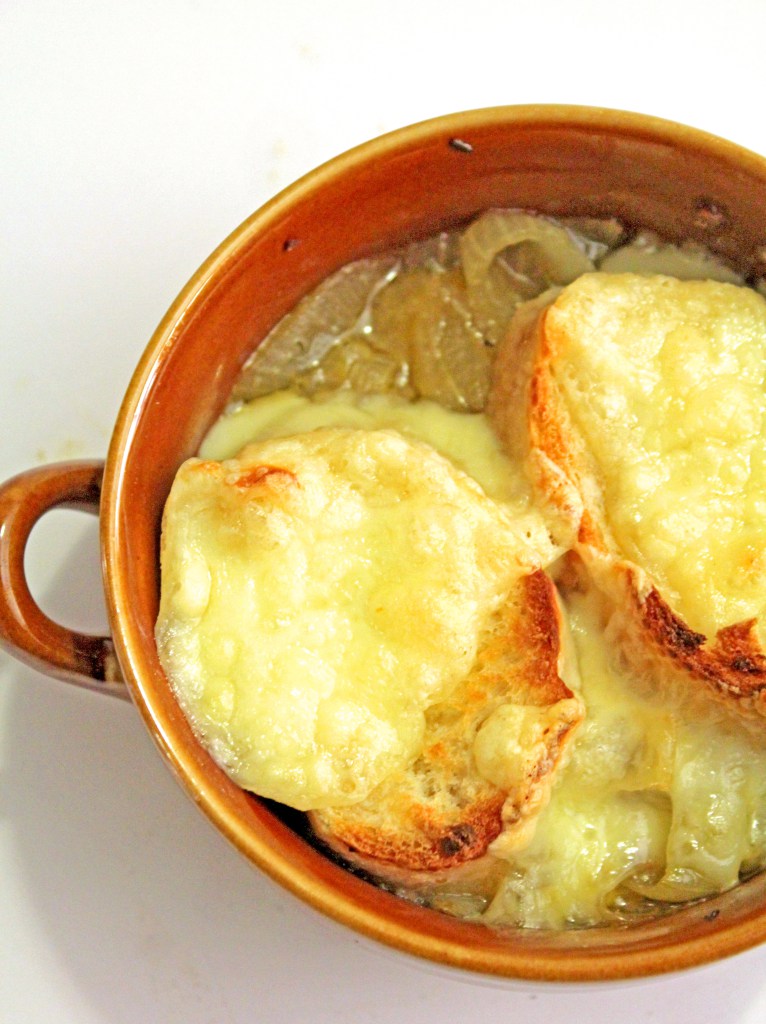 French Onion Soup
As usual, my Saturday consisted of loads of thrift shopping because it's an addictive hobby and I love it. I didn't find much (although my boyfriend found plenty. He bought an 8 tape VHS box set for the first season of Twin Peaks. Arg, he's completely useless). Anyhow, I did find these adorable soup bowls (can you see where I'm going with this?):
I love them. I got a set of 4 and can't wait until next year to display them somewhere in my vintage style kitchen next to my 1960's Betty Crocker cookbook collection. So, as you'd assume…I immediately needed to make soup and try out my new cups.
When its freezing out, there is nothing better in the world than savory soup that is topped with a huge hunk of bread and stacked with cheese. Seriously, there isn't. Plus, the bread being baked into it is allows you to skip the sides all together. I like this recipe because it's light and simple so you usually have everything on hand and don't feel guilty about eating it on a week night.
French Onion Soup
2 Tablespoon butter
4 small onions, sliced
2 cup veggie broth
1/2 cup white wine
1 cup water
3 garlic cloves, minced
1 bay leaf
1 teaspoon dried thyme
dash of sugar
fresh baguette, cut into big slices
slices of swiss cheese to put over the soup bowls (the amount of cheese will vary depending on how big your ramekins are)
salt and pepper, to taste
Melt the butter in a large saucepan over medium heat. Add the onions and cook until translucent and just starting to brown (about five minutes). Then, add the garlic and cook for another minute (or until fragrant. you know that yummy smell I'm talking about!) Next, add the broth, wine, water, bay leaf, thyme, and sugar. Bring the mixture to a boil and then lower the heat, cover, and let simmer for about 20 minutes. Season the soup with salt and pepper
Turn your broiler on. Remove bay leaf and pour into four small ramekins and top each with a slice of the baguette. Put a slice (or two!) of Swiss on top of each baguette. Stick under the broiler until the top has browned and the soup is bubbly (a minute or two).