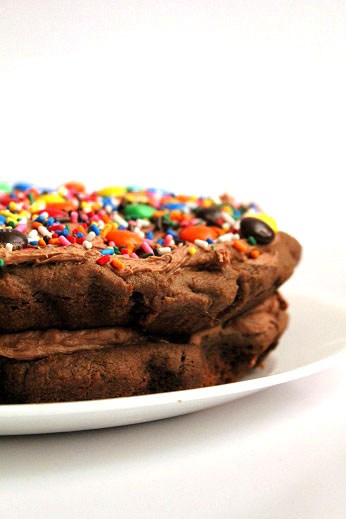 Giant Chocolate Cookie Cake
So it's my roommate's birthday tomorrow and she's had this big party planned for weeks. My other roommate and I had this big cookie cake planned to make her until she informed us Monday that she has a chocolate cake picked out that she wants made (she's a bit of an over planner, if you can't tell) and since it's her birthday we have to make what she wants. Soooo we decided to make her this cookie one yesterday as a sort of pre-game to tomorrow (a little overboard of us, I know) but either way we wanted it and her birthday sounded like the perfect excuse to make it.
Giant Chocolate Cookie Cake
For the Cookie:
1 cup butter (2 sticks), softened
2 cups brown sugar
2 eggs
2 tsp. vanilla extract
3 cups all purpose flour
6 Tablespoons cocoa powder
1 tsp. baking soda
For the Frosting:
1/2 cup butter (1 stick), softened
2 cups confectioner sugar
1 8 oz cream cheese package, softened
1 cup chocolate chips, softened
Preheat oven to 350 degrees. Line two pie dishes with wax paper.
Beat the butter and sugar together. Then add the eggs and vanilla. Next, blend in the flour, cocoa powder, and baking soda. Mix until well combined.
Divide the dough into two and press into prepared pans. Bake for 20 minutes. Transfer to a wire rack to cool completely before assembling.
To prepare the frosting, beat the butter and confectioners sugar until well incorporated. Next, add the cream cheese and melted chocolate chips. Mix until it becomes a light, fluffy texture.
Spread half the frosting on top of one of the cookies and then top with the other cookie. Spread the rest of the frosting on top and decorate with sprinkles/m&ms/butterscotch chips/chocolate chips/swedish fish/skittles/anything colorful you can find in your kitchen.
But be careful because you could even devour half of it before giving it to the birthday girl!
Ella Baby lovin' her cookie