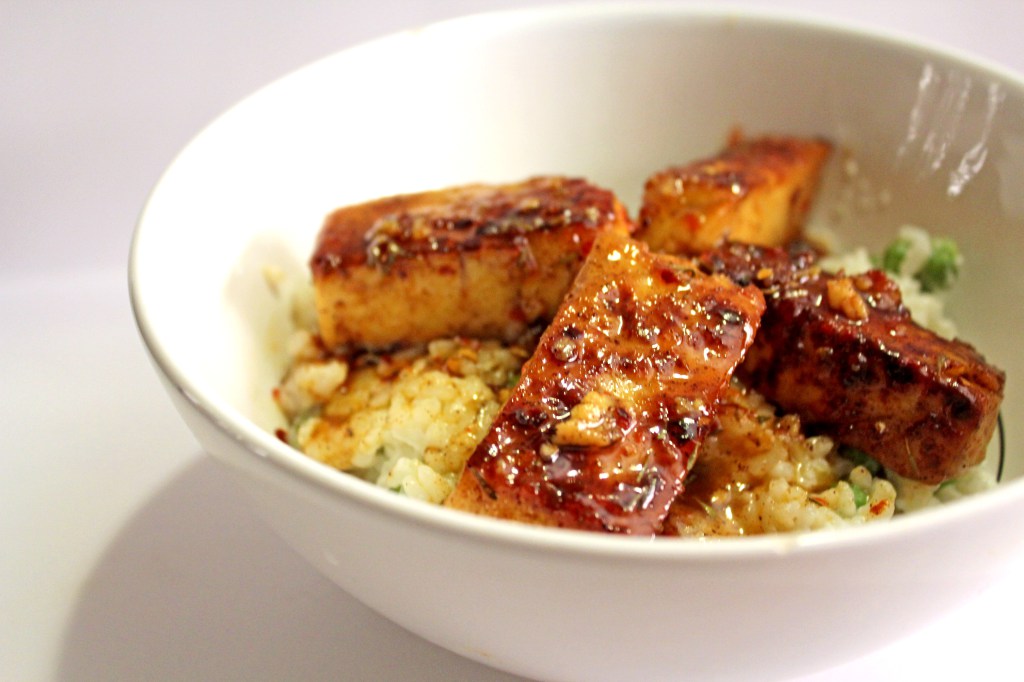 There is some sort of longing for summer (hence the pictures next to this text) that has been evoked because of these past few 60 degree and sunny days in February. My thoughts have started to drift off to roasting marshmallows and picnics on beaches. But since…it is still February (no matter how much I daydream), I am going to have to settle for whipping up summer type dishes in my home (instead of on my grill).
I was super excited about this dish (because I love making bland tofu flavorful!) but after I began cooking it…I realized I have had no experience with Caribbean food what-so-ever (Hey, Bloomington, it's about time someone opened a Caribbean restaurant! Although…why would someone from the Caribbean ever have the desire to move to the Midwest to open up a specialty dinner spot?). I can tell you right off the bat that I probably did not use 'traditional' peas that they would use in the islands but it was delicious regardless. If all Caribbean dishes are like this, count me in!
It was light with a tropical/sweet flavor in the rice (this was most likely due to the coconut milk) and then the tofu had the slightest kick of spice that counteracted the sweet rice perfectly. It turned out better than I could have ever imagined and my favorite part about tofu is it's even better as leftovers (because the flavors have time to sink in even more). So whip this up for your lover and don't scarf it all down at once!
PS WHY IS TOFU SO YUMMY BUT SO HARD TO PHOTOGRAPH? Makes my skills look shameful. Sorry guys!
Glazed Caribbean Tofu with Sweet Rice
1 (14 oz) package of extra firm tofu
2 Tablespoons vegetable oil
1 small onion, diced
1 jalapeno chili
1 cup long grain rice
1 (16 ounce) can of peas
1 (8 ounce) can of coconut milk
1 cup water
1/8 cup jerk spice
1 tablespoon lime juice
1/8 cup red pepper jelly
salt and pepper, to taste
Prep the tofu: Drain the tofu by wrapping it in lots of layers of paper towels and put something heavy (books, iron skillet, etc) on top of the tofu. Let sit for about 15 to 20 minutes and then discard the paper towels. Again, wrap the tofu in more paper towels and turn the tofu on its other side and repeat for another 15 minutes. Once the tofu is drained, cube it into about 16 slices.
Heat a tablespoon of vegetable oil in a large sauce pan over medium heat. First, add in the onions and jalapeno and saute for about 4 minutes or until softened. Next, add the rice and stir for about a minute. Then stir in the coconut milk, peas, water, and a large dash of salt. Bring to a boil, then lower the heat, and let it simmer (covered) for about 20 minutes.
Once the rice only has about 10 minutes left, prepare the tofu. Toss the tofu in the jerk spice. Heat the other tablespoon of oil in a skillet over medium  heat. Cook the tofu in the oil until all sides are golden brown (about 2 minutes on each of the 4 sides). Microwave the  jelly in a small bowl for about 30 second and then whisk in with the lime juice. Once the tofu has browned, add the jelly mixture and stir/cook until it thickened and coats the tofu all the way.
Serve the tofu over mounds of sweet, yummy rice. Eat warm and while dreaming of waterfalls and beach excursions. Oh, and share with your kitty.