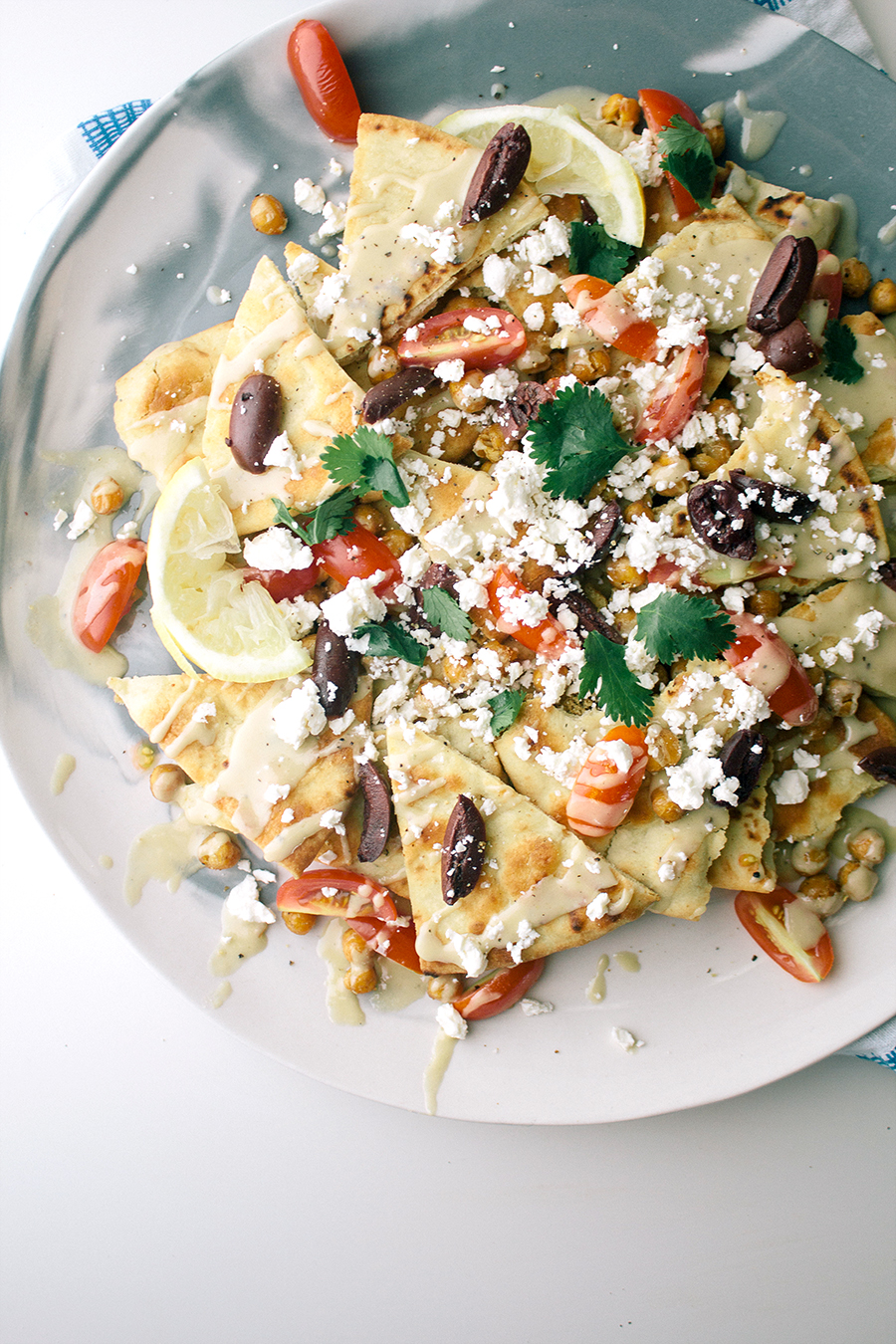 Greek Goddess Celebratory Nachos
In a hurry? Click here to JUMP TO RECIPE!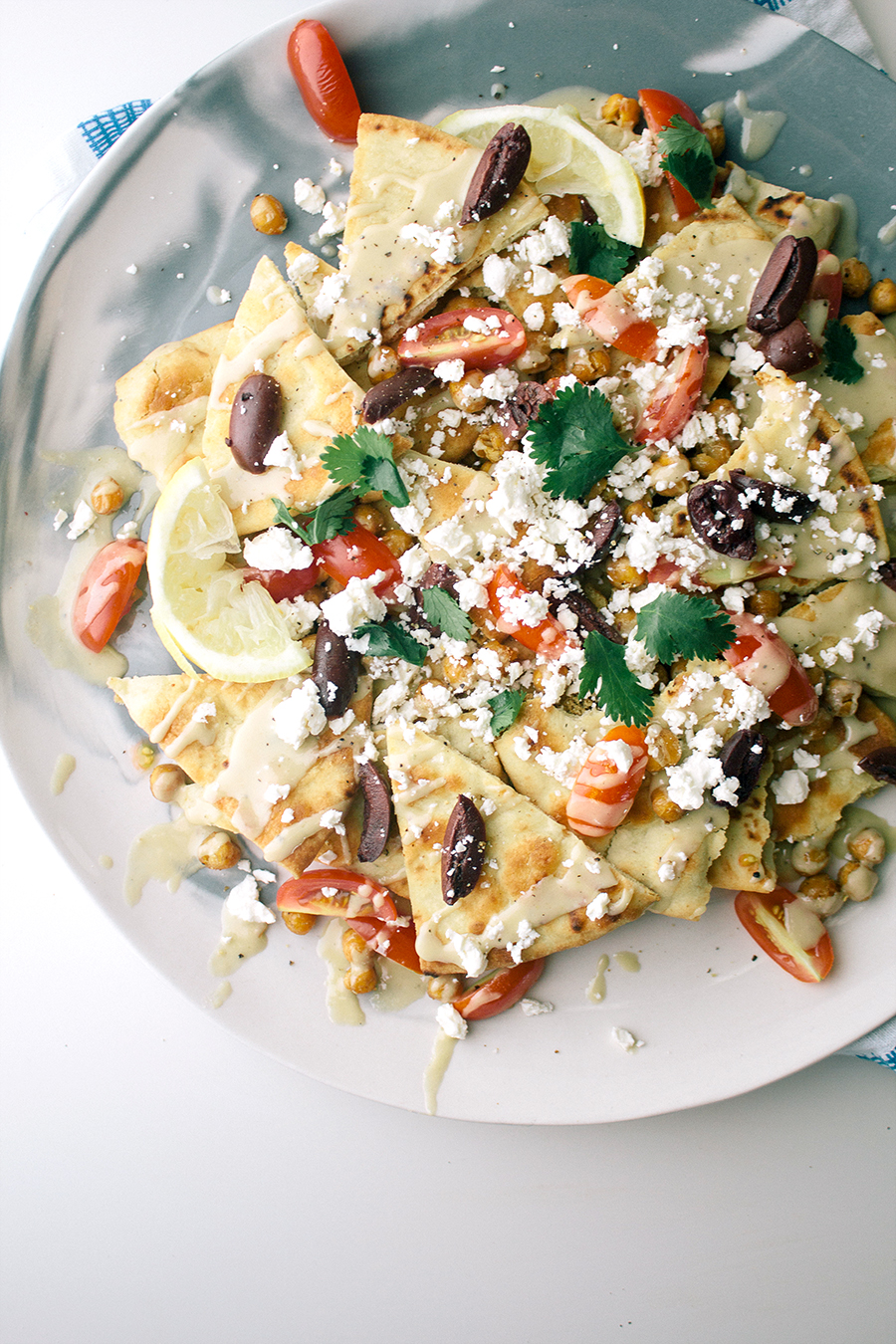 These aren't just any nachos – these are celebratory nachos! These are 'I just got nominated for a Best Food Blog Award' by Saveur Magazine and am gonna treat myself to nachos and ice cream for dinner. I still remember the first time I voted for Saveurs BFBA three years ago and felt like I had such a strong opinion on who should win every category because I knew one blog per category. And I remember the first time I saw Oh, Ladycake's badge on her site and was like 'Wow. That would look mighty nice on VV' (ha!). Fast forward several years and I can honestly say I follow 80% of the blogs nominated and consider a large portion of them dear blog friends of mine.
I guess what I am trying to say is that, if you are feeling it, you should hop on over and vote for VV in the 'special diet category' on Saveur's site. But honestly, its okay if you don't because I'm just happy to be a part of the club and mentioned among so many talented writers and photographers. I'm thinking of it as a win-win since I'll be munching on Laura's Quinoa Onion Rings if The First Mess wins and this Orange Chocolate Tart if Happyyolks is sent to Vegas.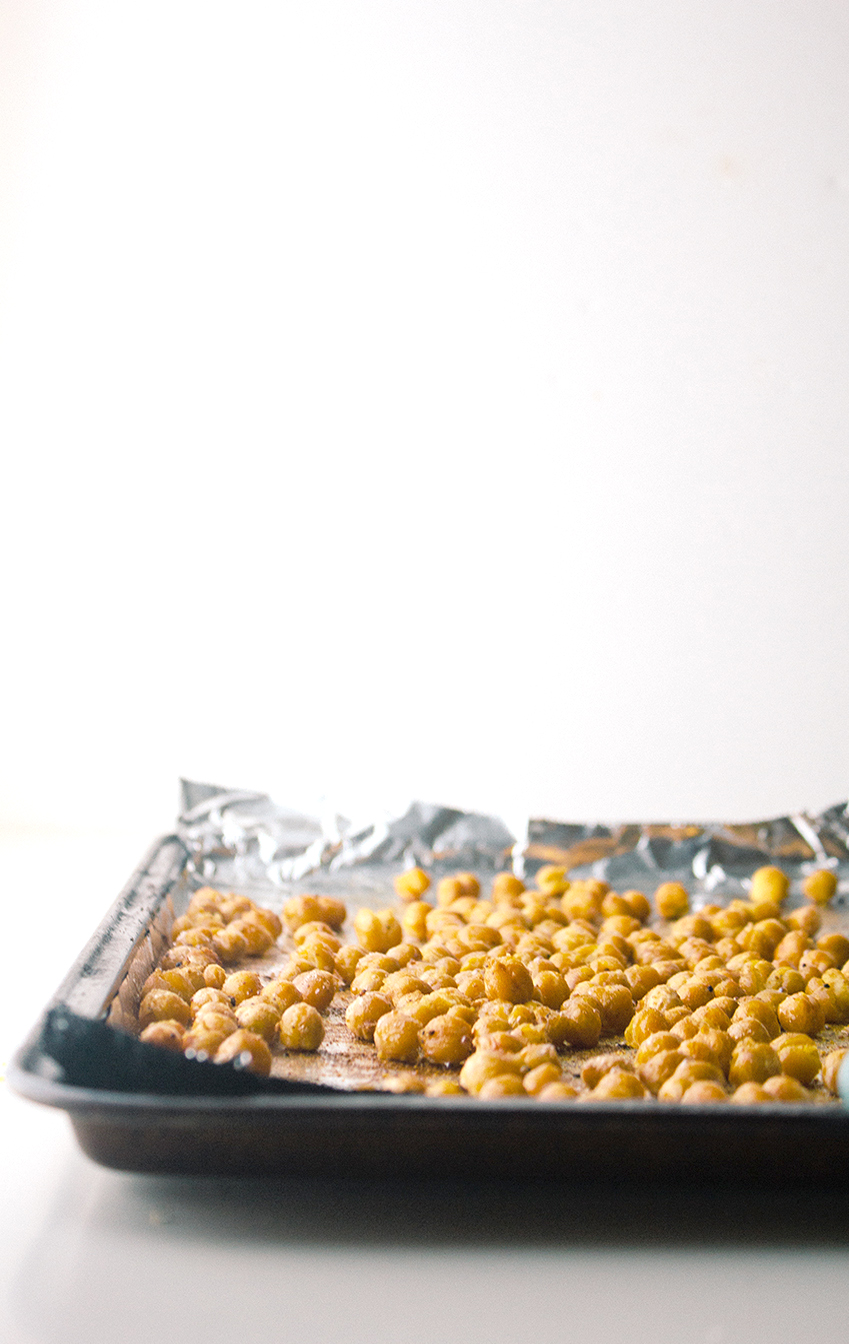 These nachos are like no nachos you've probably ever munched on before. According to Food52, the most important elements for nachos are quality ingredients and strong layering ethic. We've got both of those bases covered here. These are a mix between eating a greek pita sandwich and a faleffel burger.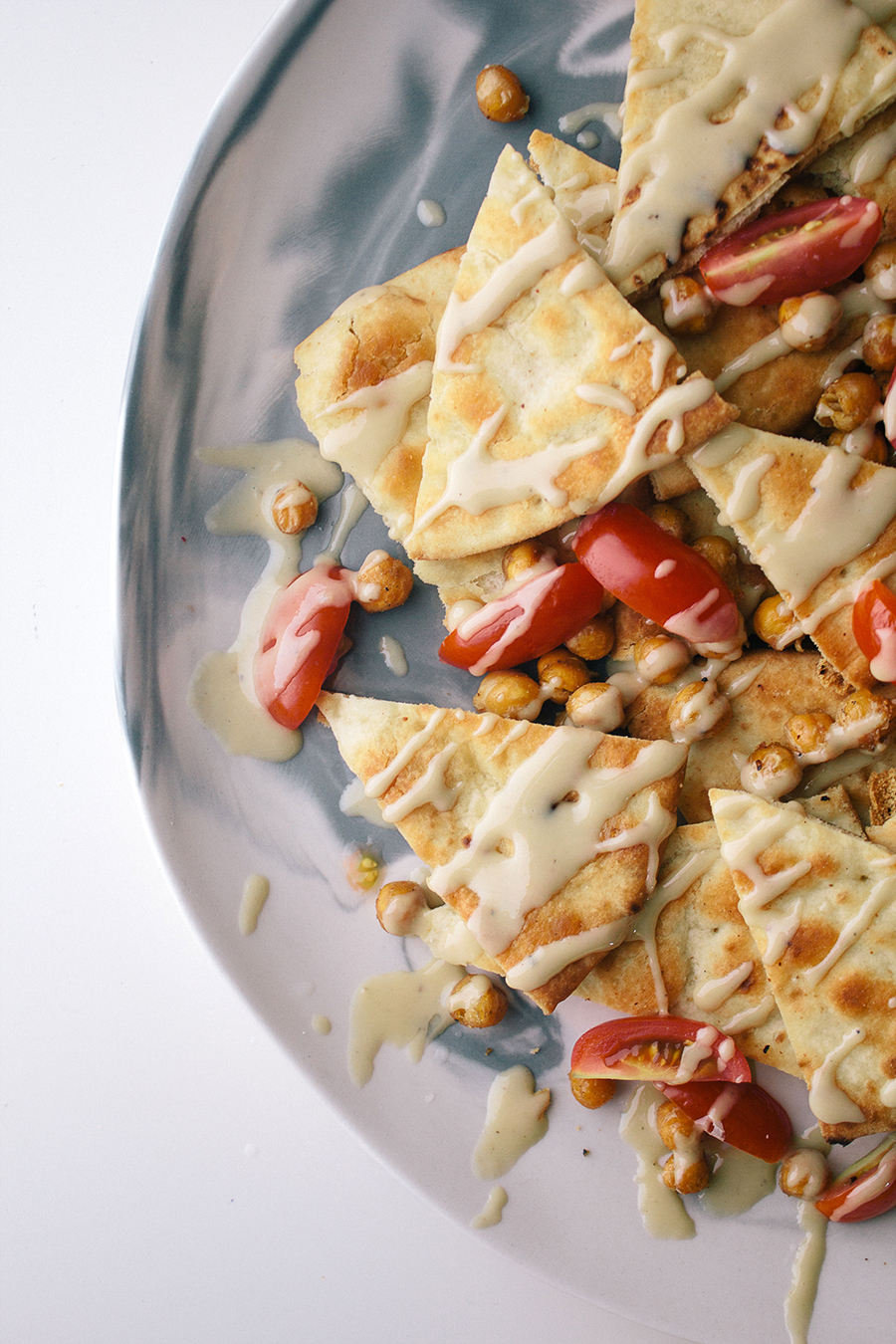 We start with the strong base of homemade and crispy pita chips. Then we sprinkle cumin-roasted chickpeas for both protein and a flavor boost. Next comes a drizzle layer of tahini dressing followed by crumbled feta, olives, and tomatoes. That's it. Nachos should be simple and all about the assembling process and this recipe is no exception. Heck, you could even buy store bought pita chips if you are looking for an even easier nacho recipe.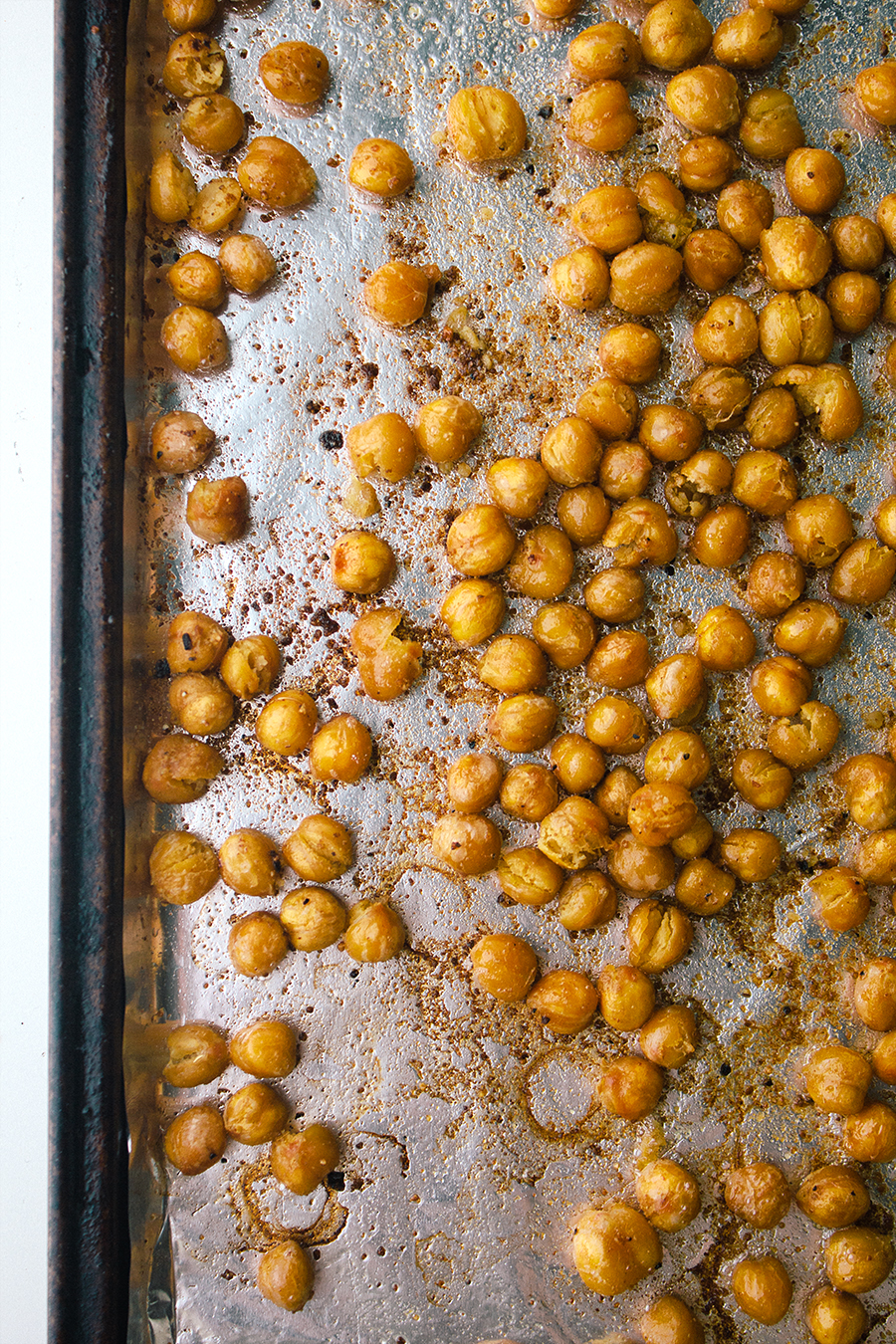 I made the pita chips and roasted chickpeas ahead of time so I just had to layer everything before enjoying. This recipe is easily made vegan by removing the feta and adding more olives (to help give it more salty-goodness) and it'll still be delicious since the tahini dressing will keep the nachos drenched in flavor.
Also, last and most importantly, my measurments below are very vague because you gotta take charge and make nachos how you like them. Some people love the saltiness of feta and should load up on the cheese. Others prefer just a little of everything in each bite and should top with equal parts tomatoes, olives, chickpeas, and feta.
Greek Goddess Celebratory Nachos recipe below: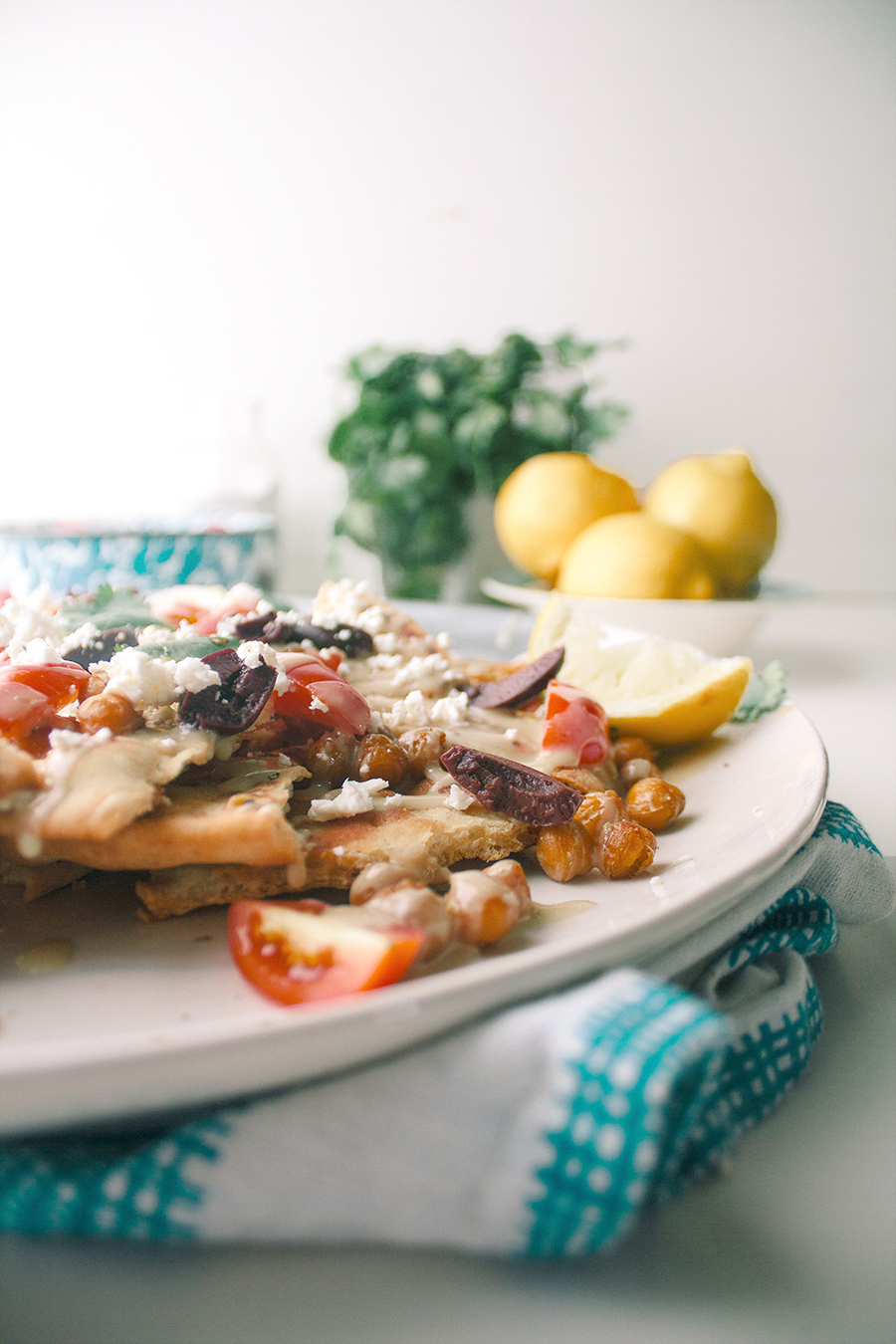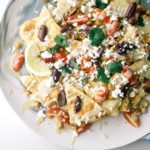 Greek Goddess Celebratory Nachos
Ingredients
For the pita chips:
6-7

pitas

, sliced into 8 even pieces each

1/2

cup

olive oil

salt/pepper
For the roasted chickpeas:
1 14

ounce

can of chickpeas

, rinsed and drained

1

Tablespoon

of peanut oil

(or vegetable or coconut)

1 1/2

teaspoons

ground cumin

1/4

teaspoon

ground coriander

salt / pepper
For the tahini dressing:
1/4

cup

tahini

2

tablespoons

olive oil

salt

pepper

diced cherry tomatoes

crumbled feta

sliced black olives

cilantro

lemon juice from half a lemon
Instructions
Preheat oven to 425 and line a baking sheet with parchment paper. Combine all the roasted chickpea ingredients together and lay in a single layer on the baking sheet. Roast the chickpeas for 30 minutes, shaking the pan every 5 minutes or so (to avoid from burning) until the chickpeas are golden and crunchy. Remove from heat and set aside to cool completely.

Lower oven temperature to 375 and line a baking sheet with parchment paper (I just reused the chickpea sheet since I made one after the other but totally your call). Place the pita wedges in a single layer on your baking sheet (this could take two depending on the size of your sheets) and evenly (and liberally!) coat both sides of the pita pieces with olive oil. Sprinkle with salt and pepper and pop in the oven for 15 to 18 minutes. Make sure you rotate the baking sheets halfway through if you are using 2 and flip the pitas halfway through the cooking time. Remove from oven once crispy and transfer to a big plate / bowl for serving. Sprinkle the cooled chickpeas over the pitas.

Whisk together the tahini dressing ingredients (I kept these super simple - feel free to add any spices you are feeling) until the olive oil evenly blends with the tahini. If the sauce ends up too thick to drizzle then slowly add more olive oil while whisking until a desired consistency is reached.

Drizzle the tahini dressing over the pita chips followed by olives, tomatoes, feta, and cilantro. Squeeze half a lemon all over.

Devour!