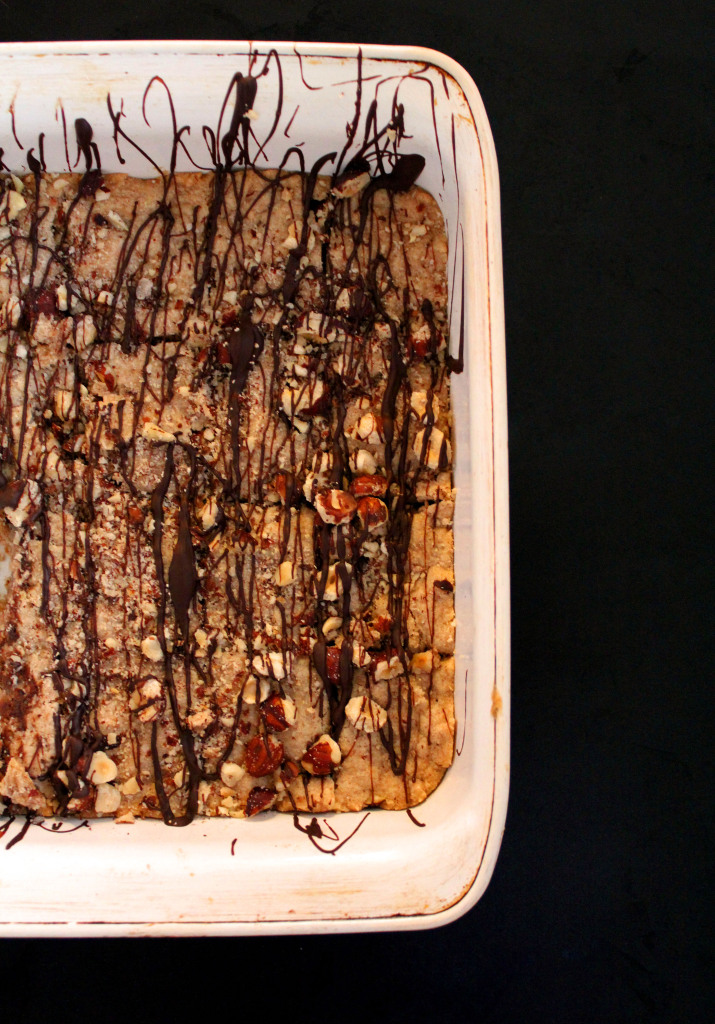 Hazelnut Shortbread with Dark Chocolate Drizzle
I am now into day three of my holiday vacation and it's about time I made some Christmas sweets already! I'm the type of person who will eat anything that is coated in chocolate so I turned to my boyfriend for inspiration on where to start. This recipe is a perfect hybrid between a traditional recipe (shortbread) and something modern/unusual (baking with hazelnut).
I found hazelnut in the bulk section of my local co-op so I'd suggest you should start there if you are having troubles finding it. Plus, buying in bulk is the best invention ever so that you can buy the exact amount you need and don't have half a bag of hazelnut laying around with no use.
Anyways, this shortbread turned out fantastic with an unbeatable texture. Dry, flaky cookie with warm, melted chocolate drizzled on top. Mmmmm. Perfect for that holiday potluck you got talked into going to or to help you get through the family get-togethers.
*Side note:Veganize this recipe by substituting the butter with earth balance and the chocolate with vegan chocolate chips. Mmmmmm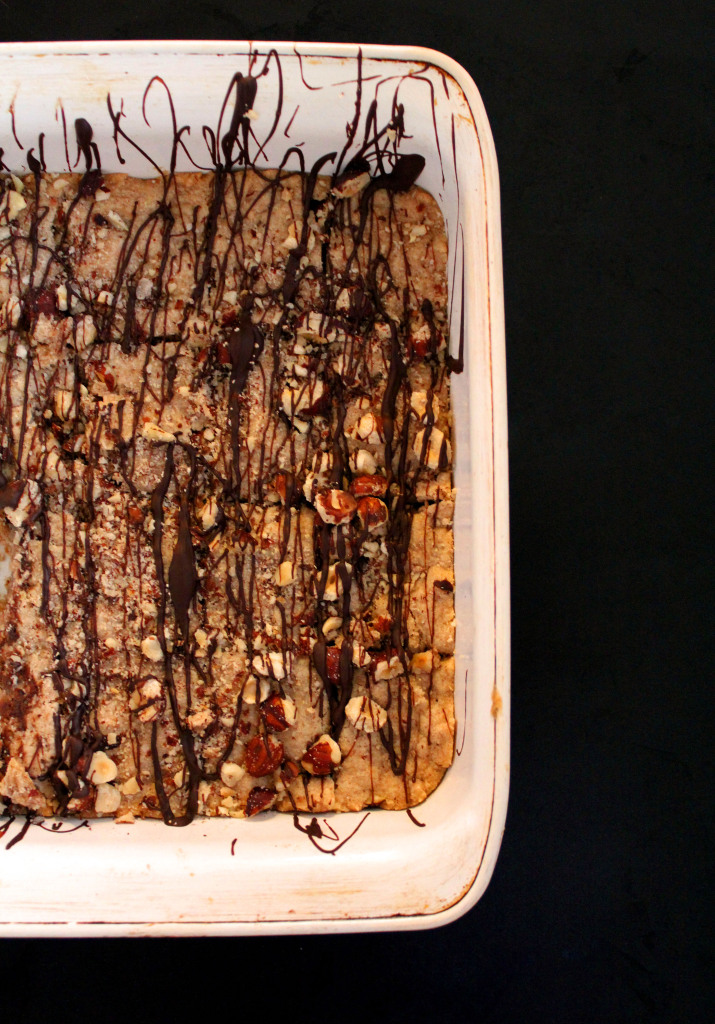 Hazelnut Shortbread with Dark Chocolate Drizzle
(Adapted from BakerStreet)
2 cups all purpose flour
1/2 teaspoon salt
1 teaspoon cinnamon
2 sticks of butter, softened
3/4 cup brown sugar
1/4 cup chopped hazelnut (+more for topping, if you'd like)
4 oz dark chocolate
Preheat oven to 325 degrees. Combine the flour, salt, and cinnamon in a bowl. In another bowl, blend the butter and brown sugar until fluffy. Then mix in the dry ingrdients to the butter/sugar fixture. Fold in the hazelnuts.
Spread dough (it may be alittle dry but that's okay) onto a 9×9 pan. Cook for 25-27 minutes.
Remove from oven and let cool.
Melt the dark chocolate in the microwave in 30 second increments (stir between each 3o seconds) until fully melted. Sprinkle the shortbread with remaining hazelnut and melted chocolate.
Munch down with coffee or milk.