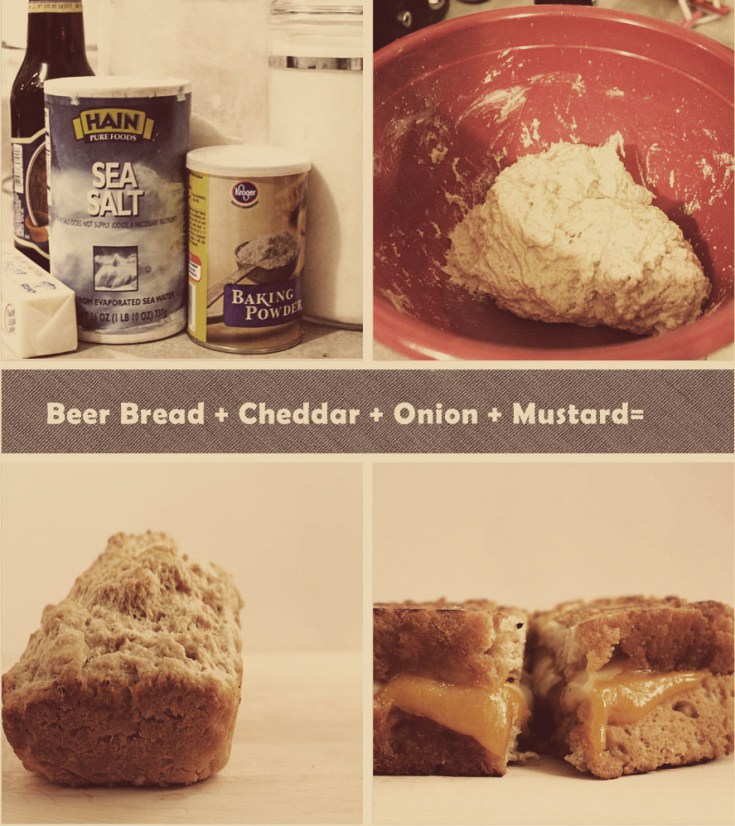 Homemade Beer Bread
Let me start off by warning you that I am currently enrolled in a photoshop class so I have been obsessed with photo editing lately and trying out new tricks. Also, I love everything vintage so this whole concept of making my food pictures vintage is blowing my mind and will probably be run into the ground. I guess what I am trying to say is be patient with me if you find all these "side note" photos obviously. Oh, and I am also saying that you should get excited because I am planning and am in the process of a major blog make over so stay tuned for lots of fun add ons! Oooooooh yeahh!
So, as I've mentioned loads of times before, we are obsessed with making homemade bread. I understand that women are suppose to crave chocolate but nah, give me a loaf of fresh and steaming bread instead! Hah, yeah. Anyways, so sometimes we crave bread but don't feel like playing the 2 hour waiting game for it to rise and what not so that's when we turn to our beer bread recipe. It's seriously the simplest bread recipe to ever exist and no need for yeast or "resting time" or any of that jazz. Just let the beer do it's natural yeast-fermenting-thing and pop it straight into the oven!
We like to use our beer bread for a nutritious and exotic dinner consisting of grilled cheese and tomato soup. Our favorite version beer bread + mustard + grilled onions + cheddar +swiss. Oh damn. But of course, you can sandwich this bread with loads of healthy toppings too like sprouts, lettuce, carrots, veganaise, cucumber, hummus, etc etc etc…I think you get the point.
Oh and one last point. You should use cheap beer. The flavor of the beer honestly does not affect the final project so use that crappy beer you've been avoiding in your fridge for months now.
Homemade Beer Bread
3 Cups All Purpose Flour
3 Teaspoons Baking Powder
1 teaspoon salt
12 oz bottle of beer
1/4 cup sugar
3 Tablespoons butter, melted
Grease a bread pan and preheat oven for 375 degrees.
In a large mixing bowl, combine the flour, baking powder, salt, and sugar. Then make a well in the center of the bowl and pour the beer in the middle. Fold the dry ingredients into the beer until well incorporated.
Put the batter in the greased bread tin and top with melted butter.
Cook for 40 minutes (or until a tooth pick comes out clear).
Let cool for 10 minutes and then make whatever you've like out of it! Or just top with butter and serve warm. Mmmmmmm
PS
<a href="http://www.bloglovin.com/blog/3391305/vegetarian-ventures?claim=p2u8k8m8aft">Follow my blog with Bloglovin</a>