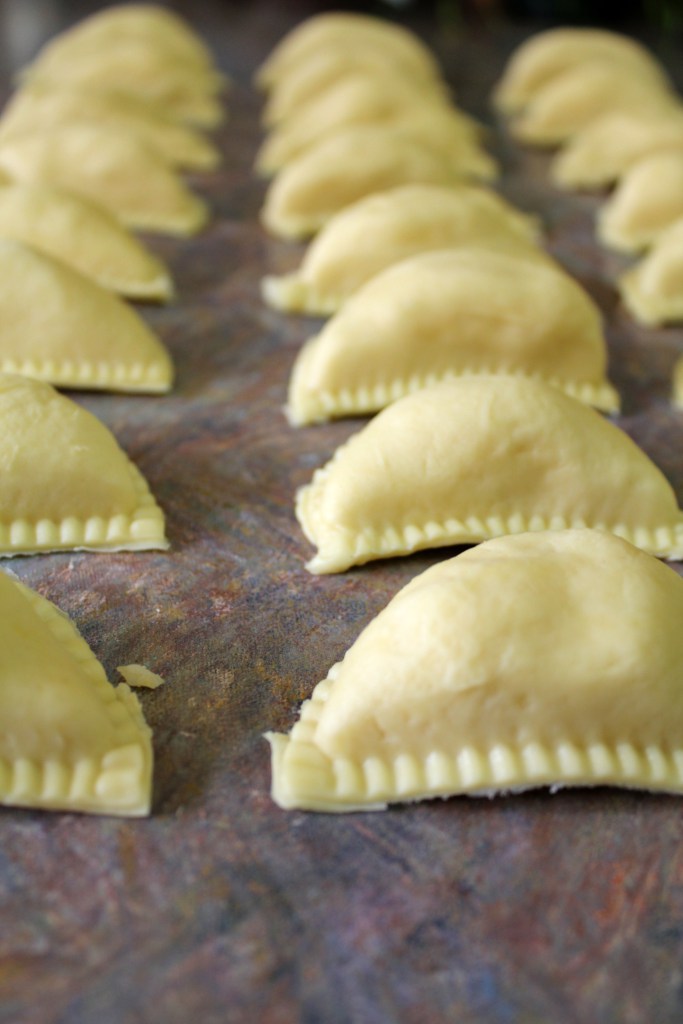 My family is German…both sets of my Grandparents are German and their parent's are German and so on. But for some reason, my mother and I make this Polish tradition every year. I'm not sure how it started but homemade, fresh pierogies are so amazing that we make sure to take time to whip these up during the holidays. I'm a student who has two jobs so I can't say that I get home very much but when I go, I do make sure to make time for these guys.
We've tackled this recipe for so many years that we are able to whip several dozen of these out in less than two hours but you should plan on spending a few hours on this recipe (or do half the recipe and only make a few dozen which should just take over an hour). We always make the 4 dozen and freeze most of them for a later date.
Every August, a nearby town hosts 'Pierogi Fest' which is exactly what it sounds: a weekend long food festival dedicated to these tasty dumplings. They have dumplings filled with cheese, sauerkraut, veggies, blueberries, raspberries, and so on. Basically, it's amazing. And is probably what originally inspired us so many years ago to start making these things.
I suggest you saute them in some olive oil with some onions and peppers. Or in butter with Swiss cheese and shallots. So the next time you have a relaxing, rainy (or snowy) Saturday, take the afternoon to make these with a friend or your Ma or your boyfriend. Whip up some mimosas, turn that vinyl player on, and enjoy the cooking process.
Homemade Pierogies
Dough:
6 cups flour
2 Tablespoons salt
1 cup milk
3/4 cup butter
2 eggs
Filling:
8 medium russet potatoes
1 cup sharp cheddar
3 garlic cloves, minced
Start by preparing the filling. Bring a large pot of salted water to a boil and peel and chop the potatoes into 1 inch chunks. Boil the potatoes until they are soft and a fork can easily pierce them. Drain and then mash the potatoes with a masher or hand mixer until smooth. Then fold in the cheddar and garlic until they are well incorporated. Set aside to cool while you prepare the dough.
Now it's time to prep the dough! Doing it in two batches,  add all dough ingredients into a food processor and pulse until well combined.
If the dough is super sticky, add a bit more flour and if it's too crumbly, add more milk.
Next, you are going to roll the dough on a floured surface. We take chunks of the dough (just like my Ma is doing in the picture below) and roll it in parts but feel free to do whatever works best for you. Also, you can definetely use a rolling pin to roll out the dough but we've discovered the amazing cooking secrets of the pasta maker. If you do use a pasta maker, I recommend keeping it on the 7 setting and just running it through two times to achieve a smooth texture.
Resist the cute begging dog (with the ridiculous joker collar. Poor guy- what are my parent's thinking?)
Next, place the dough on a pierogi mold which looks like this:
Fill the pierogies with a tablespoon each of the filling and then place another thin layer of dough on top of the filling and roll a rolling pin over to seal the dumplings.


Repeat with the rest of the filling/dough. Should make around 4 dozen pierogies. Bring a large pot to a boil with salted water. Drop the dumpling in the water for about 3 minutes or until they are floating in the water.
Enjoyed boiled or saute them in butter with onions and bell peppers. Feel free to freeze a couple dozen of them for later use. And don't forget to share with that begging puppy.