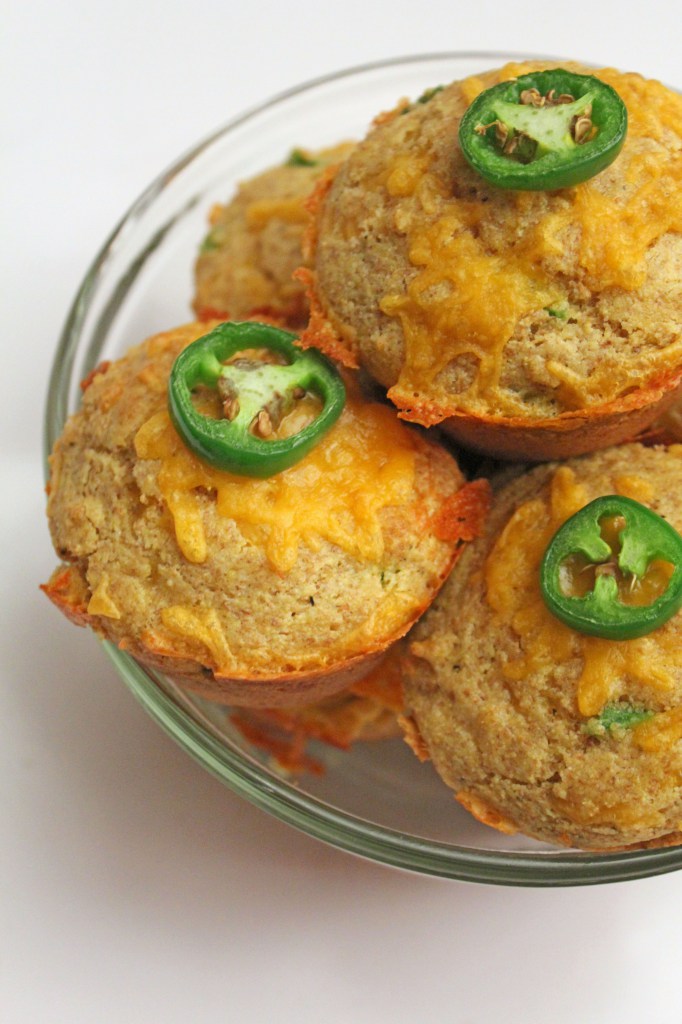 Jalapeno Cheddar Cornbread Muffins
Wyatt and I usually devote Saturday afternoons to thrifting. We do this because 1) we love wearing vintage clothing 2)we are big consumers but poor college students so thrifting is a fun way to save money 3)we have an etsy store for all the clothes we find that are too amazing to not buy but just don't fit us (CactusCaravan).
We decided to try out a new Flea Market in the neighboring town on Saturday and came out empty handed. I fell in love with a huge vintage vinyl player cabinet (it had pointy legs and huge 50s speakers) but was sadly already sold and Wyatt found a great deal on a VHS player (why he collects VHS tapes, I have no idea) but that too was sold.
Needless to say, after a long day of sorting through gems, junk, and crap we were in need of some serious grub. I made these muffins to dip into my Black Bean Chili and they were fantastic! I usually stick to my traditional vegan cornbread recipe that I've used for years but I was cravin' some cheddar so I decided to stray and play around with this recipe. The straying was well worth it and I was not only pleased at the way they tasted but they were also really damn cute!
Anyways, I'd recommend cutting down on how many jalapeno's you use if you don't like things spicy (I only topped half the peppers with the pepper garnish because I'm a wimp).
Jalapeno Cheddar Cornbread Muffins
1 cup all purpose flour
1 cup cornmeal
4 tablespoons sugar
1 Tablespoon baking powder
1/2 teaspoon baking soda
1 teaspoon salt
pinch of pepper
1 cup sour cream
1/4 cup canola oil
1/2 cup milk (I used almond milk but you can use regular)
1 egg
1 cup shredded cheddar (plus more for topping the muffins)
3 jalapenos, 2 diced and one sliced for garnish
Grease a 12 muffin tin with cooking spray. Preheat oven to 400 degrees.
In a large bowl, combine all the dry ingredients (flour, corn meal, sugar, baking powder, baking soda, salt, and pepper). In another bowl, stir together all wet ingredients (sour cream, oil, milk, and egg). Make a well in the center of the dry ingredients and slowly pour in the wet ones. Fold the dry mixture into the wet with a spatula until well incorporated (don't over mix! Just get it moist). Fold in the cheddar cheese and diced peppers.
Cook for 2o minutes. When five minutes are left, top them with more cheddar and the sliced peppers and put back into the oven for the remaining five minutes.
Let cool and serve with yummy, warm chili. Probably while snuggling under a blanket with your favorite person and a board game.
And lastly, unrelated to anything in this post, I am soooooo excited to start a new science project tonight!