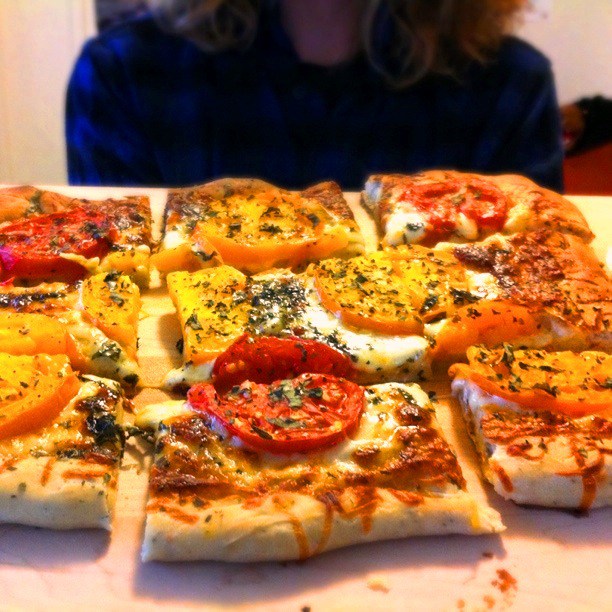 Margarita Pizza
As I've mentioned 100 billion times previously, the tomatoes at the farmer's market right now are spectacular and this is by far one of my favorite pizza recipes (which works out great since it's so simple!). This recipe is also a great way to show off the beautiful color and size of these heirlooms. Mmmmmm.
Yup.  This recipe for Margarita Pizza is so simple that I'm going to keep this whole post simple and not ramble. I will say that you should never bother buying delivery (OR FROZEN-EWWW) ever again because this is faster, cheaper, and soooo much better. And finally, the recipe for Margarita Pizza:
Margarita Pizza
2 colorful and big heirloom tomatoes, sliced
1 pizza dough (you could make it by hand but we used Trader Joe's herb pizza crust and it was scrumptious)
1 package of miniature fresh mozzarella balls
3 cloves garlic, mined
olive oil
handful of fresh basil, torn into small chunks
Preheat oven to 375 degrees. Roll out pizza dough and place on a oiled baking sheet.
Spread olive oil on the first layer instead of pizza sauce. Next top with fresh garlic, mozzarella, tomato pieces, and the basil.
Cook for 12 to 15 minutes.
That's it. That is how you make a Margarita Pizza! Eat quickly before the roommates get it. Or share with your dog. Whichever.
Oh and please enjoy with yummy, cold beer.
Preferably this one: