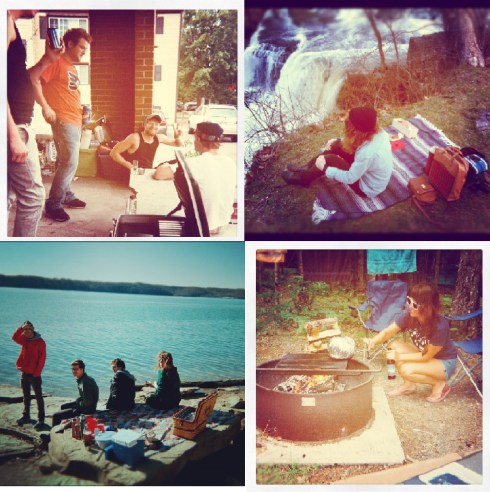 Moody Mondays
Today's Moody Monday theme is 'eating outdoors'. I am in love with being outside (when it's nice out. I am the biggest wimp when it comes to snow). Anyways, nothing makes me happier than to spend a free afternoon lounging around on a blanket while eating some grub and hanging out with friends.
Top left: This picture was from  my birthday last year when I had a bunch of friends over to grill n' chill (arg, isn't that a Dairy Queen slogan?). I have an amazing porch that is perfect for grilling, eating, and beer pong. I am sooooo excited to be hanging out on this porch and am looking forward to spring!
Top Right: Winter picnic with my boy. My favorite type of picnics are waterfall picnics (I don't know anyone else who makes subgenres for picnics but I love them so much that we must categorize and theme them). Anyways, I got an awesome thermal set that just had to be christened with a picnic. This waterfall is amazing because it's beautiful, you can get right up next to it, and it's so far in the podunks of Indiana that it's never crowded.
Bottom Left: Lake Monroe is one of my favorite parts about Bloomington. Growing up next to Lake Michigan, I felt alittle landlocked when I moved down here because I couldn't go to the beach after school. Luckily, Lake Monroe filled any longing I may have had for the water. There is this awesome place that all the college kids hang out at called 'Flat Rock' which is super secluded and you never have to worry about being bothered. In this picture we are having a 'Whiskey Cider' picnic to keep us all warm!
Bottom Right: Campfires! AHHHHH, I love camping so much! This is me in Acadia National Park in Maine which was one of the best trips I have ever taken. Maine is absolutely gorgeous and I am a little bit in love with it (luckily, I've heard about their winters so I'm not going to be running away to there anytime soon).
yup. So these are a few memories/favorite things that I am hoping will carry me through the gloomy Monday. Oh also, sneak peak action- I made homemade pasta with my roommate yesterday and am hoping to post about it later tonight! So so so yummmmy.
PSS Oh and this
http://youtu.be/6lBAPBzADxo