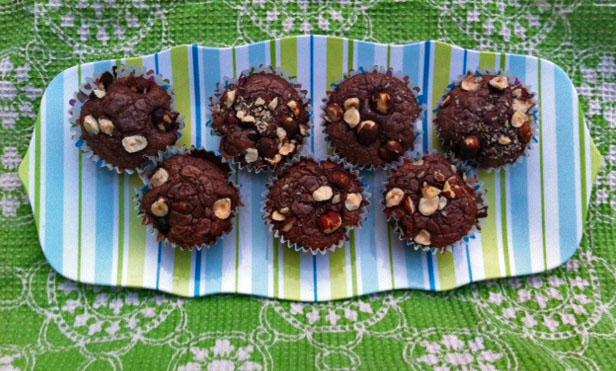 Nutella Cupcakes
4 ingredients. That's it. For these soft, brownie like cupcakes baked to a crispy top and gooey center.
The are probably the easiest baked goods I've ever made. It's so simple yet I was in awe of how good the end product was. If you like chocolate (specifically nutella) than these cupcakes are the prefect thing to whip up in a hurry! I made them WHILE making dinner last night and it wasn't an extra strain at all.
I will warn you…this recipe only makes 10 and they will go very fast. Living in a house of 5, these cupcakes didn't last a half an hour.
And as always, the chance of you having hazelnuts just hanging around the house is unlikely (I think) so just pick up the amount you need for this recipe in your bulk section at your local co-op to same on money!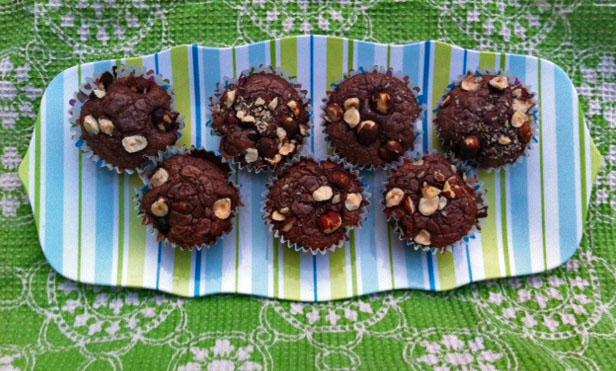 Quick Nutella Cupcakes
1 jar of Nutella (about a cup)
2 large Eggs
10 Tablespoons of flour
1/4 cup crushed hazelnuts (I just put them in a bag and beat them with a spoon!)
Preheat oven to 350 degrees and fill a cupcake tin with liners (mine only made 10 but you could probably spread them out into 12 to fill the whole tin).
Whisk the nutella and eggs together. Once combined, add the flour and mix until a thick batter is formed.
Fill the cupcake liners 3/4 full with the batter. Top with hazelnut chunks.
Cook for 15-17 minutes or until the top is cracking and a toothpick comes out clean.
Let cool for a few minutes and then walk around and pass out your snack proudly to everyone in your household.
Consume. Enjoy. Etc.