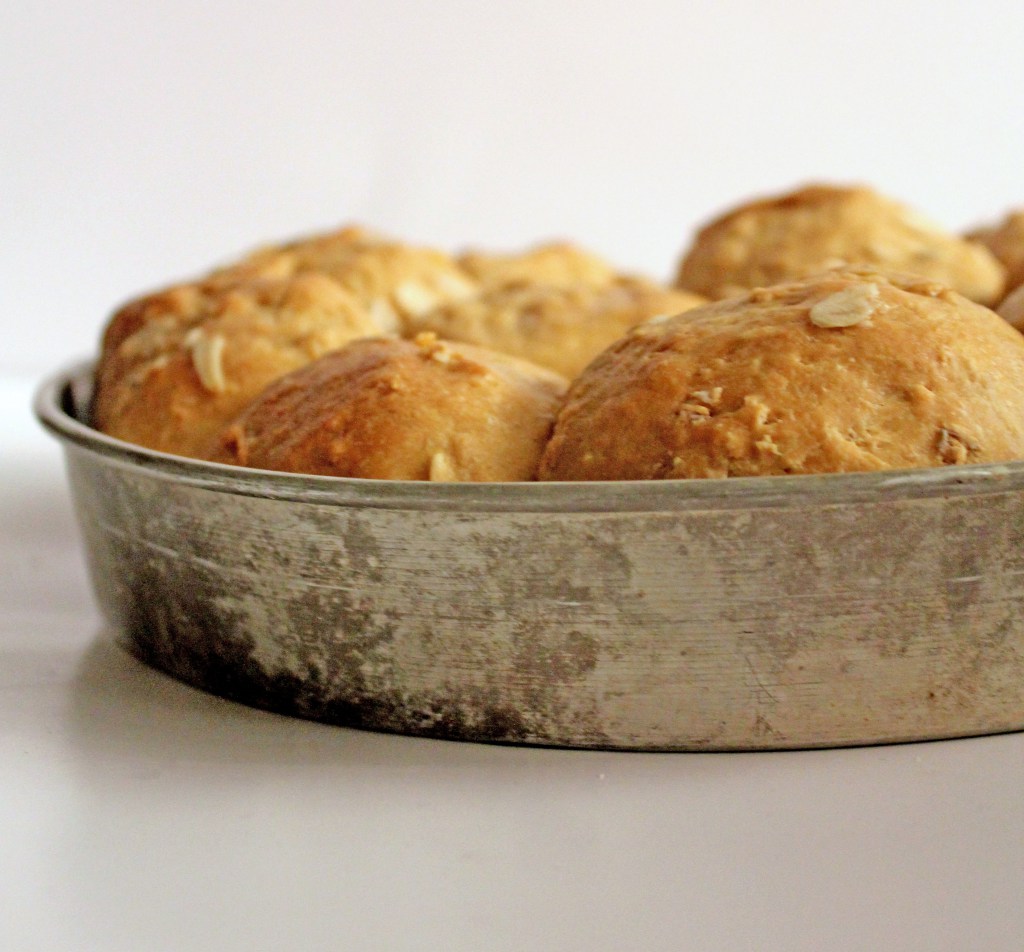 I just want to start out by apologizing. I realize that I have talked about bread excessively lately and I can't help it. I've been on a major bread making kick lately…but this one doesnt involve the breadmaker so everyone can be included! Yay!
Anyways, this week has kicked my ass. Between switching to working full days, having classes from 9 to 9 on my days off, my boyfriend's birthday (which was yesterday and was a success. Cake-recipe-post soon), and tonight I have to go to Indianapolis to support my boyfriend's band…I have had noooo time for cooking or grocery shopping or sleeping. BUT this blog is not here for me to complain so I love my life and am hoping to do some major catch up with it this weekend. New header is currently in the making and lots of recipes will be made this weekend as well!
Okay.. these oatmeal molasses rolls. I made them expecting a sort of dessert roll (you know. buttery, cinnamon roll-esk) but they were really just savory dinner rolls with the slightest hint of molasses sweet. And damn, they were amazing. Soft, melt in your mouth and full of flavor. I would recommend serving them as a side to a pasta dish or even meat (if you swing that way) or soup. I served them with a yummy bowl of Annie's Chickenless noodle soup and it was perfect.
Oh also, make these on the weekend or super ahead of time. Since they don't involve the bread machine, there is a lot of rising time (on two separate occasions) so prep the dough the night before or start in the AM so you can check back on the dough through out the day. I adapted this recipe from Food52 which is a plethora of bread recipes so browse it sometime if you are as dough loving as me. And I promise promise promise they will be worth the extra effort!
Oatmeal Molasses Rolls
1 packet of yeast (or about 2 teaspoons)
1 Tablespoon brown sugar
1/4 cup warm water
3/4 cup milk
3/4 cup rolled oats
3 Tablespoons molasses
2 teaspoons salt
1 egg
2 1/2 cups bread flour
2 sticks of butter +2 tablespoons of butter (to brush on top of rolls)
Phase ONE: Dissolve the yeast in a small bowl with the warm water. Set aside so that it can react and bubble and do it's thing.
Heat the milk in a small sauce pan over medium heat. Once the milk has warmed up slightly, add the butter and stir until it has melted completely. Remove from heat and add in the brown sugar, oats, molasses, and salt. Stir until well combined then set aside to cool to luke warm temperatures.
Add the eggs to a large mixing bowl. Once cooled, add the milk mixture and the yeast mixture. Slowly add the flour until it creates a large ball and all the ingredients stick together. If it's too sticky then add a tiny bit more flour. Place the dough in a greased bowl and roll it around until the ball is greased on all side. Cover with plastic wrap and let rise in a warm place for 2 hours.
Wait. wait. Go play with kitty. Take your puppy for a walk. wait. read some of your favorite blogs. wait.
Phase TWO: Divide the dough into 12 balls and place in a greased, 9 inch pan. Melt 2 tablespoons of butter and coat the tops of the buns with it. Sprinkle with some extra rolled outs and then cover with a towel. Let rise (again, I know. I know.) for another two hours in a warm place.
Wait more. Read a book. Watch some Anthony Bourdain. wait more.
 Phase THREE: Preheat oven to 350 degrees. Bake for 35 to 40 minutes.
Serve warm with butter and honey.