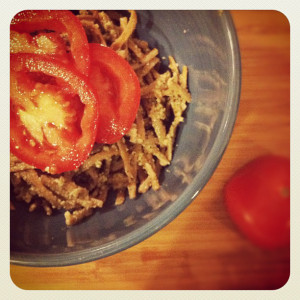 [Pine nut-less] Pesto
I've always had this vendetta against pine nuts. They are just so darn expensive for no reason! There is noooo way that they could possibly be THAT much more expensive to grow than all other forms of nuts. I mean perhaps there is some very logical reasoning for having to spend 30 dollars on a small bag of pinenuts for dinner but I'm not going to search for that answer. I'm just going to continue to boycott and find alternatives.
I will admit, I loooove pinenuts when it's on someone else's tab and I especially like pesto so I decided it was time to get over the hurl of pinenuts for pesto and figure something out. I use a loose interpretation of a recipe off of my all time favorrrrite blog (because it mixes fun cute cartoons and easy vegan recipes soooo adorably) www.veganstoner.com.
I probably would have served this with some garlic naan or garlic bread if I had some but instead I just did a small side salad. Oh and with whole wheat pasta, of course!  mmmmm
[Pine nut-less] Pesto
2 cups basil
1 cup cashews
2 garlic cloves
1/4 cup olive oil
salt/pepper
1 tablespoon nutritional yeast
1 tomato, chopped (for garnish)
whole wheat spaghetti noodles
Cook the noodles according to package. Let the cashews soak in hot water for about ten minutes (save the water after too!)
In a food processor (or blender!) blend the basil, nutritional yeast, and olive oil. Next, add the cashews, garlic, and a 1/4 cup of the cashew water.
Blend until completely combined and season with salt/pepper.
Enjoy on top of a big ol' pile of whole wheat pasta!