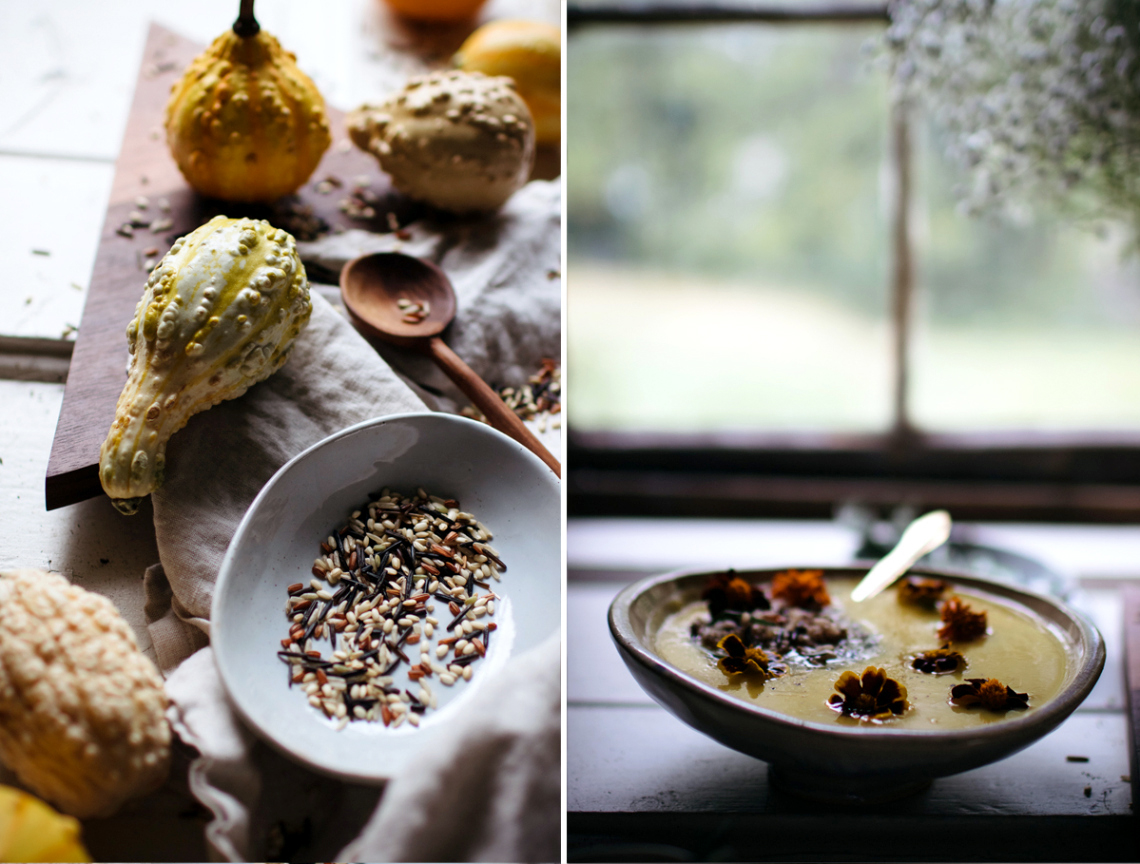 Pumpkin & Wild Rice Soup
In a hurry? Click here to JUMP TO RECIPE!
I've been having trouble nailing down a spot for photos in our new-ish place. The windows in the studio room are both blocked by our front porch so we don't get much, if any, direct light in that room which has been both frustrating and also a refreshing challenge for me to try out other places of the house. Although most of the photos have been taken in our kitchen, I decided to set up a little shooting area in our garage for some 'moody' shots.
We've been calling our garage 'the cabin' to make it sound more appealing to our delusional minds but it's far from livable. There are cracks of sunlight that stream through between wallboards, the floor is literally made of dirt, a big spider lives under every object in the place, and cobwebs cover every surface that is not cleaned off daily. Despite these dungeon-like conditions, it also has the most amazing filtered light with two big antique windows facing both north and south and leaving the rest of the space completely dark. There are also random antique house parts scattered throughout the garage (since we share it with our rental company) that just happen to make the most perfect props and backgrounds (like the white door I used in these photos)! This was my first photo shoot in the 'cabin' but I am very excited to explore it more and get comfortable with the lighting.
Today's recipe comes from Heidi Swanon's newest cookbook, Near & Far. I can't even begin to say enough wonderful things about this book! She divides the book by locations that the recipes were inspired from and shoots with both digital and film (!) throughout the book. Her travel photos make you feel like you are right alongside her, experiencing these trips together. To make you feel even more connected, she has done a really wonderful behind the scenes series on the book over on her blog that I highly recommend!
Pumpkin & Wild Rice Soup recipe below: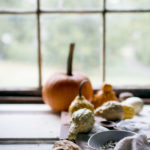 Pumpkin & Wild Rice Soup
Servings
:
4
to 6 servings
Ingredients
For the Lemon, Ginger, & Rosemary Butter:
1/2

cup

unsalted butter

Rosemary leaves from one 4-inch sprig

Zest from 1 lemon

1/2

teaspoon

salt
For the soup:
1/4

cup

unsalted butter

2

medium onions

, diced

2

large shallots

, halved

1

whole Serrano chili

, stemmed

1

Tablespoon

sea salt

2 1/2

pounds

of diced pumpkin cut into 3/4 inch pieces

(from about 1 small pie pumpkin)

9

cups

water or broth

2

teaspoon

fresh ginger

(I used 2 teaspoons grated ginger since it was blended together anyways)

4

cups

cooked wild rice

, to serve

Plain yogurt or toasted pepitas

, to serve
Instructions
For the flavored butter, heat the butter in a small saucepan over medium heat for about 3 minutes or until it browns slightly.

Remove from heat and add in the lemon zest, rosemary, ginger, and salt and let steep for at least 5 minutes. Strain and set aside.

For the soup, melt the butter in a large soup pot over medium-high heat.

Add in the onion, shallots, serrano, and salt. Cook until softened, about 5 minutes, then add in the pumpkin and water / broth.

Bring to a simmer and cook for fifteen minutes or until the squash is tender enough to cut through.

Add in the grated ginger (or the ginger juice) and use an immersion blender to puree the soup until completely blended.

Season with salt and pepper.

Top with flavored butter, wild rice, yogurt, and pepita to serve.