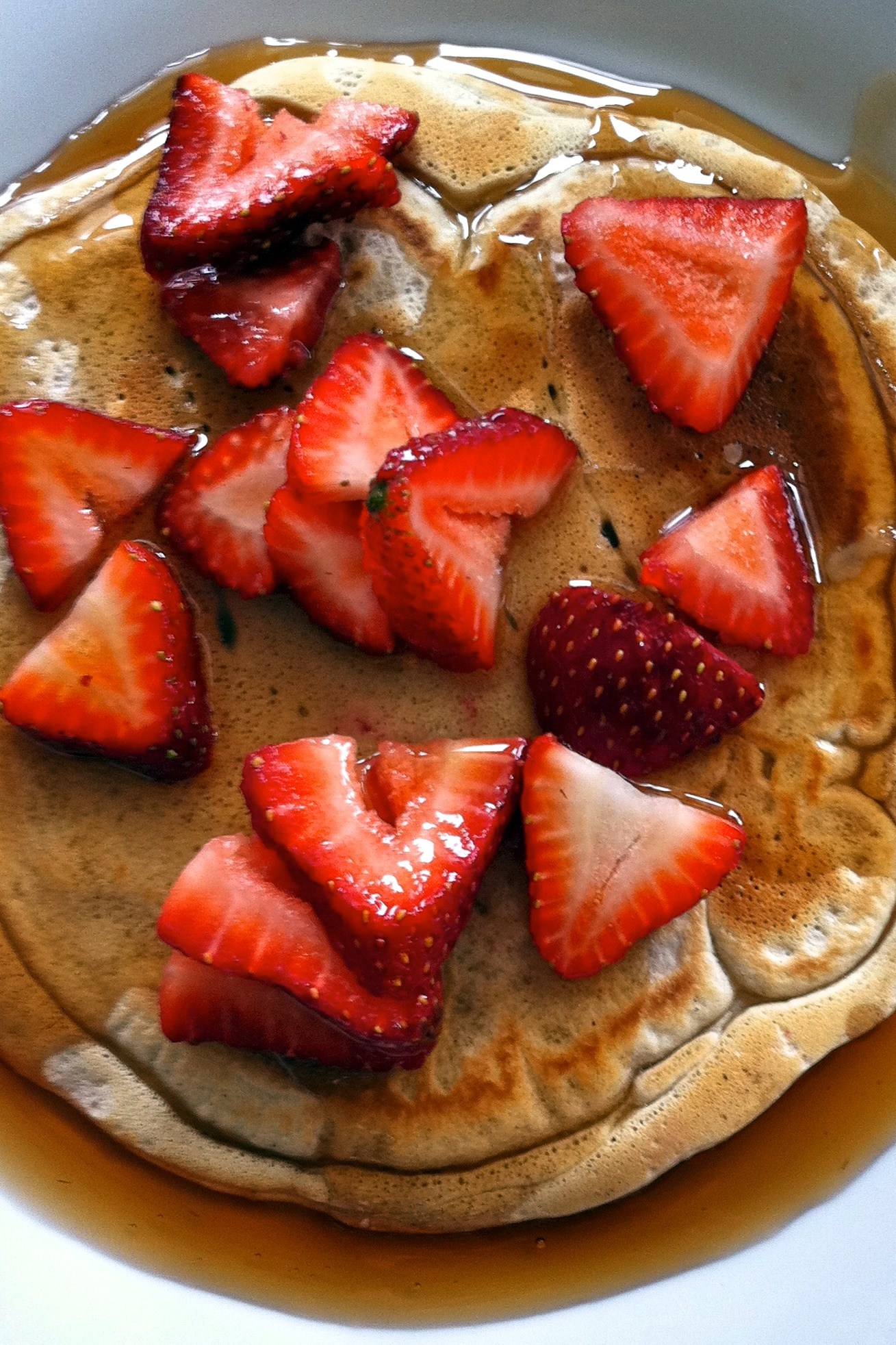 Quick Vegan Pancakes with Simple Strawberry Topping
Today we have Quick Vegan Pancakes with Simple Strawberry Topping! Vegan baking is different from regular baking in the fact that the end product is denser but much more moist (I know that seems like an odd combination but really the best way for you to get what I'm saying is to just trying some vegan baking!). It's funny because people just assume vegan baking is so much harder than regular but it's all just about substituting the right ingredients. (I mean we can make it more challenging by adding expensive chickpea flour, arrowroot starch, and xantham gum but why bother when it turns out just as good with a few of these cheap substitutions?).
This is my "go to" breakfast recipe when I'm looking for something sweet or needing to feed a big crowd (there's a reason we have 5 beds and 2 pull out couches in this house- there are always plenty of people sleeping over).
I would suggest just using fresh fruit and maple syrup on this guys. However, if you're fresh out of syrup or have some sad looking fruit, feel free to cook them with a few tablespoons of sugar on the stove (on low!) for a few minutes to create a simple syrup that will make the fruit extra sweet and create a melt in your mouth texture. Ready to make these Quick Vegan Pancakes with Simple Strawberry Topping?
Quick Vegan Pancakes with Simple Strawberry Topping
(Adapted from Isa Moskowitz's Vegan Brunch)
1 1/4 cup all purpose flour
2 teaspoons baking powder
1/2 teaspoon salt
1 teaspoon cinnamon
dash of nutmeg
2 tablespoons canola oil
1/3 cup water
1 cups almond milk
2 tablespoons maple syrup
1 1/2 teaspoon vanilla extract
Spray the skillet with cooking spray (or use a little olive oil) and heat skillet over medium heat while you prepare the batter.
In a mixing bowl, combine the flour, baking powder, salt, cinnamon, and nutmeg. Once mixed, make a hole in the middle of the bowl by pushing all the dry ingredients to the edge. Put oil, milk, syrup, and vanilla in the center and fold dry ingredients in to mix.
Pour batter in the middle of the pan and cook one at a time for about 2 minutes on each side. They are ready to flip when bubbles have formed almost all the way around the edges.
Lather with maple syrup and fruit. Or peanut butter and jam. Or Nutella. Or ice cream and chocolate. Enjoy your Quick Vegan Pancakes with Simple Strawberry Topping!