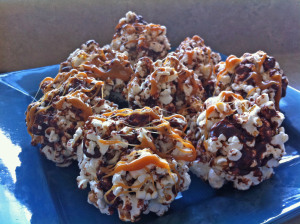 Salted Caramel Micchiato Popcorn balls
Think starbuck's caramel machiatto latte meets light and fluffy fall traditions?
These guys are perfect for the kid in you that has matured past that simple chocolate caramel combination and added the hint of dark espresso that we have become so use to in our daily lives! They are super light because of the fresh popped popcorn but still indulgent enough that you know it's a fun versatile desert.
It's an easy and cheap snack that could be perfect for a fall potluck or to serve your roommates for a Halloween treat. Or host a movie night with your roomies and make these instead of the traditional buttered popcorn. Either way, these are an addictivie and quick snack that are sure to be integrated into you're normal snack routine.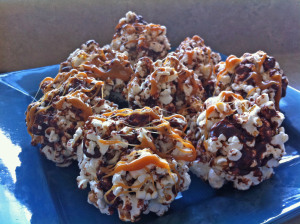 Salted Caramel Macchiato Popcorn Balls
8 cups of prepared popcorn (I used air popped popcorn because I live in Indiana and our economy is centered around corn but feel free to use microwave!)
1 tablespoon espresso powder
1 tablespoon warm water
dash of cinnamon
1/2 cup semi sweet chocolate chips
20 caramel squares, unwrapped (10 more for drizzling if you'd like)
Combine the espresso powder and water to form a small paste. Next, add the chocolate chips, cinnamon and caramel. Microwave on high for 1 and a half minutes or until a everything has melted. Stir until mixed.
Combine your mixture with the popcorn and make sure that the mixtures coats all of it. Shape popcorn balls with your hands and place on wax paper for 10 to 15 minutes or until they have hardened.
Watch 'The Never Ending Story' and enjoy under the covers on the couch.