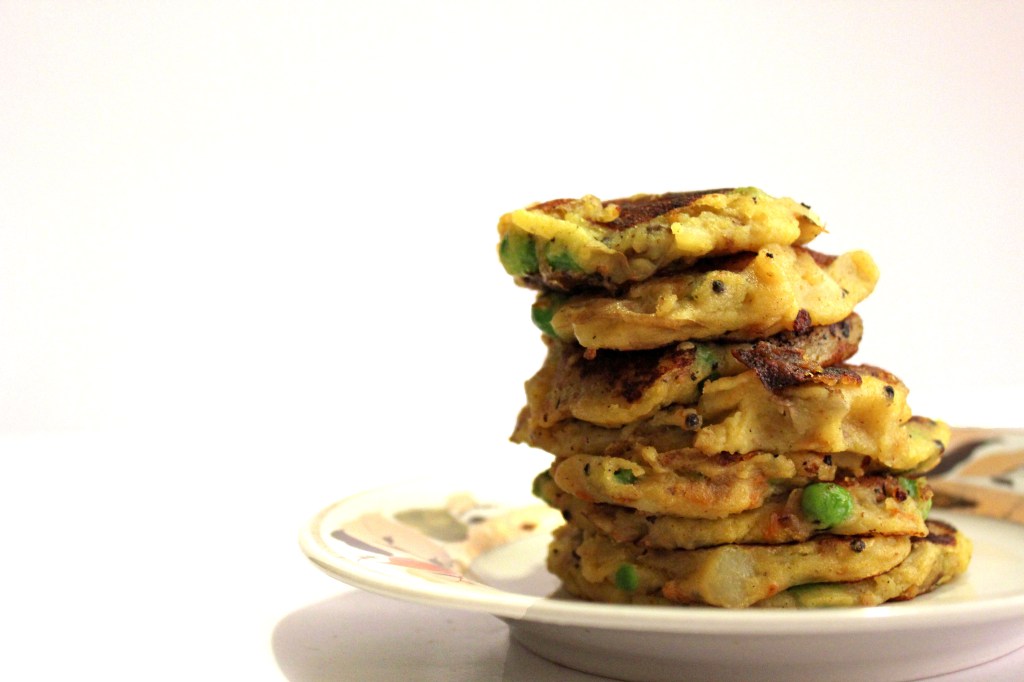 Here in Bloomington, we have an entire street dedicated to ethnic restaurants. It's really an amazing experience…it's like walking into another country and it's just down the street. They've got Thai, Indian, Turkish, Mediterranean, and so much more. I had never even had good Indian food before I moved to this town four years ago but this street has certainly allowed me to make up for lost time. My boyfriend use to work at one of the Indian places so he can make a mean curry and I myself have become pretty addicted to this cuisine.
We've gone through phases of making curries every weekend and homemade naan and homemade hummus. However, we've never managed to master samosas which is suuuuch a shame because they are so dayuuum good. It's just such a tedious process that it's fun for a special occasion but not something you'd wanna whip up every weekend. Anyways, so I came across this recipe in my Vegan Brunch cookbook and this solved all of our samosa problems.
These patties literally taste like the inside of a samosa and are half the hassle of making real ones. These are great to serve as a side with some curry or eat as a main with some sweet sauce. They are chocked full of veggies and spices that will fill you're palette with amazing Indian aromas.
Samosa Patties
2 pounds potatoes, peeled and cut into cubes
1/8 cup canola oil + 2 Tablespoons
dash of turmeric
dash of salt
1 teaspoon yellow mustard seeds
1/2 onion, diced
1/2 cup carrots, grated
2 garlic cloves, minced
1 inch of fresh ginger, grated
1 teaspoon cumin
dash of red pepper flakes
1/2 cup frozen peas
1/8 cup flour
extra oil for pan frying
First, add the potatoes to a large pot of water and bring to a boil. Simmer for 20 minutes or until you can stick a fork through the cubes and they are soft. Drain and return to pot. Mash well and add the 1/8 cup canola oil, turmeric, and dash of salt.
Preheat a large skillet (with a lid) over medium heat. Add the 2 tablespoons of canola oil and the mustard seeds. Cover with the lid and let the seeds pop for about a minute. Once the popping has settled, add the carrots and onions. Saute for about ten minutes and then add the garlic, ginger, cumin, and red pepper flakes. Cook for another few minutes and add water if it's dry.
Back to the potatoes, add the onions, peas, and veggie mixture. Lastly, add in the flour and season with salt.
Now for the disappointing part (the waiting game- one of the worst games ever). You've gotta let the mixture cool completely or else it will fall apart. So I reccommend sticking it in the freezer for 20 minutes but feel free to pop it in the fridge for hours (if you prepare it in advance).
Once cooled, take chunks of the batter, roll them into golf ball size balls, and then flatten slightly. Heat a heavy skillet over medium heat and saute the patties on each side for three minutes or until they have browned. Repeat with the rest of the batter.
Serve warm and with other yummy Indian dishes.
Oh and these are my roommates trying to tell me what they have in their hands is much more interesting than taking photos of my pancakes.