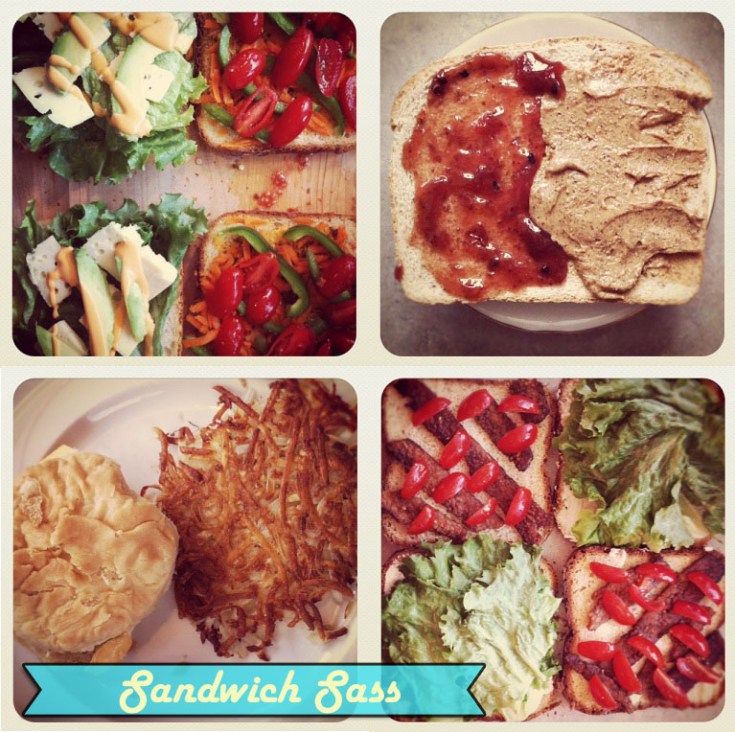 Sandwich Sass

I've been on a sandwich kick this week. It sparked last weekend when we ate lunch at our favorite sandwich spot in Bloomington and had a long talk about how amazing sandwiches are because of their versatility and fresh flavors. This conversation caused an immediate chain reaction to run out to the local co-op for sandwich goodies on the way home (sandwich goodies= fresh veggies, supplies for homemade bread, vegan fakin' bakin, and sandwich sauce). We then proceeded to make some homemade jalapeno bread (recipe coming soon!) and created sandwich masterpieces for the rest of the week!
Here were my four favorites:
Veggie Stacker (top left): Lettuce, tomato, onion, green pepper, avocado, swiss, salt, pepper, dried basil, dried oregano, crushed garlic, roasted red pepper aoili on homemade jalapeno bread
Rich Girl's PB&J (top right): Organic honey roasted almond butter, All Natural Strawberry Rhubarb jam on sprout bread
The Elegant Egg (Bottom left): Scrambled egg, pesto, swiss, salt, pepper on a homemade biscuit
Bohemian BLT (Bottom right): Lettuce, tomato, veganaise, Tempeh Bacon on homemade jalapeno bread
Glad to share my sandwich lust with you and hope to have some real recipes back up this weekend!