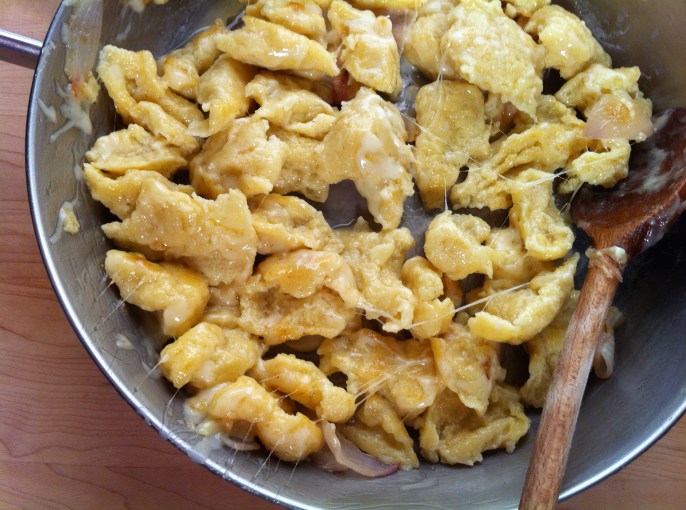 Spaetzle with Swiss Cheese and Shallots
If there is anything a German can do, it's drink and eat…. and I'm German. Like all and only German (my last name is Westerhausen…). And although we don't have a lot of traditions in my family that have continued through our heritage, there are some things that have stuck with me through the years. A few of these things are putting the pickle on the tree, having mull wine, and eating spaetzle.
Spaetzle is the only German dish that I can think of that I have always loved. I mean anything that is doughy and sauteed in pounds of butter and gooey cheese is going to be amazing. It's like our form of mac n' cheese but you make the dumplings from scratch and they are worth every minute spent on them.
I made this for my roommates and boyfriend last weekend and got the best reaction yet. My boyfriend is a little turned off by anything he can't pronounce and although he went through the whole day pretending he knew what I was talking about (what a good sport), he had no idea what I was getting him into. I should have made a double recipe because this stuff was gone before I could even offer it to more than one of my roommates (although the one I did get it to practically licked our bowls clean wishing there was more).
Anyways, I know homemade dumplings SOUND intimating but it's so simple. No kneading, no putting through a pasta press, no shaping, nothing. All you have to do is make the dough an hour ahead of time (to let it rise) and then drop chunks into salted bowling water and they are ready two minutes later. Bam. simple, elegant, and sooooo amazing.
One last thing I'd like to note. You can easily healthify these guys by sauteing them with veggies and spices but I highly recommend (especially at least for the first time you make them) that you do go all out and eat them sauteed in butter and cheese. I mean it's a tradition…you can eat it in the name of culturing yourself.
Spaetzle
Dumplings:
1 1/2 cups of all purpose flour
1/2 teaspoons salt
2 eggs
1/2 cup whole milk
If you're gonna saute them after:
3 Tablespoons butter
1 cup shredded Swiss cheese
2 shallots, chopped
For the dough:
Combine the flour and salt together in a bowl. Then add the eggs and milk and mix until a dough ball forms. Let sit for an hour to rise.
Once that hour is almost up, bring a large pot of salted water to a boil. Spray a baking sheet with cooking spray so that you can put the dumplings on it after they boil. Drop a heaping teaspoon of dough into the water and it will be ready when it floats (about two minutes). Do this with the rest of the dough (you can put several into the water at a time). Put on a baking sheet close to the oven to keep warm.
Prepare them however you'd like after that or saute them from the directions below
For the Saute:
Melt the butter in a skillet over medium heat. Add the chopped shallots and cook for about 5 minutes or until softened. Then add the spaetzle and saute for another 5 minutes. Turn off the heat and add the swiss; mix until well combined and all the cheese has melted. Season with salt and pepper and eat immediately (be careful though, you might end up eating the whole thing).
Serve to your boyfriend or cat (only a little but they will loveee the cheese!) or your grandma. And of course, munch down.