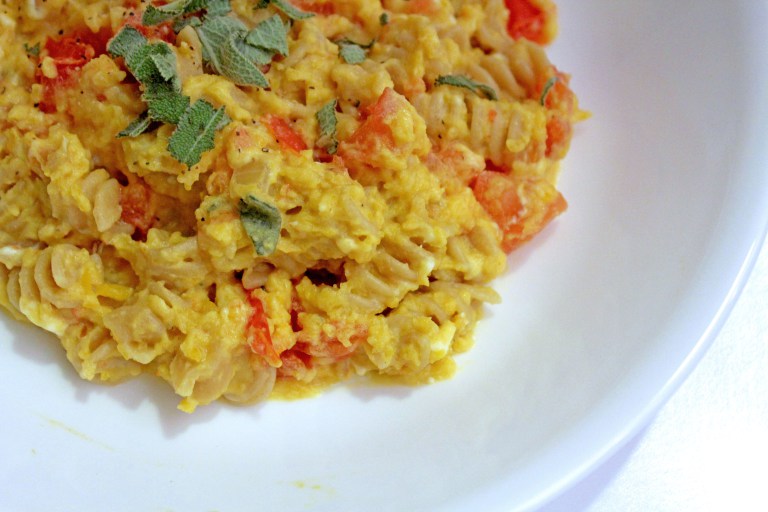 Squash Casserole with Blue Cheese, Sage, and Tomatoes
Sadly, this week was my first week back to school which means lots of less cooking and less time to devote to fun things like my blog. Oh well, it was bound to happen eventually, right? and it's my last semester EVER of school so I need to enjoy it (which I think I will with my Rock and Roll history and Photoshop classes). Anyways, I good thing about this is that some of my friends that went home or to visit family over the holidays are finally back (AKA Kelsey) so back to having girl friends and not having to glop onto Wyatt's guy friends.
Kelsey and I decided to have a cooking night earlier this week and this delicious casserole was the outcome of it. I've recently read a lot of recipes where vegans (and health nuts) will substitute cheese for pureed butternut squash to make a mac n cheese like pasta dish. Going into this recipe, that was kind of what I had in mind but once we started making this  I realized it wasn't trying to be like that at all. It's just a casserole with a bunch of really yummy ingredients incorporated into it. The butternut squash made the "sauce" part pretty thick but not in a discouraging way, just in the "don't have to eat much" filling sort of way. We served this with garlic toast but feel free to make a salad as a side if you've got fresh veggies on hand!

Squash Casserole with Blue Cheese, Sage, and Tomatoes
2 tablespoons butter
1/2 onion, chopped
2 garlic cloves, minced
1 tablespoon chopped fresh sage
1/2 teaspoon red pepper flakes
1 tablespoon all purpose flour
2 1/4 cups whole milk
2 pounds butternut squash, peeled and chopped into cubes
salt
pepper
3 cups dried pasta
3 tomatoes, chopped
4 oz blue cheese, crumbled
First, we must prep the butternut squash. Preheat oven to 425 degrees. Put cubes on a oiled baking dish and took for 20 minutes or until they are soft and can be pierced with a fork. Then remove them from oven and puree in a food processor or blender until smooth (If using a blender you may have to add alittle milk to get the blending process to begin).
Next, bring a large saucepan filled with salted water to a boil. Cook dried pasta according to directions on package. Drain, put pasta back in the large sauce, and set aside until ready to use.
Bring oven temperature down to 375 degrees and oil a casserole dish.
In another  large pot, heat butter over medium heat.  Once melted, add the onions and saute until they turn translucent and soft. Next, add the garlic, sage, and red pepper flakes and cook (WHILE STIRRING) for another few minutes (AKA let the garlic smell up your kitchen with it's yummy aroma!)
Stir in the flour and let cook for another three minutes. Slowly stir in the milk 1/4 cup at a time. FInally, whisk in the squash puree and stir until smooth. Remove from heat and season with salt and pepper.
Add the squash mixture to the pasta. Then fold in the tomatoes and cheese until everything is incorporated. Transfer to a casserole dish and cook for ten minutes.
Serve warm and enjoy with friends (its a big casserole! Why not?)