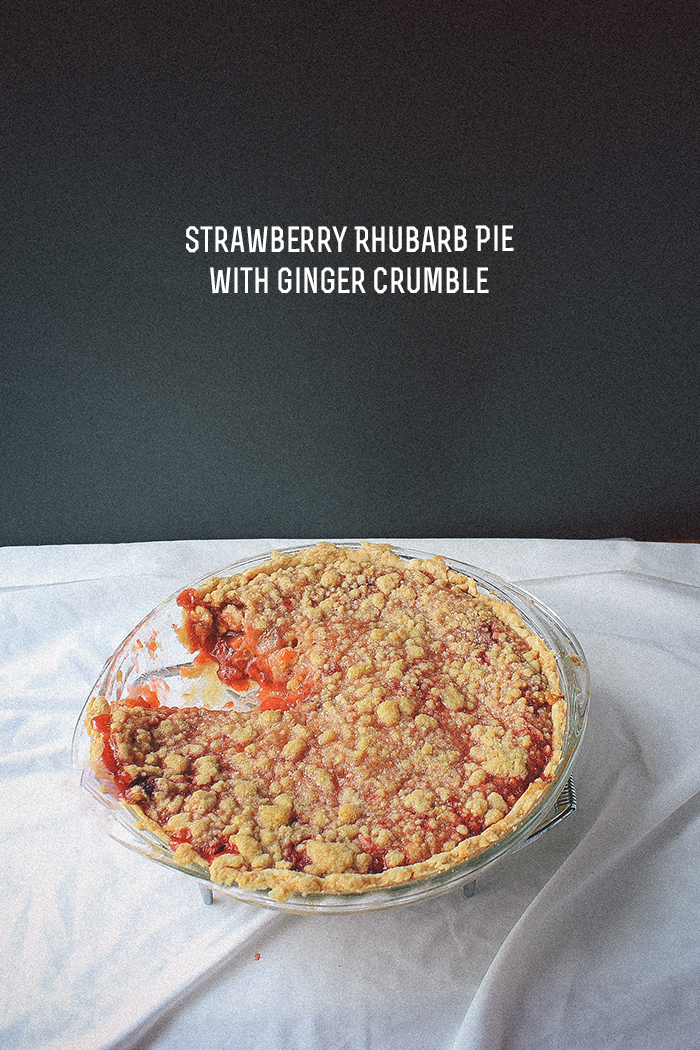 Strawberry Rhubarb with Ginger Crumb Pie [Vegan]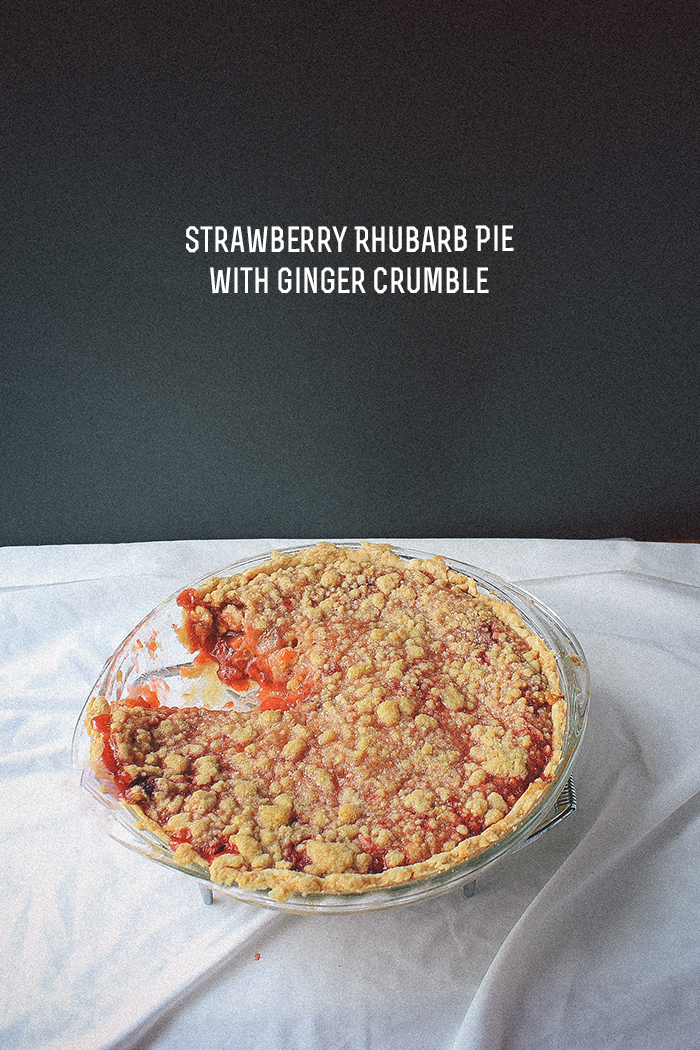 I had making a pie on the mind all week. I don't get this urge very often (mostly because making a pie for two is just plain irresponsible) but decided to let myself indulge this time. My original thought was a blueberry basil pie but I was going to be open to whatever the farmer's market would supply me. The only fruit I ended up finding at the market were strawberries and I knew I had to get them. They were petite and had the irresistible rustic appearance that wild strawberries often times have. This led to an internal struggle though…what other flavor combination would I use with strawberries? There was no basil at the market so that was out. I knew that rhubarb was the right choice (being in season and because strawberry rhubarb makes everything taste like a fruit roll up – in a good way) but I didn't want to admit it at first. The ground breaking culinary discovery that rhubarb and strawberries were made for each other happened long before VV came around. What would make my pie different from the 100 million other recipes out there?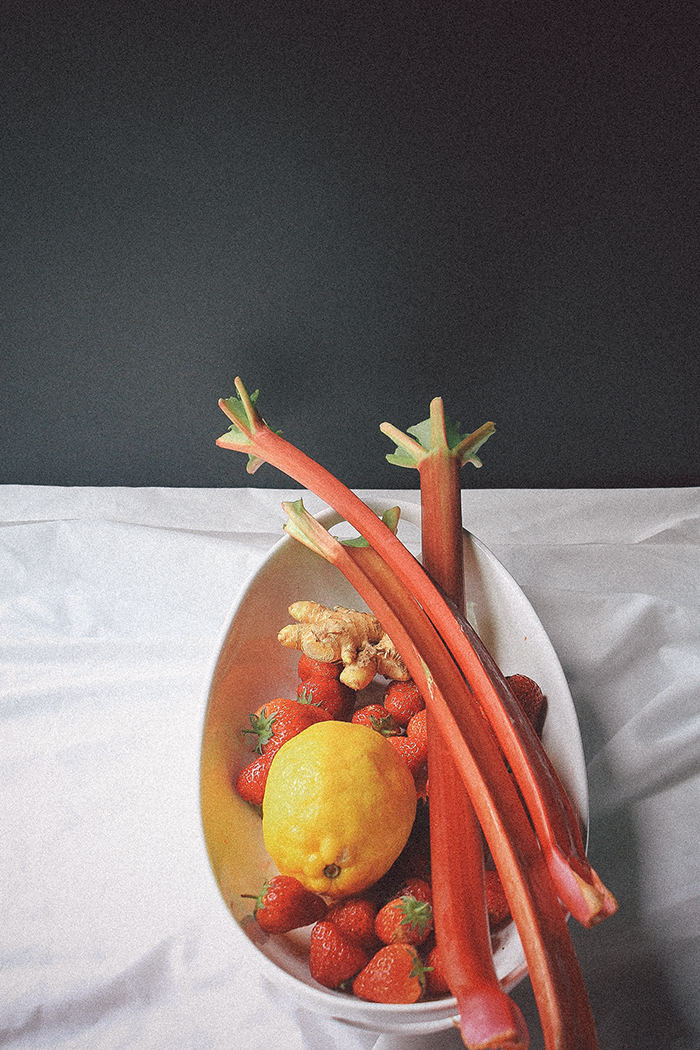 After racking my brain & running through every spice and herb imaginable in my head, it clicked. Ginger. Ginger had become my BFF over the winter (when I was constantly warding off a cold with Ginger Lemon Tonics). I immediately imagined a gingerly zing hitting the tongue moments after the strawberry rhubarb kicked in for a second layer of flavorings. And you know what? I was right. I am SO glad I was right. Thank you, ginger. Strawberry Rhubarb pies will never be the same.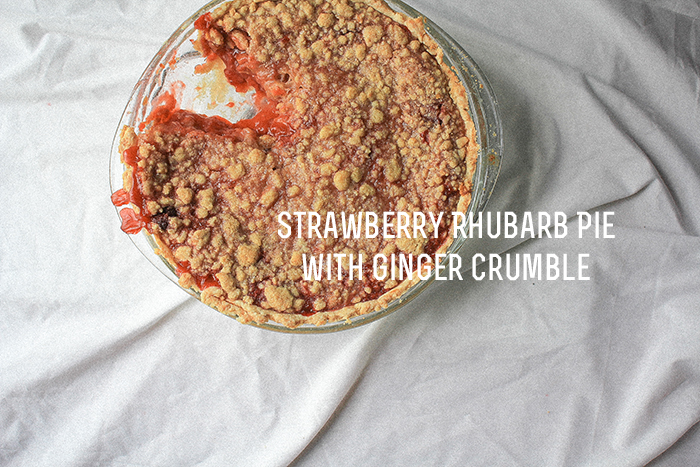 Strawberry Rhubarb Pie with Ginger Crumble
Adapted from Vegan Pie in The Sky
For the Crust:
1 1/2 cups all purpose flour
2 Tablespoons sugar
1/2 teaspoons salt
1/2 cup cold vegetable shortening
4 Tablespoons ice water
2 teaspoons apple cider vinegar
For the Filling:
2 1/2 cups rhubarb, cute into 1/2 inch chunks
3 1/2 cups strawberries, cut into 1/2 in chunks (fresh or frozen)
2/3 cup sugar
2 Tablespoons cornstarch
1 Tablespoon lemon juice
1/2 teaspoon salt
For the Crumb Topping:
1 cup all purpose flour
1/3 cup brown sugar
2 Tablespoons white sugar
1/4 teaspoon salt
1/2 teaspoons nutmeg
1 tablespoon fresh grated ginger
1/3 cup Earth Balance (or other vegan butters or regular butter if not wanting to make vegan)
For the crust: Combine the sugar, flour, and salt in a bowl. Using a pastry cutter (or your clean hands) cut in the shortening to the mixture until  coarse crumbly dough as formed.
In another small bowl, combine the ice water with the vinegar. Drizzle 1/3 over the water over the flour mixture and stir. Drizzle another 1/3 over the mixture and stir again. Drizzle the rest of the water over the dough and form a soft dough ball. If the mixture hasn't come together, add another tablespoon of ice water. If it's too wet, add a tablespoon of flour. Wrap the dough in plastic wrap or parchment paper. Let sit in the fridge for an hour.
For the filling / crumb: Combine all the filling ingredients in a bowl and set aside. For the crumb, combine the flour, sugar, salt, ginger, and nutmeg. Drizzle in the butter with one hand and swish around the mixture with a spatula with your other hand. Mix until large crumbles form.
Preheat oven to 350 degrees.
Roll the dough out on floured parchment paper (this will help you transfer it to your pie to the pan). You'll want to make a 12″ circle with the dough. Quickly flip the dough into your pie pan and remove parchment paper. Add filling over dough and then spread the crumble evenly over the top.
Cover with aluminum foil and poke a few holes to let steam escape. Bake for 20 minutes and then lower heat down to 350 degrees. Remove foil and let cook for another 30 minutes or until the topping has browned.
Let cool for 20 minutes before serving.