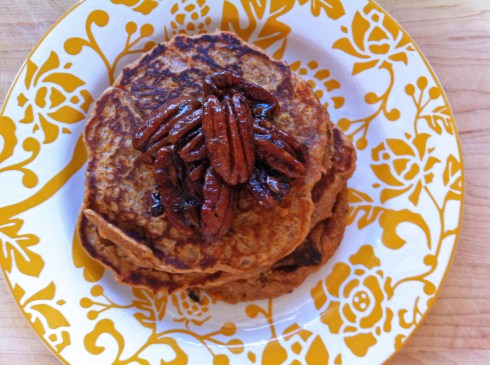 Sweet Potato Pancakes with Whiskey Glazed Pecans
If you haven't noticed, I've bought into the shop local and cook seasonally fad (mmmm fresh produce!) so if for some odd reason my love for seasonal cooking mated with my favorite meal [breakfast-duh!] then I'm pretty sure the product would be something along the lines of these sweet potato pancakes!
I know the main part of this recipe is the pancakes but damn the pecans are what shine! Yummy glazed nuts with a hint of maple syrup and whiskey means this pancakes are just an excuse for you to make these pecans anyways!
Also, [total side note] BUT if you have an leftover mashed sweet potatoes after Thanksgiving then feel free to skip over the pancake recipe part of this post and fry them up like pancakes with these yummy pecans.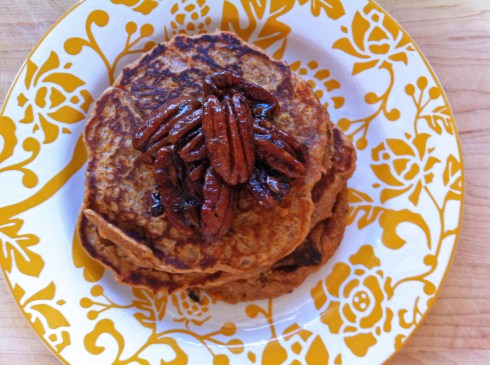 Sweet Potato Pancakes with Whiskey Glazed Pecans
For the pecans:
1 cup pecans
2 tsp. canola oil
dash of salt
2 Tablespoons maple syrup
2 Tablespoons whiskey
For the Sweet Potato:
1 large sweet potato
2 Tablespoons canola oil
3/4 cup almond milk
1/3 cup water
2 tsp. apple cider vinegar
1 tsp. vanilla
1 cup whole wheat flour
2 tsp. baking powder
1 tsp. cinnamon
1 tsp. ground ginger
dash of nutmeg
dash of cloves
cooking spray
You have three options for when you want to make the mashed sweet potato part. You could either make it the night before so that you can get right down to business when you wake up or assign the task to whomever is the early bird in the house or just do it when you get up (but keep in mind this is gonna add another 45 minutes to your prep time!)
Anyways, so preparing the sweet potato is the first step. What you are going to do is preheat the oven to 350 degrees and place the sweet potato on the middle rack (no wrapping in foil or poking it). Cook for 45 minutes (this is the part where you go back to bed or watch cartoons with your morning coffee while you wait!)
Once done, take out and prepare the pecans while it cools. Place a square of parchment paper on the counter and heat a skillet over medium low. Add pecans and saute constantly for about five minutes. Add oil and dash of salt; stir for another minute. Then add the maple syrup and stir so that the pecans absorb it (about 30 seconds). Finally, add the whiskey and stir for 30 seconds more. Place hot pecans in a single layer on the parchment paper and let cool while you prepare the rest of the pancakes (dont pick at them! They will be yummy!)
Peel the sweet potato and mash in a large mixing bowl. Add the oil, milk, vinegar, sugar and vanilla and stir until well incorporated. Next, add the dry ingredients (Flour, baking powder, salt, and spices) and mix until all the big clumps are gone.
Prepare a large skillet over medium heat. Liberally spray with cooking spray and, when heated, add by the heaping 1/2 cup fulls to the pan. Cook for about 3 minutes on each side and flip.
Eat with pecans on top and gallonss of warm maple syrup (unless you're on a diet in which case I'd reccomend you scratch this recipe all together and find some yogurt in the fridge or something).