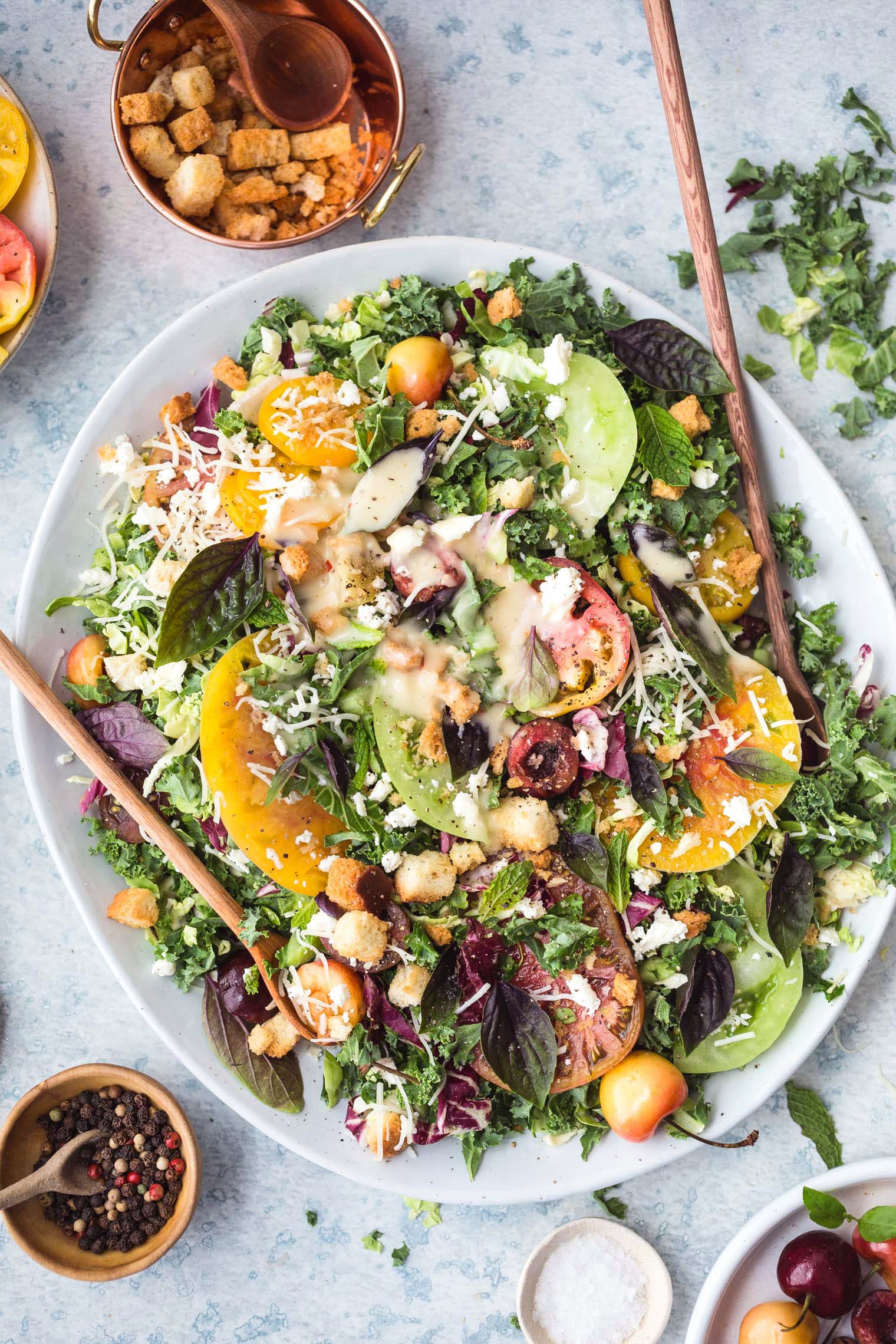 In a hurry? Click here to JUMP TO RECIPE!
This Tomato & Cherry Kale Salad with Lemon Vinaigrette recipe is light but filling and ideal for a quick late summer starter or side.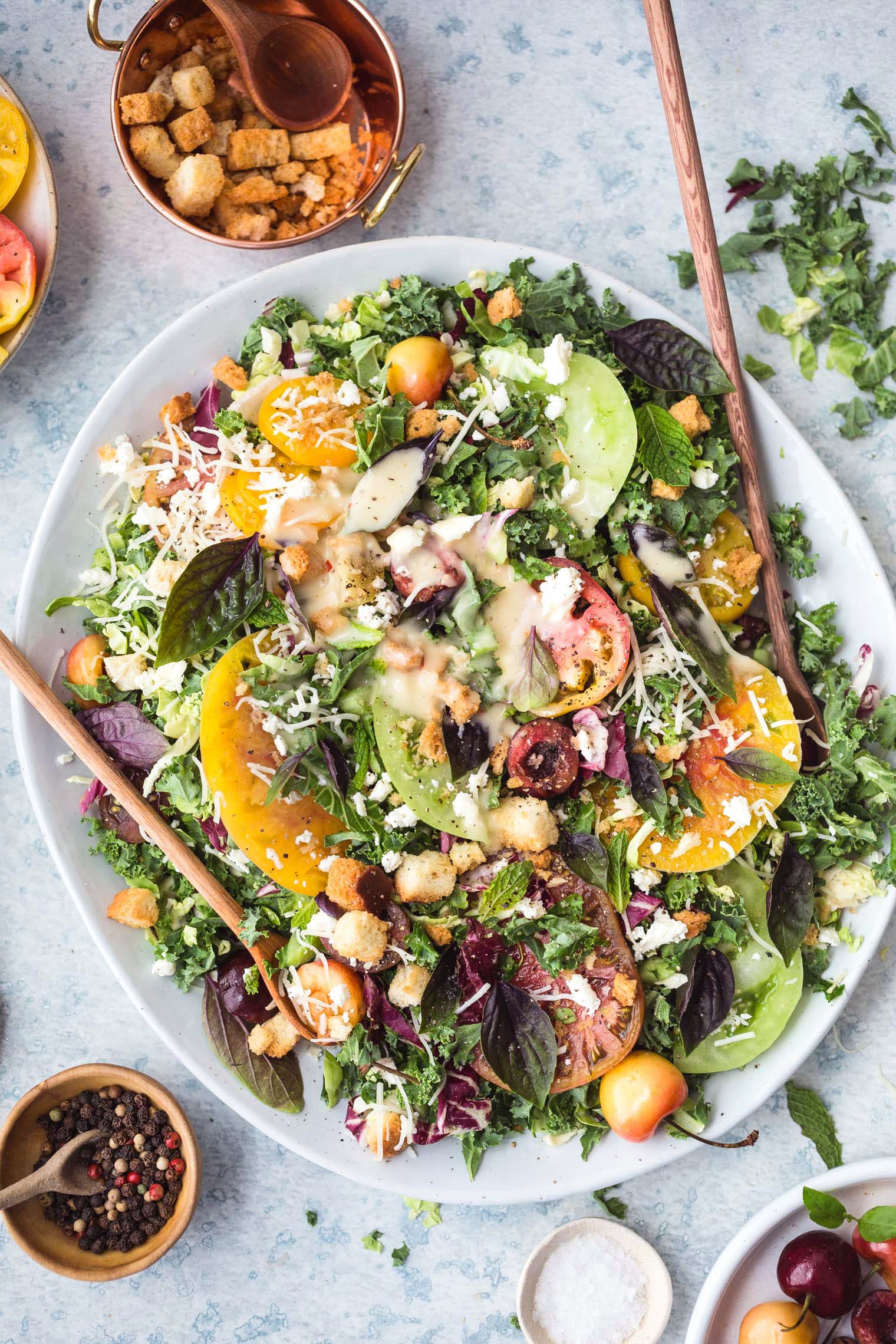 Okay – it's the middle of August and the summer has been flying by! It's about time for a check-in, yeah? Here is what I've been up to lately:
I've been keeping super busy with interviews and event promotions for Vegetarian Heartland. It's weird to think that the book only came out 6 weeks ago! I've loved reading all of the Amazon reviews, seeing the book on Anthropologie, and being able to walk into Barnes and Noble to pick it off the shelf. Very exciting time, to say the least!
June and July were super busy with wedding and family events so we've spent most of August enjoying the thriving garden and cooking up all the in-season produce. What have been your favorite recipes lately? This salad (listed below) has been on repeat for us (it's so easy to throw together since Taylor Farm's salad kit already has so much included) as well as this White Bean Caprese. Tomatoes on everything, please!
We've been on both the house hunt and a dog hunt (still can't figure out which will come first). I really think it would be fun to have a small dog around here since Tuko is so big. Tuko may be a big boxer but he is also a big baby so I can already see the little dog bossing him around (which would be very good for his spoiled only child personality). We are thinking either a pug or chihuahua (whichever we can find at the shelter first).
Ive also been thinking that it's time for a new blog design layout around here. I want something completely fresh and a little more unique than what I have right now – maybe a magazine style photo layout or even have it show up like a fancy menu or something? I've been trying to take inspiration from sites outside of the blogging world but haven't figured out quite how to translate that yet. I just know I want something modern, simple, and different. Have you seen any site designs that you've been crushing on lately? I love this one.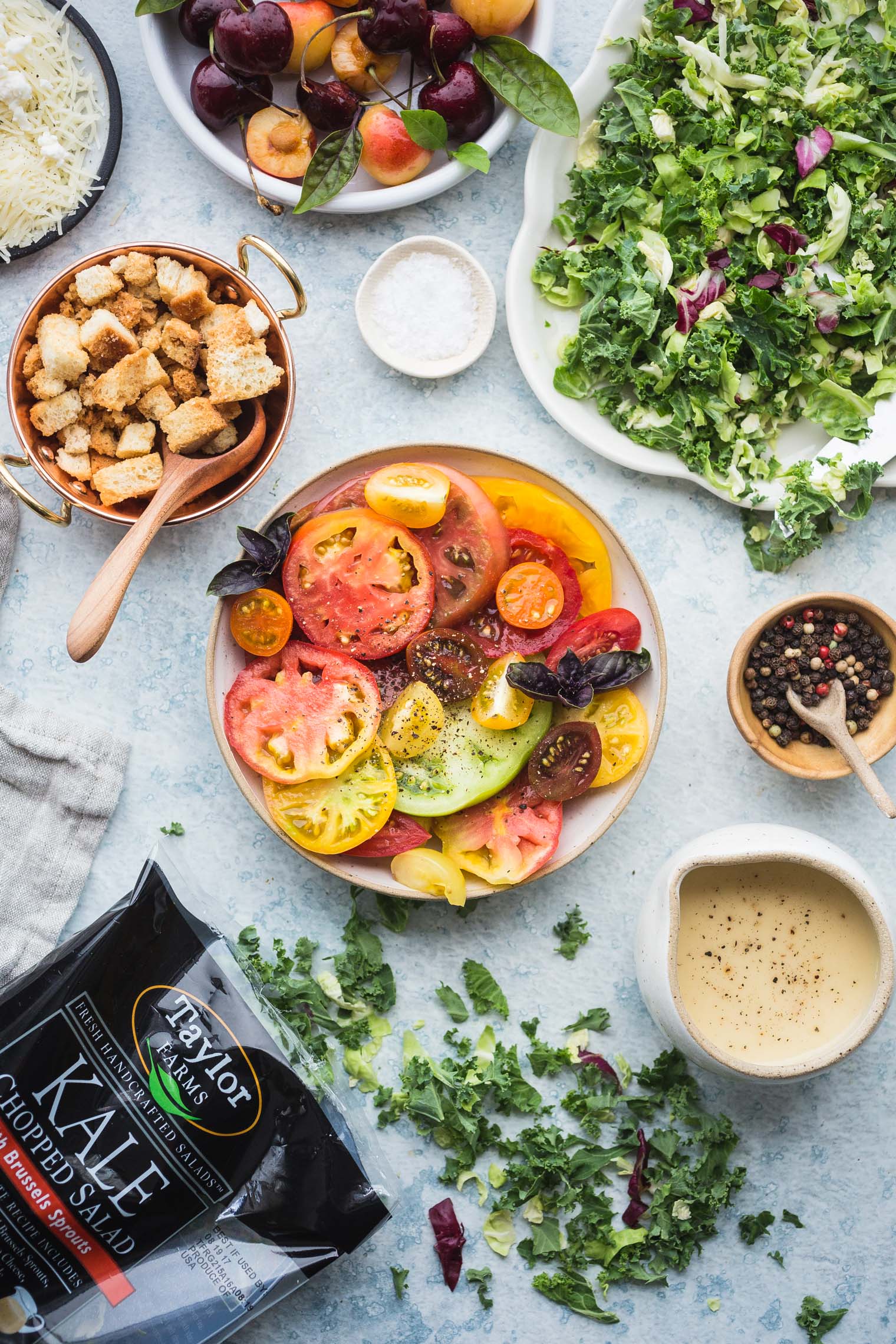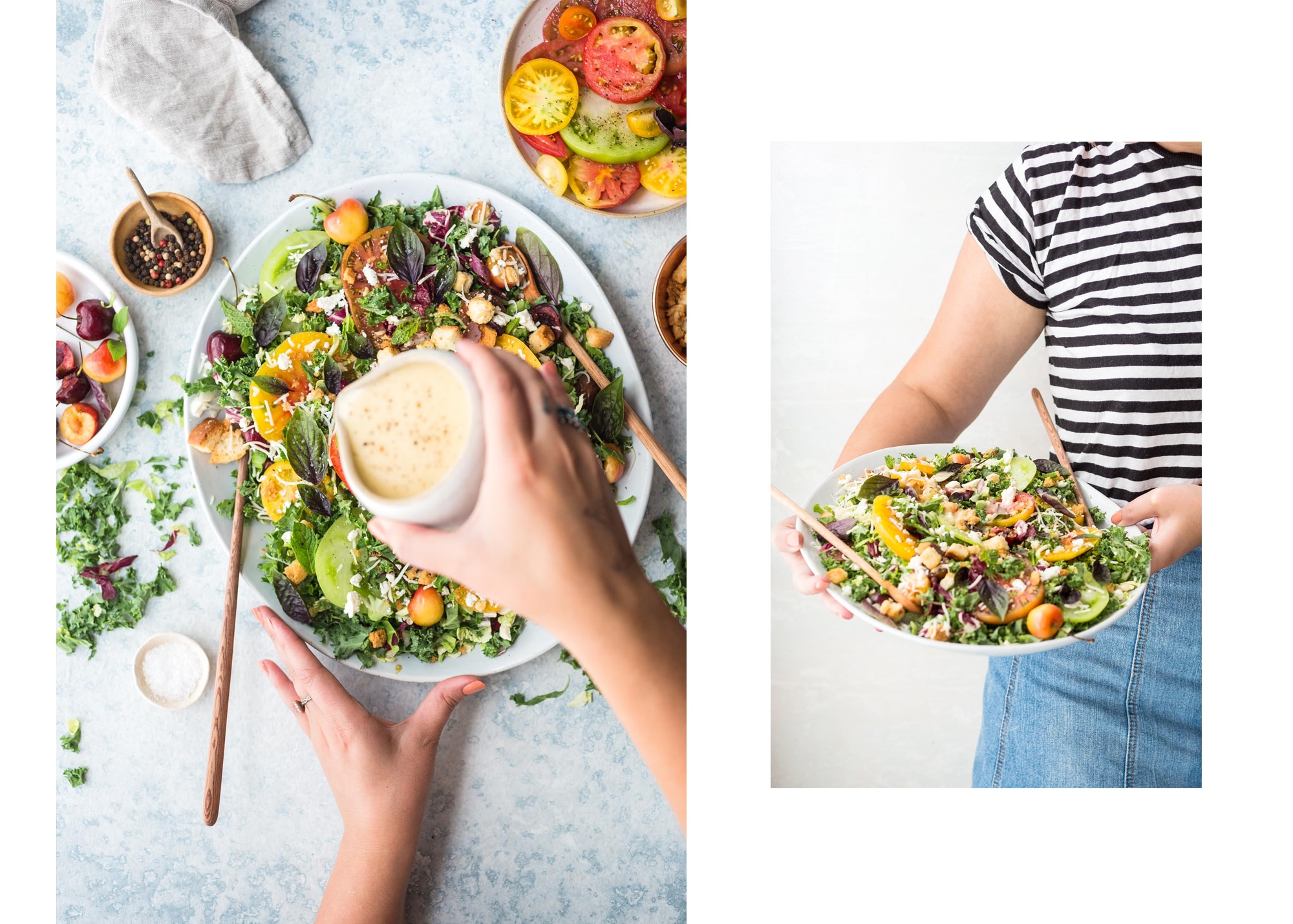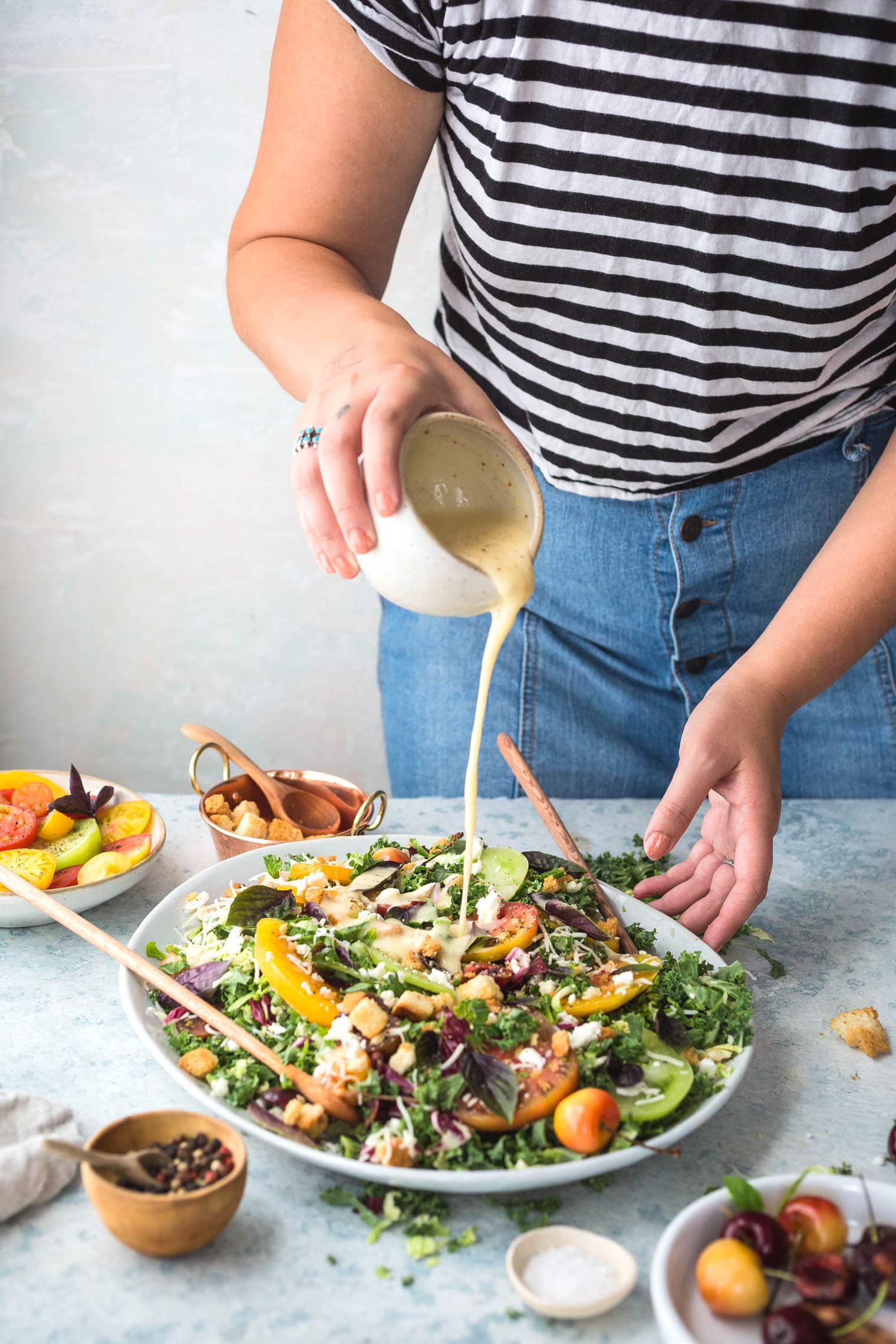 And now lets talk about this salad! In the past, I usually just bought my greens on their own and made my salad based on what I had on hand but I was surprised by how much I appreciated that this Taylor Farm's Salad Kit did all the heavy lifting for me. As someone who usually only makes one item for dinner a night, it was nice to be able to have use this salad kit as a healthy side without it feeling like a ton of extra work. The lemon dressing is tangy and bright which pairs wonderfully with the juicy tomatoes. I love the addition of the crunchy croutons (which are already included in the kit for – again – an easy assembly!) as they add another layer of texture. I also added a dash of salt and pepper at the end to bring out all the flavors.
And obviously, if you can't find this Taylor Farms product near you, you can swap in a bunch of kale and your favorite dressing.
Is your garden or farmers market bursting with tomatoes? Are you craving a little healthy in your life? What are you waiting for? Go make this Tomato & Cherry Kale Salad with Lemon Vinaigrette!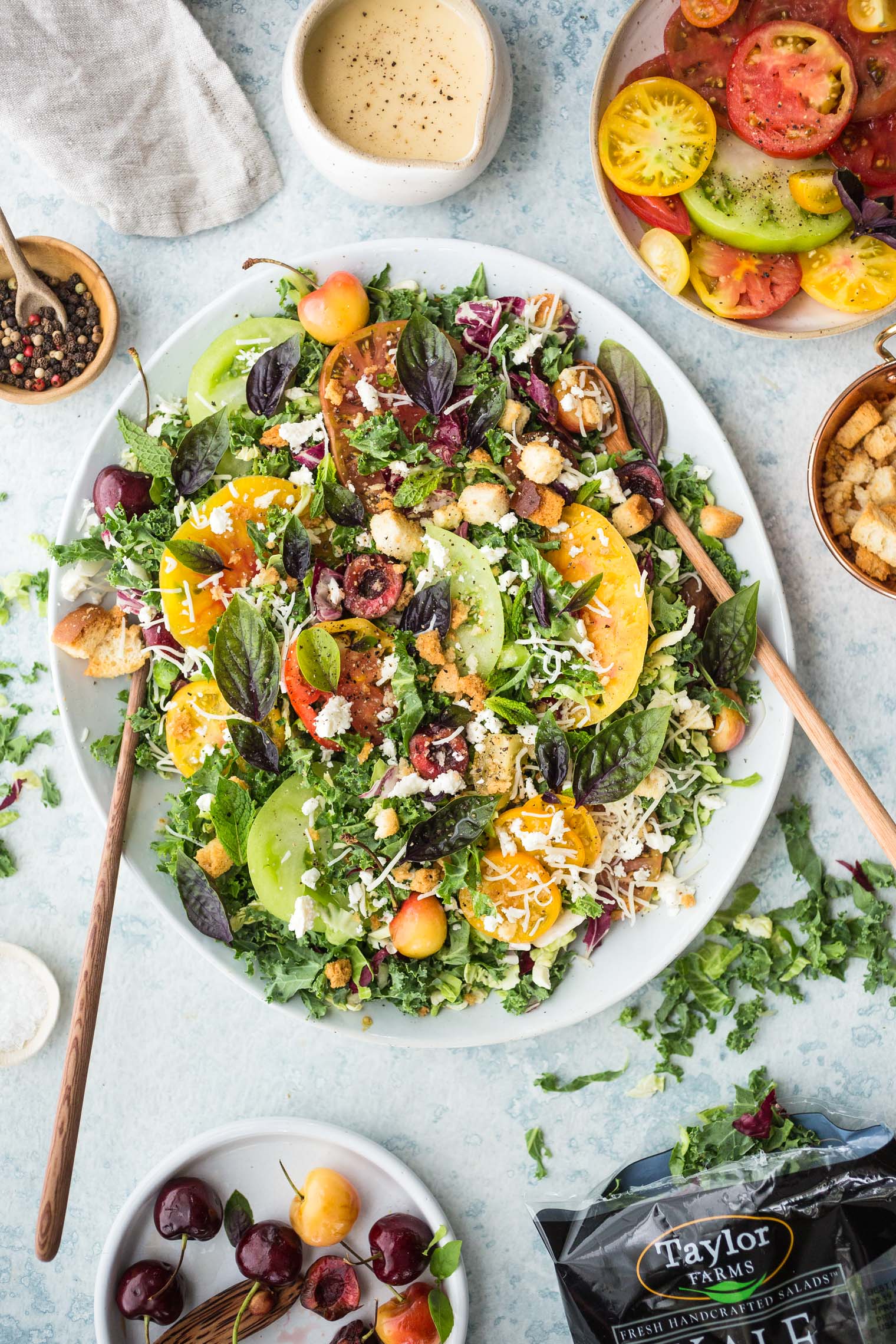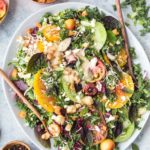 Tomato & Cherry Kale Salad with Lemon Vinaigrette
This Tomato & Cherry Kale Salad with Lemon Vinaigrette recipe is a light but filling and ideal for a quick late summer starter or side.
Servings
:
4
as a side or starter
Ingredients
2

medium

heirloom tomatoes (or 2 small heirloom tomatoes and a few cherry tomatoes)

sliced

1/2

cup

cherries

sliced (and pitted, if you'd like)

1/4

basil

torn

salt and pepper
Instructions
Remove the dressing, asiago cheese, and croutons from the the Taylor Farm's Kale Chopped Salad Kit and set aside.


Add chopped salad to a serving bowl and mix in the croutons, tomatoes, and cherries.


Drizzle the dressing packet that came with the salad kit over the salad and serve right away.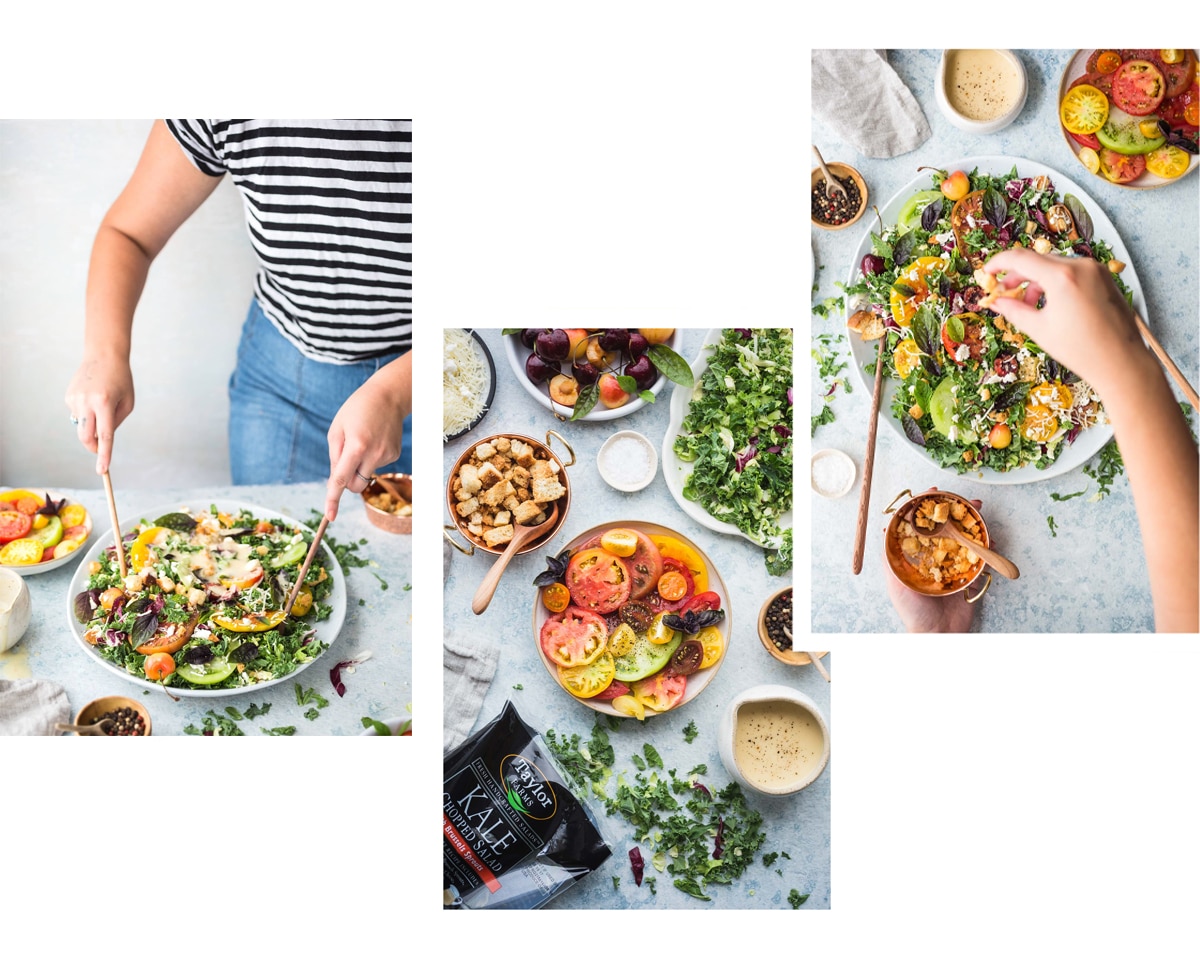 This post was made in collaboration with and sponsored by the generous folks at Taylor Farms but all opinions expressed are my own. Thank you for supporting the brands that make VV possible.