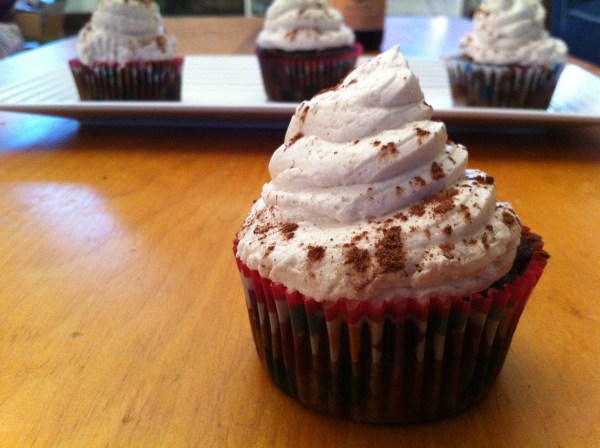 I feel like I haven't baked since summer. With school and work and homework I always find time to make something for dinner (girl needs that fuel) but it's not always easy to convince myself I need t0 bake sweets (girl really doesn't need that sugar…).
Anyhow, I found myself with leftovers one night this weekend and decided it was the perfect opportunity for me to take that dinner prepping time and make some cupcakes! These cupcakes were made with Bell's Kalamazoo Stout but feel free to use any stout (Pick one you like so you can finish the extra while assembling the cupcakes).
Even though I was surprised at how subtle the stout flavor was, these chocolately cupcakes were still very delicious and had a great moist and soft texture. I'd suggest making them for any beer loving friend in your life or perhaps for a birthday potluck.
Vegan Chocolate Stout Beer Cupcakes
1 1/2 cups flour
1 cup brown sugar
1/2 cup cocoa powder
1 teaspoon baking powder
1/2 oil
1 cup stout beer
1 Tablespoon vanilla
2 tablespoons apple cider vinegar
Your favorite vegan icing recipe, optional
Preheat oven to 350 degrees and line a 12 cupcake pan with cupcake tins.
Combine all the dry ingredients (flour, sugar, cocoa, and baking powder) into a large bowl and mix. Next, combine all remaining ingredients into a medium bowl. Make a well in the center of the dry ingredients by pushing them to the side and pour wet ingredients in the center. Fold the dry ingredients into the wet with a spatula until well combined.
Fill cupcake tins 2/3 full with the batter and bake for 18 to 20 minutes.
Top with your favorite vegan frosting and sprinkle cocoa powder on the top.
Munch down. Share with your kitties while enjoying that David Bowie album you've ignored for a few months.