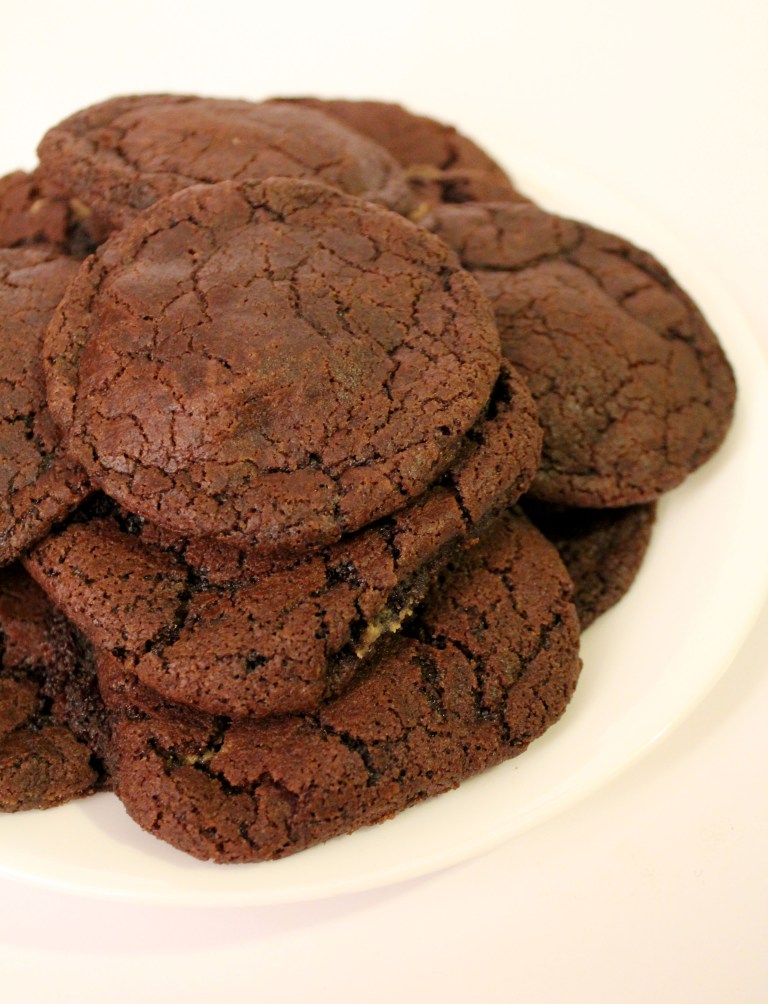 Since yesterday was National Hungover Day (because who doesn't drink on New Year's Eve REGARDLESS of what commitments you have made for the following day), Abby (my wonderful, goofy, and hung over roommate) and I decided to spend the whole day baking. We had this vision of creating a cookie buffet (for no particular reason) that ended up consisting of sugar cookies, fruity pebble rice crispy treats, five layer bars, and these little guys. Although we baked dozens of cookies, these were the winners.
We decided to make these because we both have a fear of fillings. The idea of making a filling for a cookie, donuts, or pies just SOUNDS intimidating and after several minutes of discussing visions of turkey basters and jelly injecting,  we came to the conclusion that the cookie buffet would not be complete without filling. And luckily, these cookies did not demand either of those things.
The filling was actually really easy to tackle and it did not take much longer than a normal cookie would. The cookies were adapted from Isa Moskowitz's Vegan Cookies Invade Your Cookie Jar and I want to let you know that we used half sunflower seed butter and half peanut butter for the filling section but feel free to use all peanut butter if that is what you have on hand.
Chocolate Surprise Cookies
For the cookie:
1/2 cup canola oil
1 cup sugar
1/4 cup maple syrup
3 tablespoons Almond milk (or soy milk)
1/2 teaspoon vanilla extract
1 1/2 cups all purpose flour
1/2 cup cocoa powder
1/2 teaspoon baking soda
1/4 teaspoon salt
For the filling:
1/2 cup peanut butter
1/3 cup sunflower seed butter (or more peanut butter)
3/4 cup powdered sugar
2 to 3 Tablespoons almond milk (start with 2 and add another if mixture is too dry)
dash of vanilla extract
Mix the oil, sugar, maple syrup, milk, and vanilla extract in large mixing bowl until it forms a smooth, caramel paste. Next, add in the flour, cocoa powder, baking soda, and salt and mix until it forms a thick, moist dough. Set aside.
In another bowl, use a hand mixer to cream the peanut butter, sunflower seed butter, powdered sugar, milk, and vanilla extract. The dough should be thick enough for you to form but still a little gooey so it has a yummy texture!
Now, preheat oven to 350 degrees and grease two baking sheets (or line them with parchment paper). Prepare the inside filling by forming 20 small balls using the palms of your hands. Place them on a small sheet of wax paper.
Now go back to the outer cookie dough and take heaping tablespoons of it at a time. Form a ball by using the palm of your hand and then flatten. Place the peanut butter filling in the center and fold the chocolate dough around it. Roll in your palm a bit more to reform the ball and place on the cookie sheet. Repeat with the other 19 balls and put them about 2 inches apart on the cookie sheet because they will expand.
Cook for 10 to 12 minutes (depending on how big you ended up making them). Let cool for at least five minutes so they will harden up and the cookie will have a crunchy shell with a soft, gooey center.
Munch down and share with all your grateful, hungover friends/roommates/boyfriends/pets (but hopefully your pets are not hung over!)